Hitting up one of Ontario's best-in-class Blue Flag beaches is just one of the things to experience in Grand Bend.
From scaling the dunes to grabbing a backpack and hiking through the beautifully rare Carolinian forest, you can't miss these top ten things to do in Grand Bend.
1. Be a Beach Bum
Head on over to Grand Bend and splash through 66km of Lake Huron's sparkling, clean waters that wind along the coast from Bayfield to Ipperwash. There you can bask on one of over 20 beautiful, sandy beaches while kids can build sandcastles and hunt for shells as you soak up some hot summer sun.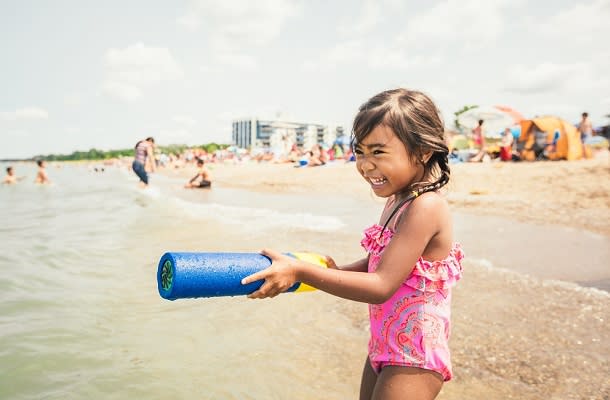 2. Take a Hike
Take in the unique wildlife and fauna at Pinery Provincial Park where you can hike through the rare Savanna and Carolinian forest. You can trek through several wheelchair accessible trails and admire the sun rays trickling through the towering oak trees, or head to one of the lookouts to catch a glimpse of Lake Huron's clear blue waters on the horizon.
3. Take in a Show
A beach vacation here means you can also enjoy one of five professional live theatres that are located between five minutes and one hour from the sand. Check out a production at the Huron Country Playhouse Main Stage or catch a play at the Victoria Playhouse Petrolia.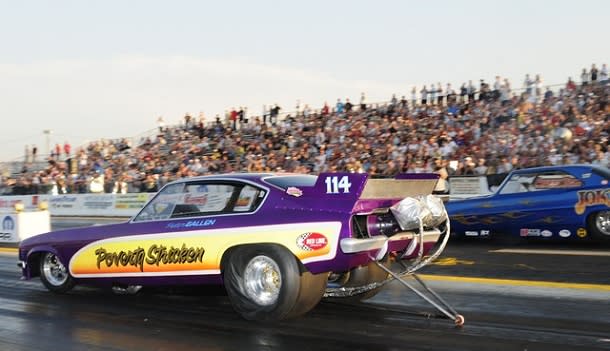 4. Drag Race
Rush over to the Grand Bend Motorplex, one of Canada's largest racing venues, to see one of only two venues in the country offering drag-racing, road-racing, oval track-racing and motorcross. While you're there, you can sign up for drag racing school to learn on the same track that hosts Eastern Canada's largest drag racing event!
5. Shop the Unique
The main streets of Bayfield, Exeter, Forest, and Grand Bend offer unique and varied products that range from photography and art to local produce and specialty food items. Grand Bend's main street turns into a classic beach-front holiday strip where the young and the young-at-heart can shop and people-watch.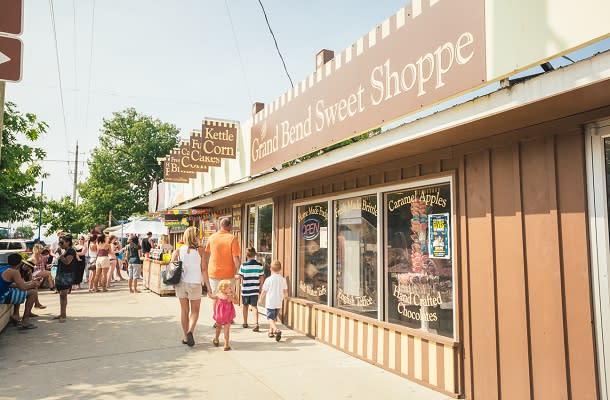 6. Scale the Dune
If your favourite part of the beach is walking on the sand, just 15 minutes away from Grand Bend is Port Franks, which has a sand hill where kids of all ages enjoy the challenge of climbing up, and walking – or tumbling – down.
7. See the Swans
Every year the return of the tundra swans marks the beginning of spring in Sarnia-Lambton. In March, thousands of swans return to Canada's Arctic from Chesapeake Bay, Maryland, resting at the Thedford Bog fields behind Lambton Heritage Museum for anywhere between 10 days and 3 weeks. Take in displays and videos at the museum to learn more about the swans and their life cycle.
8. Play Palaeontologist
Fossil hunt for crinoids, brachiopods, and trilobites in the ankle-shallow water at Rock Glen Conservation Area while you cool off beside the only waterfall in Lambton County. While you're there, check out the Arkona Lions Museum and Information Centre to see a collection of Devonian Era fossils and artifacts that date back 350 million years.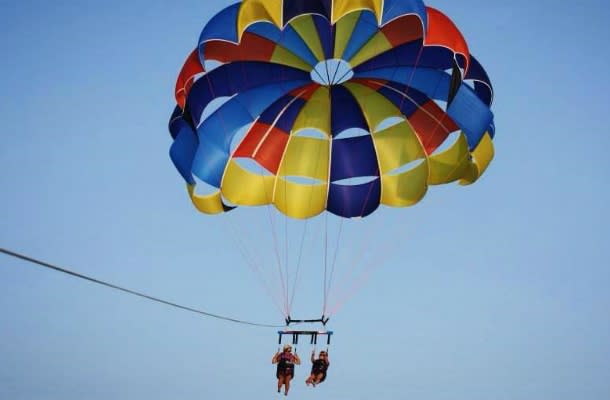 9. Jumpstart Your Heart
Adrenaline junkies can experience the Grand Bend Area from 10,000-feet by parachuting or from 1,000-feet by parasailing. Anyone from first time jumpers to experienced skydivers are welcome to take in the beautiful bird's eye view of the beach. Make sure to top off your adventure-filled day by wakeboarding nearby at Windmill Lake.
10. Taste the Country
Live like a local and pick up fresh herbs, fruits, vegetables, meats and honey from farm-gate locations like The Garlic Box or Ferguson Apiaries. Head over to Alton Farms Estate Winery to get a taste of their handcrafted wines which are processed and aged right on site.
Ready to start checking off items from this beach bucket list? Visit Grand Bend Tourism for more inside info on Grand Bend and area. Be sure to check out the Grand Bend Beach Cheat Sheet too!