If you're in the mood for an adrenaline rush, try skydiving, parachuting, or wakeboarding along the shores of Grand Bend.
Go parasailing, paddleboarding, and sea-doing, or for those who like their water sports just a little less active check out their local fishing charters.
If you love freefalling above beautiful sand and water or jumping over waves on high quality seadoos, then head to Grand Bend where you can experience the latest and greatest in adrenaline filled activities.
Since 1982, the Grand Bend Sport Parachuting Centre has operated as the only Skydiving facility in Southwest Ontario. Here, qualified professional instructors assist anyone from beginners to advanced skydivers with freefalling. So whether you're a freefalling expert or this is your first jump, there's something for everyone at the Grand Bend Sport Parachuting Centre. The instructors recognize that a first jump can be frightening, so they offer new skydivers a freefall skydive with two instructors assisting until the parachute is activated, which is when the beginner steers the parachute with instructions via radio.

If skydiving isn't your thing, try parasailing through the skies at heights of up to 1000 feet from Grand Band's beautiful pier. There are several qualified instructors and operators who provide instruction to all participants, no matter their experience level. There are tons of deals to take advantage of such as early bird flights, which run from 9:00 – 11:00 am every day; sunset loads where you can enjoy one of Canada's best sunset destinations from a birds eye view above the main beach; and group rates and specials for groups of 6 or more people.
Head over to Xtreme Water Sports where you can whip around on waves in a seadoo, launch into the lake off of a 20 foot water trampoline, try out a tube, or water ski. They even have the latest innovation in adrenaline rousing water thrill-rides, FlyBoarding, which is essentially a "water jet pack" that uses water pressure to let the user rise into the air, dive, and jump out of the water. Xtreme also provides an exclusive jet boat charter service and quality seadoos, jet skis, and three person waverunners for rent.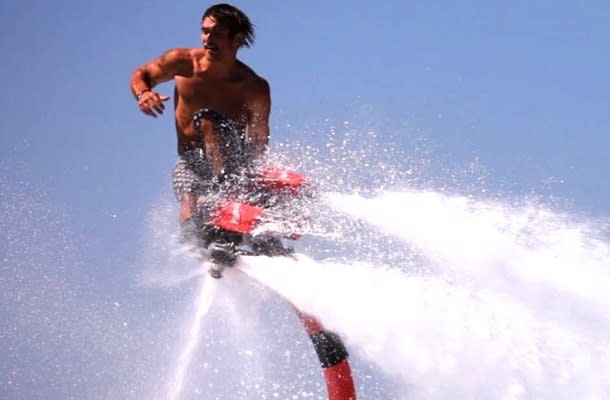 Recently, there has been a new addition to the adrenaline scene in Grand Bend – wakeboarding and paddleboarding lessons and rentals! Head to Bayfield's Windmill Lake, an eco-friendly outdoor recreation park that offers beginner, intermediate, and advanced cable wakeboarding, as well as stand up paddleboarding, canoeing, kayaking, and paddle boating. Windmill Lake is the only straight line cable park in Huron County, and the first bi-level wakeboarding park in Canada. There are adventures for the whole family with programming like PaddleFit, Stand-Up Paddleboarding (SUP) Yoga, and guided nature tours that wind through 200 acres of forest. For those wanting some wave action under their board, West Coast SUP rents paddle boards from their Beach Shop on Main Street, Grand Bend.

If none of this sparks your interest, check out Blue Line Fishing Charters, which run out of Grand Bend from April to October. Here you have the opportunity to catch King Salmon, Coho Salmon, Rainbow Trout, Lake Trout, and Walleye on one of two vessels that are fully equppied with top notch fishing tackle and electronics. New to fishing? No problem! Blue Line provides a professional fishing guide, Captain Fred Wondergem, who is fully certified by Transport Canada and has worked and fished in the Grand Bend area for 30 years.
Ready to test your adrenaline levels at some of these locations? Visit Grand Bend Tourism for more information about Grand Bend, or check out their 2017 visitor guide, It Starts At The Beach. You can also check out our Grand Bend Beach Cheat Sheet to find local restaurants, accommodations, and excursions for your perfect beach day.