It's so important to embrace winter. Enjoying the season is such a fundamental part of being Canadian; not to mention a great way to keep the mind, body and soul in good shape.There's nothing better than a walk in the frozen woods, listening to the wind blow through the trees, feeling the tickle of fresh snow falling on your nose, catching a glimpse of a deer or spotting rabbit tracks along the snow. Southwestern Ontario has countless winter places to go hiking for the day, especially if you're looking for a less-challenging route.
Please follow posted public health guidelines at all times, wear a mask, and limit movement to your immediate area and limit contact with those outside your immediate household. Remember buying gift cards and shopping online is a great way to show your support for these local businesses while staying safe. To learn more about what you can expect from local businesses in Ontario's Southwest, click here.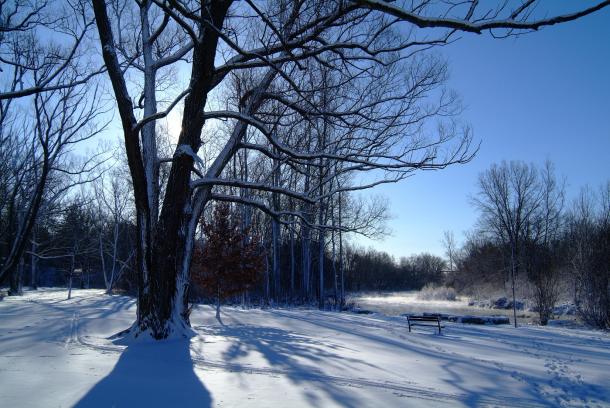 Here are some of my top choices for easy winter hikes spread out across the region so you don't have to travel outside of your local area to get your exercise this winter:
The Gypsum Mine Trail is relatively new and well worth checking out. Halimand County has a strong history in the mining of gypsum, and this hike helps celebrate that. From 1838 and 2016, five mines were started up, and eventually decommissioned in both Caledonia and York. The trail, with a total distance of 12 kilometres, leads you over sections where the underground mines once were, 65 feet below ground. You can also link up with the Rotary Riverside Trail to head west back to Caledonia. There's two access points: Haldimand Rd. 9 at Nelles St. E (York) and McClung Rd. at Maclachlan Ave (Caledonia). From the access at McClung Rd., the trail runs east towards Haldimand Rd. 9 where it proceeds west and connects to the Rotary Riverside Trail.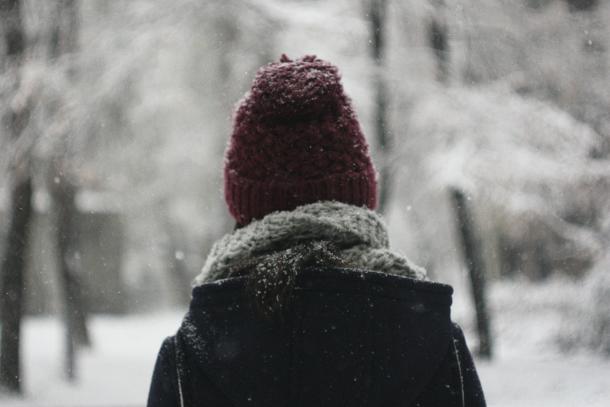 This two kilometre loop snakes its way through a mixed forest and along the Hay Creek Conservation Area's reservoir. It's a scenic gem just 5 kilometres west of Port Dover. A boardwalk crosses the reservoir and links the trail to the conservation area, where the main entrance is on Port Ryerse Road. There's an alternative access further south, past the dam, at an unmarked parking lot.
Trillium Woods Provincial Park is a non-operating park and the one kilometre hiking trail that loops through the Nature Reserve is the only service provided. The area is a popular place in spring when the forest floor is covered with blooming trilliums. However, the somewhat flat trail that works its way along the top of glacial moraine makes for an incredibly easy and scenic winter walk. Various Carolinian tree species take root here as well: butternut hickory, beech and butternut. Access is located south of Woodstock in Oxford Township, 4 km southwest of the Village of Sweaburg along County Road 12.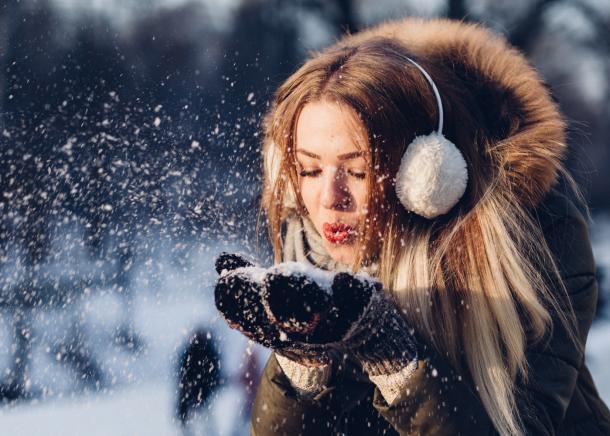 Lake Margaret borders the well-known Pinafore Park in St. Thomas. The lake was created when an old gravel pit that was filled with water. There's an easy, flat 2.5 kilometre trail, covered in a mixture of pavement and dirt, that circles the lake. It makes for an incredibly pleasant walk. The best access is to enter Pinafore Park off of Elm Street. There's a parking area for the trail on the first right after the entrance.
The Yarmouth Natural Heritage Area contains over 100 hectares of Carolinian forest, ponds, streams and wetlands. Numerous species at risk are protected here and there's a choice of three trails to explore the site. The 2.7 kilometre Catfish Creek loop is a good option, bordering a large pond and the creek itself. The trail head is located on Sparta Line, just eat of the quaint hamlet of Sparta.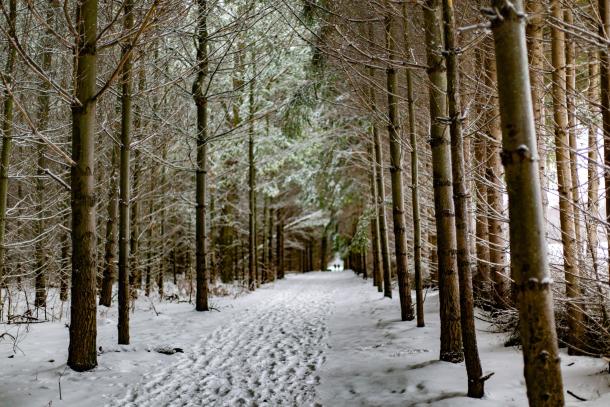 This is a classic London hike. The 5.6 kilometre trail loops through a scenic woodland and skirts along a series of tranquil ponds. Make sure to stop and gawk at The Meeting Tree; a white oak that's aged at 675 years and is London's first Heritage tree. It's believed that the tree was a meeting place for slaves seeking freedom after traveling along the Underground Railway. The trail head is located south of Commissioners Road and east of Wellington Road, adjacent to the Tourist Information Centre, The best access is to park at the tourism centre on Wellington Road.
The Ilderton Rail Trail is built on top of the old rail line that went from London to Goderich. It was called the "Butter and Eggs Special" due to its prime purpose being the shipment of farm goods. The section form Ilderton to Centralia was abandoned in 1988 and the rails were lifted out and shipped to a smelter in Pennsylvania a year later. The trail is a flat, easy three kilometre hike along a mixed granular and compacted dirt surface. Access is behind Junction Park in the town of Ilderton.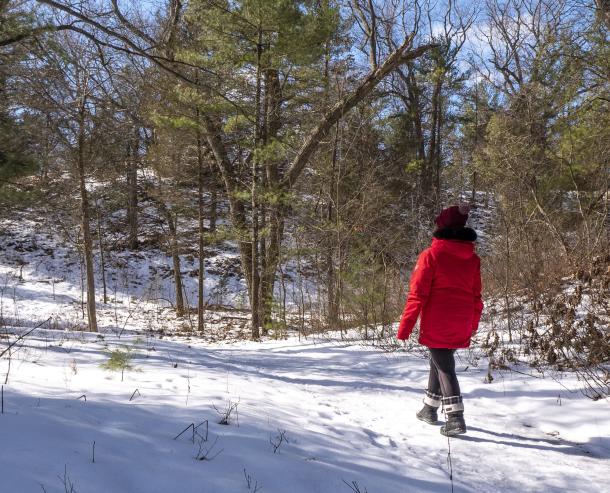 Pinery is considered one of the gems of southwestern Ontario. Hundreds of beach goers gather here in the summer to take in the sun and sand along the shores of Lake Huron. Few, however, take advantage of the park throughout the winter. There's a series of hiking trails that remain open in the winter for snowshoeing and cross-country skiing, but one of the best places to walk is the snow-covered beach itself. Enjoy a backdrop of wind swept dunes and massive chunks of ice pushed along the shoreline.
If you're looking for a short, easy hike through a scenic woodland, this is the one. The trail has a granular surface along it's 880 meter length and comes complete with interpretive signs noting specific points of interest of the area's rich ecology. The "ecotrail" is located on the north end of Chatham and can be accessed through Thornhill Park and at Midwood Oxley Park.
This is just one of many trails open for winter use at Rondeau Provincial Park. It's also one of the must accessible, made up mostly of a boardwalk that skirts the Lake Erie shoreline, along an impressive crescent-shaped sandpit. The sand dunes are covered in snow sculpted by the heavy winds from the lake, and the forest backdrop is made up of Carolinian tress such as tulip, sassafras, and shagbark hickory. There's also towering pine and oak spread throughout.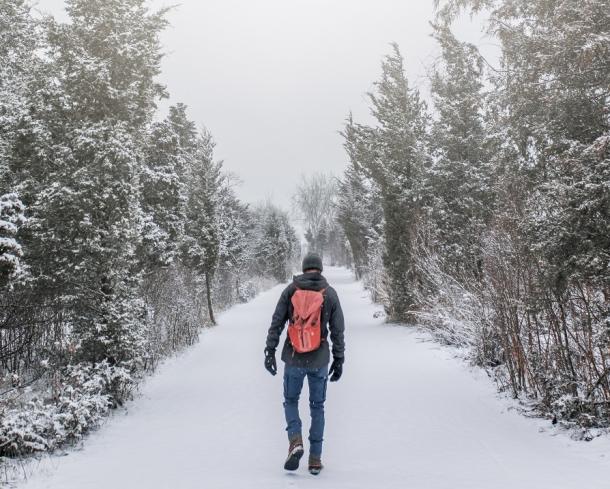 Beyond the popular playground and picnic area of the McAuliffe Woods Conservation Area is a perfect 1 kilometre trail making its way through a 9 hectare woodlot, shadowed by impressive oak and hickory trees. The trail also connects to the McAuliffe Urban Trail, adding more distance to the hike if you want. There's also paved sections, making for easy and accessible walking.  McAuliffe woods is located on St. Alphonse Street, just north of County Road 42 and just west of Lesperance Road.