These beauties are best in class.
Beaches you say? In Southwestern Ontario? That is the type of reaction I get when I tell people I am heading there to see some of the world's best beaches. People tend to associate Ontario's Southwest with wineries, culinary, motorcycling etc – but lets not forget that this region boasts some of the longest coastlines and warmest waters in Ontario. Not only that, but several of its beaches and marinas have Blue Flag designation.
The Blue Flag is a prestigious, international eco-label for beaches and marinas. Communities earn the award by meeting strict criteria for environmental education, water quality, environmental management, and safety and services. In total there are just 27 beaches and nine marina across Canada that fly the Blue Flag in 2018. Each of the Blue Flag beaches and marinas in Ontario's Southwest has its own story and local character. Together, these Blue Flag communities have tons to offer visitors.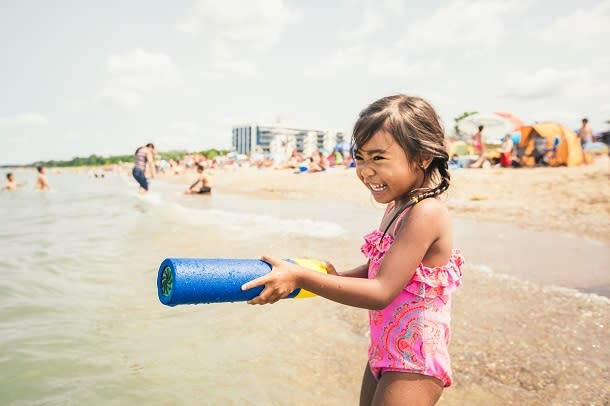 On Lake Huron you'll find Grand Bend Beach in the municipality of Lambton Shores. With miles of soft sand, warm water, a state of the art splash pad and lifeguards, this beach has been a family favourite for many generations. In the 1920s Henry Ford himself held annual company picnics on the beach! The town is steeped in history, and visitors today can take self-guided historical walks around the town. Or simply meander from the beach up Main Street, a beautifully designed strip with lots of restaurants, shops, and even mini put. While you're at the beach, check out the restored sand dunes and native grasses, and learn why these natural features are so important to shoreline ecosystem. With so much to do in walking distance of the beach, Grand Bend Beach is the perfect summer getaway.
For the boating enthusiast, Grand Bend Marina and Port Franks Marina in Lambton Shores offer both transient and seasonal boat slips. These two marinas work hard to meet environmental and safety standards. "Solar Digesters" installed at both facilities help to divert organic waste from the landfill. Patrons to both marinas can take advantage of the free "loan-a-bike" program, which promotes sustainable transportation and allows visitors to exercise their sea legs while exploring the area. While you are there, ask about the Individual Blue Flag for Boaters. By signing the pledge to be an environmentally friendly boater, you can fly your own Blue Flag!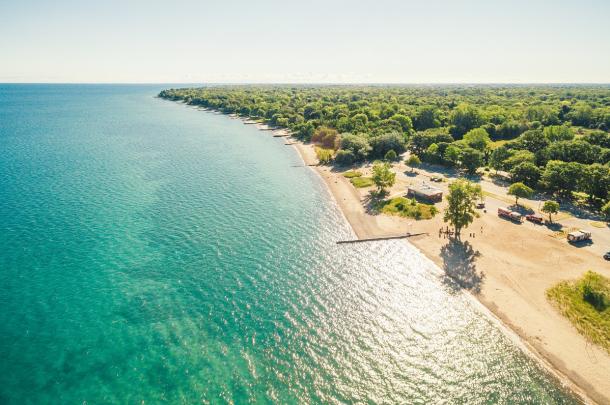 For a more urban oasis, Canatara Park Beach is in the heart of Sarnia where Lake Huron meets the mouth of the St. Clair River. This beach is a Blue Flag Candidate, and the community is working hard to earn a Blue Flag in the near future. This kilometre-long sandy beach is nestled in the 84 acres that make up Canatara Park. For the active tourist, this park features hiking trails, picnic areas and forests to explore! A Children's Animal Farm located in the park allows kids to get up close and personal with creatures great and small. A BMX track and adult "Active Equipment" are also available in the park for the extreme sports and fitness gurus.
If you're exploring the shores of Lake Erie, make sure to visit Port Stanley's Main Beach. The soft sand, warm water, lifeguards and nearby eateries make this a great place to take the kids. For people using wheelchairs, there's a boardwalk, accessible washrooms, and even a beach wheelchair on loan. For the sporty type, beach volleyball is popular here. If you're looking for drama, Port Stanley Festival Theatre offers everything from comedy to musical theatre. At the end of your fun-filled day you can find plenty of historic B&Bs, elegant harbourside inns and cozy cottages.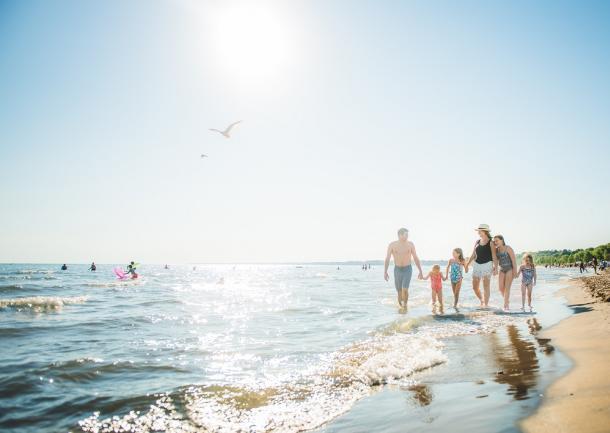 Far away from the hustle and bustle of busier beaches in Ontario's Southwest is Port Glasgow. Located right next to the Port Glasgow Yacht Club & Marina on the north shores of Lake Erie, this beach is a hidden gem that is enclosed by trees, creating a private, tranquil atmosphere. With its proximity to boat charters, a fishing pier, and Elgin's beautiful sandy shoreline, there's something for the whole family to enjoy at this world-class beach. 
The newest recipient in the region, Port Burwell East Beach, will fly its Blue Flag for the first time in 2018. This quaint town on the shores of Lake Erie boasts a long stretch of sandy shoreline with volleyball nets, accessible facilities and excellent waters for swimming and splashing around. The beach has wide open spaces to enjoy, and beautiful natural features such as dunes and bird habitat all around. It's the perfect place for an Ontario stay-cation.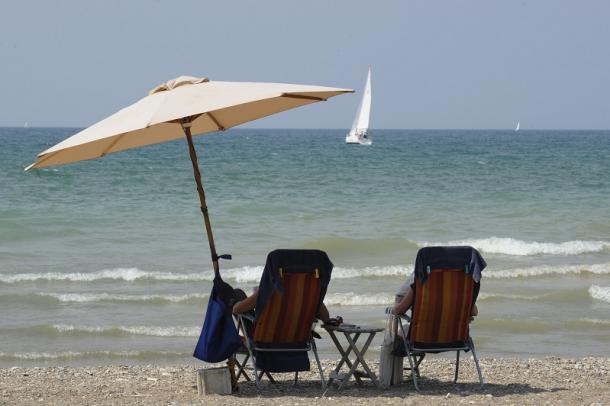 Colchester Harbour Marina, situated at the heart of Colchester Centre in the Town of Essex, is the first and only Blue Flag designated marina on Lake Erie. As the first stop for boaters east of the Detroit River, Colchester Harbour Marina is an important gateway to life on the 42nd parallel. Located at the same latitude as northern California and Rome, Italy, the region produces some of the best grapes in Ontario and supports an award-winning wine industry. The beachfront beauty of Colchester Harbour also makes it a favourite destination for recreational and tourism activities.
The Blue Flag communities in Ontario's Southwest offer so many activities, adventures and areas to explore! Planning your next vacation? Find a Blue Flag community near you – your beach vacation is closer than you think!