Most noted philosophers used walking to get their thoughts going. Wilderness visionaries like Henry David Thoreau walked a great distance to experience the wilderness landscape (Thoreau walked 100 days in 1866, from Montreal to Quebec City). But you don't need a major pilgrimage to become familiar with nature. You just need a simple day outing, especially when the fall foliage creates exceptional beauty to the woods. One of my all-time favourite places to go for a walk in the autumn woods, and take in the fall colours, is Southwestern Ontario.
There are literally hundreds of places to go and experience woodlands, waterfalls, and scenic vistas; as well as a place to "contemplate life." Here are some of my top choices: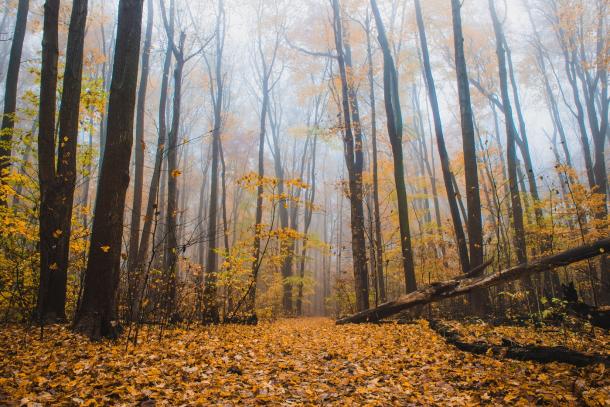 This is an absolute gem and is home to one of Ontario's oldest and healthiest stands of old growth Carolinian forests. A network of seven total trails - adding up to 21 km - guide you through the ancient trees, home to 25% of Canada's species at risk. The Weston Family/Four Oak Trail (7 km) is my preference for fall hikes. Black gum trees are rooted along here that are believed to have been mere seedlings while Jacques Cartier sailed into the Gulf of St Lawrence in 1534. There are also huge Tulip trees rising up 35 meters in height, well beyond the regular canopy of oak, maple and hickory. This woodlot is so globally significant that it was recognized as a United Nations Education, Cultural and Scientific Organization (UNESCO) site in 2016 - and an addition to the already protected Long Point World Biosphere Reserve. It can be accessed off 2nd Concession Road, near Port Rowan.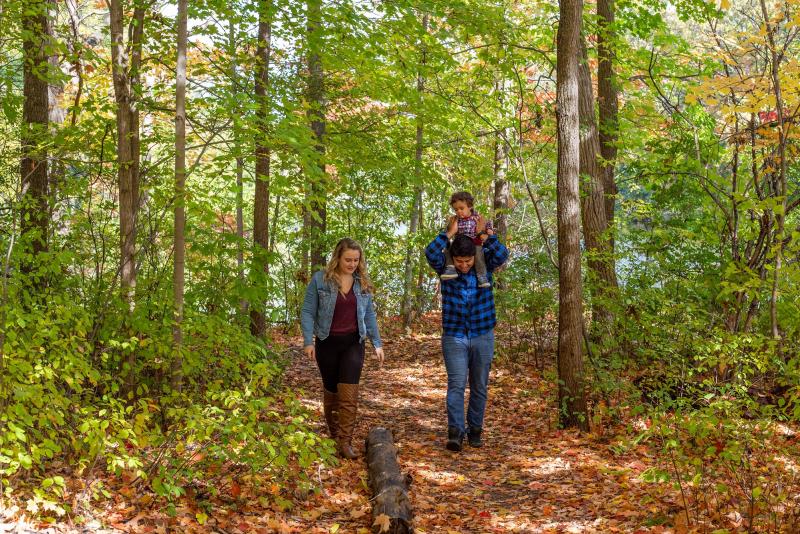 Komoka is a non-operating provincial park - meaning there are no facilities or staff on site. There is, however, and\ incredible trail system that adds up to 11 km trail system. My preference is the White Trail, a 4.5 km wooded path that follows the shoreline of the Thames River. It's linear but you can easily loop back by using the other marked trails. The park is situated just outside of London, south of Kilworth and east of Komoka. The parking lot on Gildon Drive (county Rd. 3), opposite of Brigham Road, is your best access point.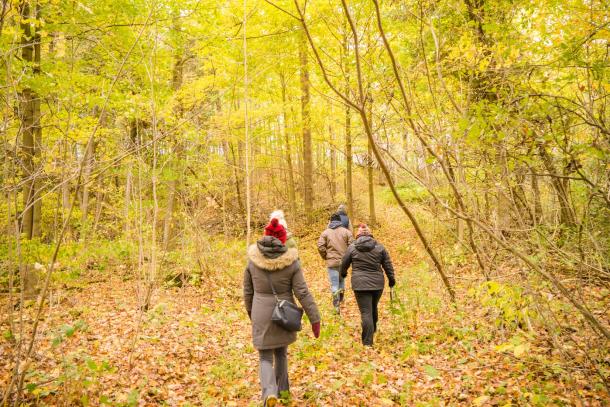 Mature hemlock dominates the main section of this 2 km trail but a side-section - titled the Maple Trail - opens up into a magnificent stand of hardwood. It's a must do walk come fall. The backdrop is an assortment of hills and valleys. Chesney Wilderness Area adds up to 93 hectares, located in Oxford County east of Woodstock, and just north of exit 250 off Hwy 401 near Drumbo.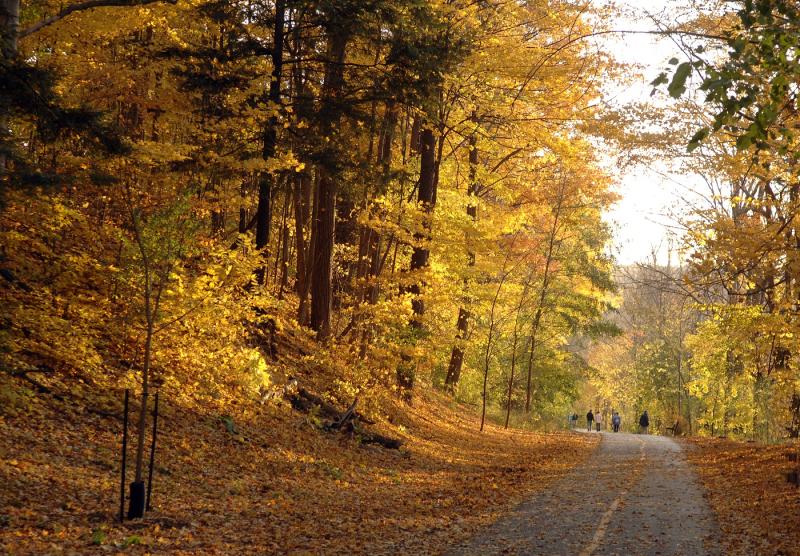 The Medway Valley Heritage Forest Environmentally Significant Area (ESA) is made up of 129 hectares of protected woodland surrounding Medway Creek. A well maintained 10.6 km trail system takes you along both sides of the creek. There are a few steep climbs to be had along the way but not overly demanding. The park is located in north London, between Windermere, Fanshawe Park, Western and Wonderland Roads.
This is the pride of southwestern Ontario's Haldimand County. Countless hikers and cyclists use this well-groomed, gravelled and flat linear trail to take in the beauty of the region's quaint country landscape. The trail uses the abandoned rail corridor linking Hamilton with Caledonia (a section of theTrans Canada Trail.) The best part, however, is a 2.7 km stretch from Haldibrook Rd., south to Unity Rd. where it crosses and proceeds further south to Haldimand Rd. #66. A portion also runs along the edge of Killman Zoo. So, don't be surprised by fairly odd wildlife sightings.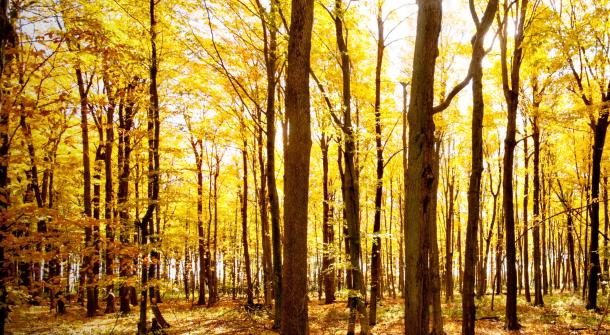 There's something to be said about starting a day hike where the access is marked with wooden carved posts in the shape of hikers. Ya gotta love that. The trail itself - a linear path covering 41 km - is managed by the Elgin Trail Association (you don't have to be a member but donations would be nice). It goes from Port Stanley, along Kettle Creek to St Thomas and along Dodd Creek to Southdel Drive (just north of Highway #401). That's a long haul. So, I recommend at least doing the 5 km portion between Port Stanley, across from Mackie's Restaurant, along Kettle Creek and to the dunes. The first 3 kilometres is the most wooded, winding through steep gullies. Finish off at Union Road, just west of Sparta Line bridge. You can park on the south side of the road near the trailhead.
This 7.9 km loop trail follows the decommissioned road that leads to the old campground that was here in the 1960s, until it eventually eroded away due to Lake Erie's wind and waves. The path leads you around the tip of the Rondeau peninsula, along the shore of Lake Erie. The crescent shaped sandpit is backdropped by an impressive Oak Savannah made up of aged Carolinian forest of sugar maple, beech, shagbark, sassafras, hickory and tulip trees. Access is through Rondeau Provincial Park. Parking is at the end of Rondeau Road.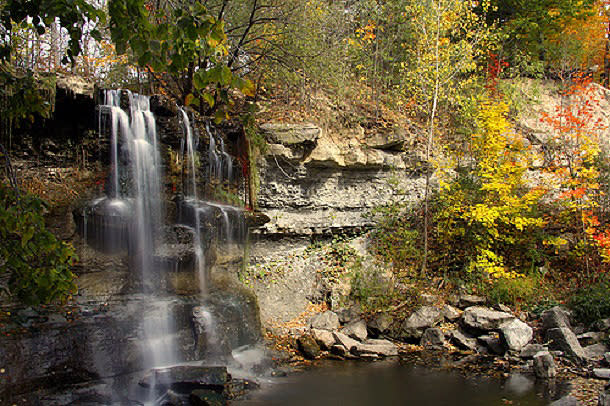 This trail is a short one (1.9 km linear), with steep stairs to clamber up and down. It can also be crowded in peak season and the cascading water can turn into a mere trickle in mid-summer. But come fall there are fewer people and more water tumbling over the drop. The fossil museum is worth the visit alone. It's under the protection of the Ausable Bayfield Conservation Authority and is located just on the outskirts of the small hamlet of Arkona, in the municipality of Lambton Shores.
The locals have labelled Mosa Forest - one of Ontario's largest wooded areas west of London - as Skunk's Misery. I'm not sure why. It's a peculiar name. However, the forest here is amazing. The wooded area covers 500 hectares and a 4 km linear trail takes you through some old-growth hardwood Carolinian tree species. The park is located in Middlesex County. Go west on Concession Drive, between Dogwood Road and Sassafras Road.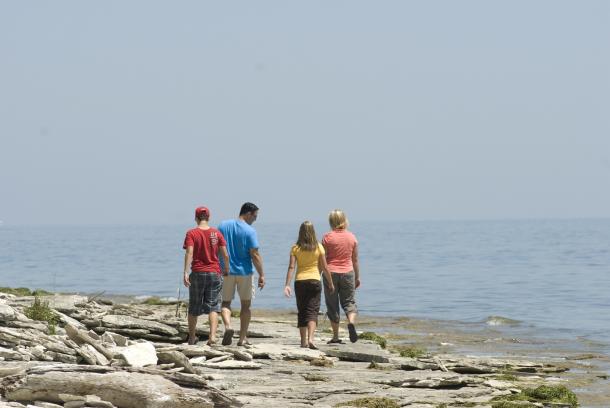 This is definitely one of the most unique places for a walk-in southwestern Ontario. First, it's a bit of an adventure just to get there. The Conservation Area is located on Pelee Island, which means you must take the ferry to reach it. There's also no defined trail, just a rough path leading you over slabs of limestone bedrock with large stands of Oak-Hickory Woodland, Oak Savannah, Red Cedar Savannah rooted in thin topsoil. There's also a scattering of rare Hop Tree, Blue Ash and Chinquapin oaks, some of which are well over 100 years old. The ferry can be taken from either Leamington or Kingsville, (check 1-800-661-2220 for departure dock and ferry times). Once on the Island, go to the far southeast corner to reach Stone Road Alvar Conservation Area, taking West Shore Road to East West Road, and then turn down Stone Rd. to access the Conservation Area.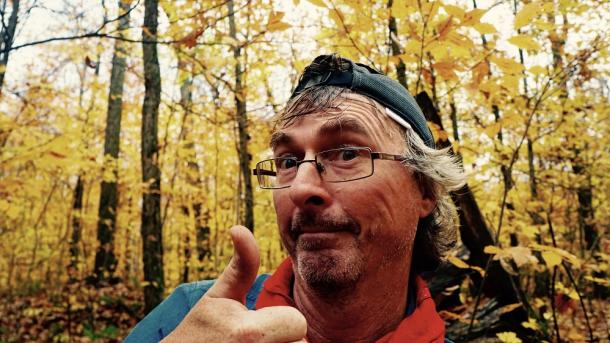 Please note that this article is written based on the writer's experience with the trail when he visited. Trails may change based on seasonal conditions and you should follow posted signs at each location. 
We are so lucky to have beautiful natural areas in Ontario's Southwest to enjoy. Let's take action to protect our precious natural spaces. Click here to join the #ForTheLoveOfParks movement and learn ways you can help keep parks clean and safe.