If you and your bike are on auto pilot, cruise mode on the trails around home base, having done the same circuits many times over this spring and summer, why not take your cycling to the next level and pedal somewhere new. There are plenty of trail and ride options closer than you think and scattered around south western Ontario, meaning you won't have to travel far to get there. With lots to see and do trail side or nearby, slow down and enjoy a day trip out or longer, while escaping the crowds and getting off the beaten track. See if you can't check some of these great rides off this ride season, a shorter or longer version, every ride is a great one.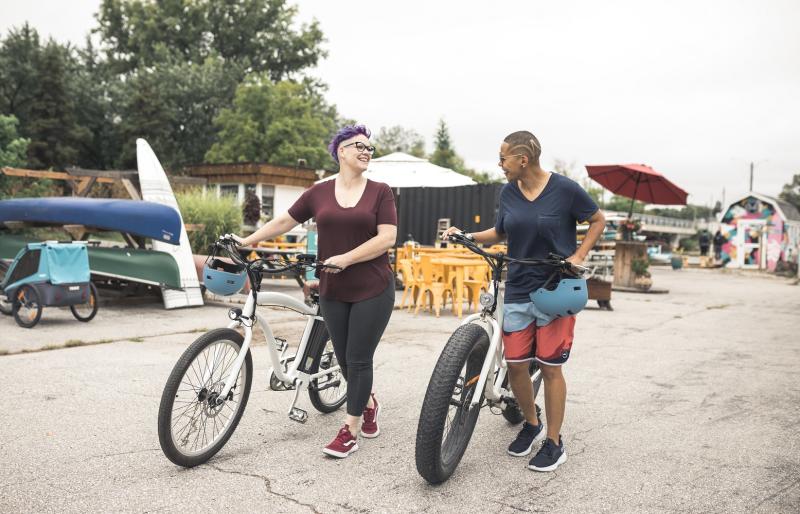 Caledonia Riverside Rotary Trail – Haldimand County
Explore the tranquil natural beauty of the Grand River, near Caledonia, on this 6km linear Riverside Trail. Ride out from town or park at trailhead parking at either end to enjoy this gravel trail that follows the east shoreline of the Grand. If you are looking to ride a little further, check out the Green Route along the western bank, and amend the 71km looped route to suit your ride length preference. Be sure to stop in town post ride at the long established and bicycle friendly Oasis Drive-In eatery and enjoy a burger or ice cream on its shaded patio.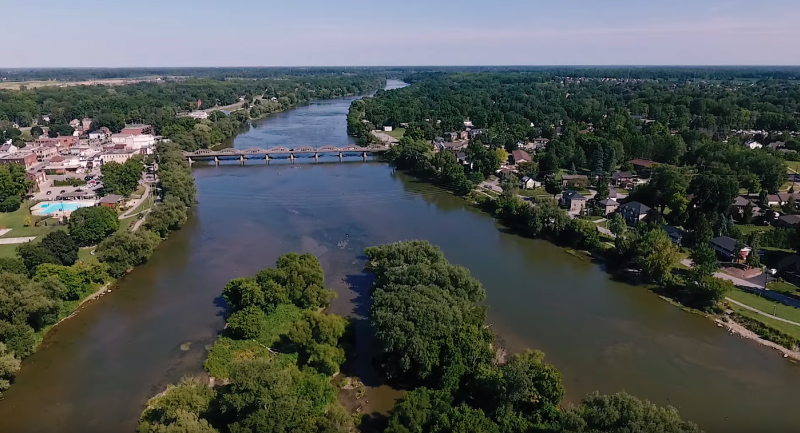 Delhi Rail Trail – Norfolk County
Starting in either Delhi or Simcoe, ride the 14km Delhi Rail Trail both ways through the pretty farmlands that straddle the trail north and south. Take a 300m detour half way to stop for refreshments at the New Limburg Brewery set in a most unique location, a converted old school now brewing Belgium style ales. For a longer ride, in Simcoe connect to the 11km Lynn Valley Rail Trail for a roll to Lake Erie, the beach and town of Port Dover.
Thames River Parkway - London
The best way to see the city of London, is to follow the Thames River Parkway. Choose to do as much or as little that fits your schedule or ride style, along this 40km of paved multi-use riverfront and parkland trail network. Get more urban with a ride through the city that has over 300km of bike paths, bike lanes and signed bike routes, planning your route using the online City Map. Find your way to the old east village and The Market at Western Fair District, to browse treasures made by local artisans and taste homegrown treats.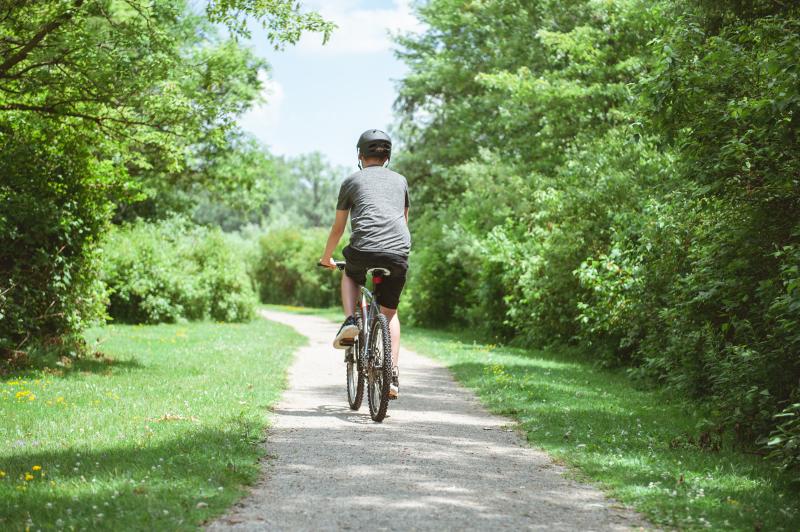 Strathroy Town & Trails – Middlesex County
Explore the town and area close by to Strathroy, just 40km west of London, by bike. Visit town parks and the conservation area following the Strathroy River and Rotary Memorial Trail. Spot wildlife and birds in the alternating wetlands and Carolinian forests alongside the Sydenham River. Stop into Doug and Marion's Bike Store, the friendly and well equipped shop, family-run by local bike enthusiasts. Save your appetite and fill up on tasty home cooked foods or the weekend buffet at Amy's Restaurant, a bicycle friendly eatery just north of town.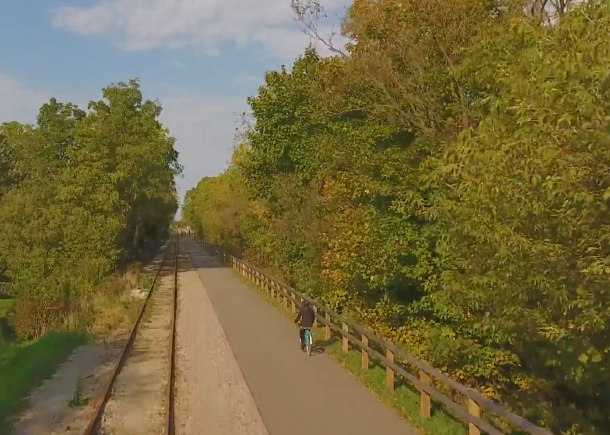 Whistlestop Trail – St. Thomas & Elgin County
The 14.5km Whistlestop Trail is a delightful signed route along a mix of paved shoulders and bike paths following the heritage rail line that connected the Railway City, St. Thomas, with the port and beach town, Port Stanley. If you want to keep this an easy ride, plan a one-way journey starting in St. Thomas and ending downhill in Port Stanley, making alternate return arrangements. Learn more about the extensive railway industry that passed through this area in a bygone era with fascinating exhibits and locomotives on display at the Elgin County Railway Museum. To extend your ride, connect to the Great Lakes Waterfront Trail to ride east and west from Port Stanley, or pedal out on one of the other nine road cycling routes in the area, taking in the quiet countryside, on loops that range between 30-40km.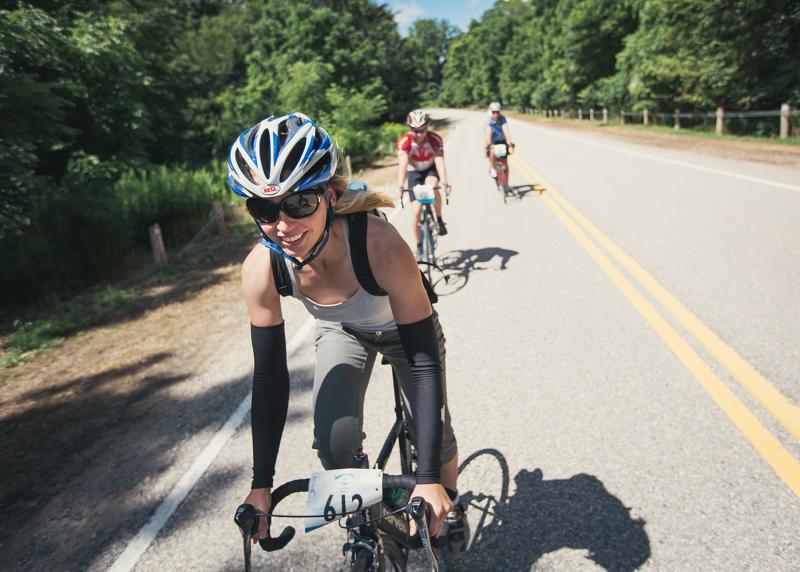 St. Clair River Trail – Sarnia & Lambton County
Plan a day out meandering through parkland linked by the St. Clair River Trail, a 34km linear route that starts south of Sarnia and ends in Port Lambton, with options to ride further on either end along the Great Lakes Waterfront Trail. Ride the distance that you feel comfortable with on a mix of on-road (paved shoulders) and off-road facilities (paved asphalt). Start or end in Port Lambton with a tasty cold or baked treat from the one stop shop and bicycle friendly Shakin' Bait Variety and Bakery, or mid-way at the Rum Runners Speakeasy Restaurant, in Sombra. Nearby explore the bike paths and routes in Sarnia, on the Bluewater Trail system.
Rondeau Provincial Park – Chatham-Kent
A top spot in south western Ontario for biking and a whole range of outdoor activities (boating, birding, camping, hiking) is Rondeau Provincial Park. The 8km long sand spit that juts out into Lake Erie has three trails that are open to cyclists, plus park roads. Check out the Marsh Trail (7km), South Point Trail (4km) and Harrison Trail (8km). Take a break from camp side cooking and beach picnics at Rondeau Joe's, a bicycle friendly pub located near the park entrance, on the patio overlooking the bay. Pedal 25km west for a longer ride following the Great Lakes Waterfront Trail, an on-road route to Erieau, a small community with a big beach vibe.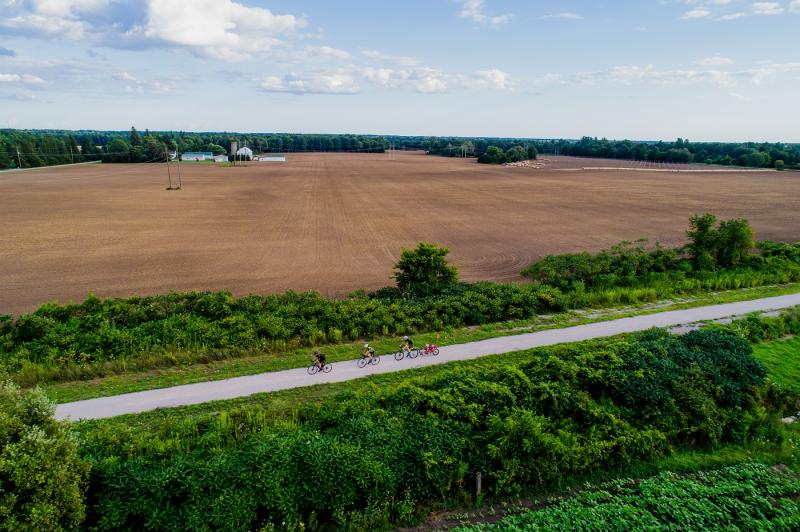 Trail Tour of Tillsonburg – Oxford County
Ride a series of connected trails through the town of Tillsonburg that are a part of and join a longer stretch of The Great Trail (Trans Canada Trail). In and around town the off-road trails shoot out of the downtown shopping area and total almost 18km. Just east of Tillsonburg, The Great Trail extends a further 17km along an old rail bed, for an easy and flat ride that bisects the farms and fields that are predominant in south east Oxford County. Add an arts and cultural stop to your Tillsonburg visit, and head to the Station Arts Centre, a small but quaint gallery and exhibit space located in the old train station.

Herb Gray Parkway – Windsor & Essex County
Marvel at the fresh and smoothly paved, relatively new, Herb Gray Parkway Trail. This 17km uninterrupted trail, has a series of bridge crossings, tunnel underpasses and rest areas with interpretative signs sharing more information on local flora, fauna and heritage. Connect to the top end from downtown Windsor and the Roy A Battagello River Walk, 8km long trail, planning your ride using the City Parks, Trails and Recreation Map. From the southern end, connect to the Chrysler Canada Greenway, a 48km stone dust rail trail that terminates east of Kingsville and close to Leamington.
We are so lucky to have beautiful natural areas in Ontario's Southwest to enjoy. Let's take action to protect our precious natural spaces. Click here to join the #ForTheLoveOfParks movement and learn 5 ways you can help keep parks clean and safe.  
---
These bike routes are suggested routes only. The routes incorporate both multi-use trails and on-road riding. All cyclists are responsible for their own safety and must use both trails and streets with caution and do so at their own risk. Always wear the proper safety gear when cycling, ride sensibly and abide by all laws. Each route should be evaluated by each individual cyclist based on their level of experience, comfort level in cycling on trails and roads, weather conditions, time of day, and any road obstacles. Ontario's Southwest and all others involved in the development of this route do not assume any liability whatsoever for cyclists using this information and travelling upon these routes.