Winter - often seen as the time of year where you grab your favourite hot cocoa and watch movies, is actually the perfect opportunity to get out there and experience new thrilling adventures. So grab your coat, hit the road, and get ready for a winter better than the rest.
Winter Camping and Our Country's Best Parks
Don't be afraid to immerse yourself in a Winter Wonderland and spend a night or two camping out under the frosted trees. With roofed accommodations like Yurt's at the Pinery Provincial Park or the oTENTiks at Point Pelee National Park, this is definitely an activity that even the most timid campers can enjoy. While you're there make sure to explore the snowy landscapes (and make sure to snap a picture or two).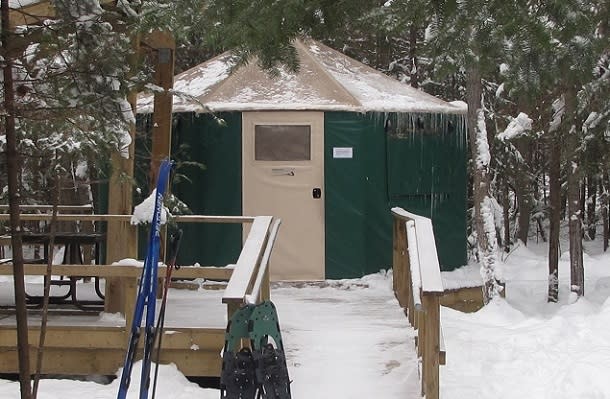 Fat biking – Your Favourite Trails with Bigger Tires
Calling All Cyclists! Don't retire your bike for the winter, adapt and test out fatbiking! This is a fun and active way to enjoy the winter months while continuing your cycling routine. If you're looking for amazing trails, The Pines in Oxford County and Norfolk are two of the best locations in Southwest Ontario to hit the snow. If you don't have your own fatbike, Elevation Mountain Biking offers rentals, and even lessons, in Norfolk County. Don't be discouraged if you're not an avid cyclist, fatbiking is the perfect opportunity to try something new. Visit the Thames Grove Conservation Area Trail in Chatham this winter or find a local trail for a great adventure.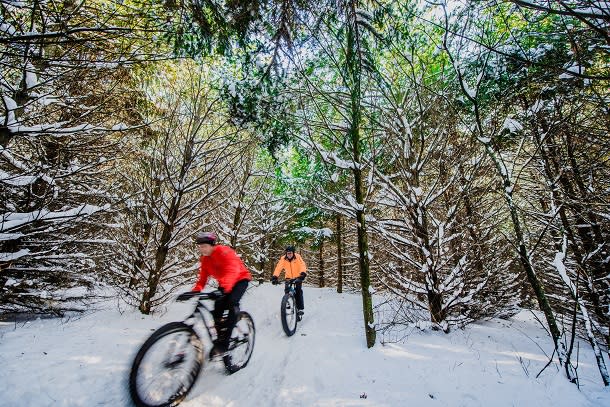 A Ski Hill Adventure
Boler Mountain, located on the outskirts of London, is the home of skiing for all ages in Ontario's Southwest as well as Winter Trails, Tubing and a snowboarding Bag Jump. Test your skills or come for family fun, you surely won't be disappointed. Don't forget to visit the website for information about season passes or their full service on-site tech shop.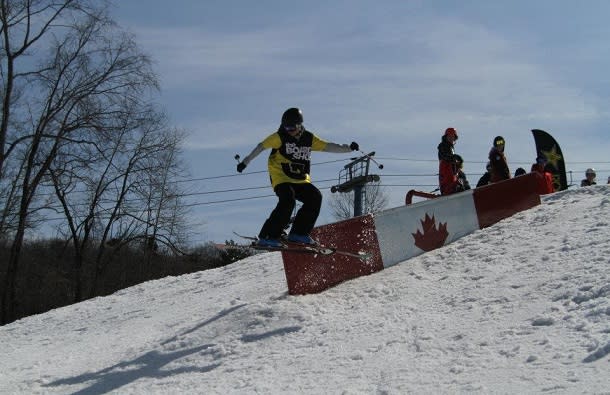 Snowshoeing
Our region is full of scenic trails and beautiful landscapes. During this winter season, take the opportunity to explore and experience what Ontario's Southwest has to offer by Snowshoeing through our picturesque countryside. To find a great trail near you, use this amazing interactive map by Ontario Trails! Choose your trail and get walking for a relaxed journey into a personal paradise.
Outdoor Ice Skating
Ice Skating is a classic winter activity, showcased in the movies with a slow snowfall falling on the skaters head. This season make your own fairytale moment and enjoy an outdoor skating rink in London or Windsor. With a pair of your favourite mittens and a hot drink, this is a great activity for families, friends and romantic interests.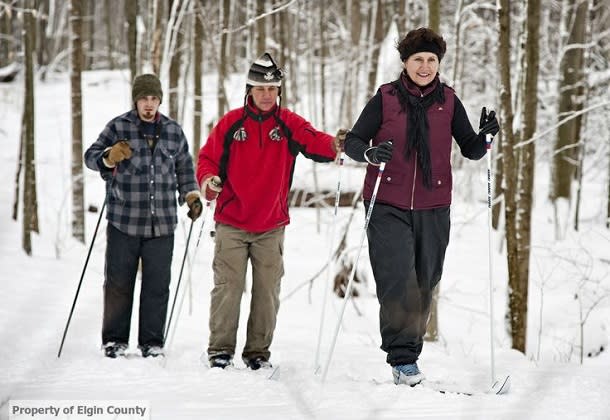 Cross Country Skiing
If you're looking for a ski adventure with a slower pace, use this winter to experience the world of Cross Country Skiing. An active way to enjoy your favourite trails in a new light, Cross Country Skiing is available throughout our region on great trails. Check out the Middlesex County Trail Guide for a comprehensive list of availability within Middlesex and the Elgin-St. Thomas Trail Map for hiking and cross-skiing options.
Don't forget to use #OntSouthwest on Instagram for a chance to be featured on our Instagram page this season!