If you've been having a hard time trying to convince someone who doesn't adore wine to join you for a weekend of wine tasting, the struggle ends now! Wandering amongst the wineries of Ontario's Southwest is an experience that even non-wine drinkers will adore. From stellar patio views to alternative beverage options, fun events, and fantastic food, the suggestions below will help you design a wine touring itinerary that has something for everyone.
Picture-Perfect Patio Views
Social media addicts searching for fresh content for their feeds will adore snapping selfies on the fantastic patios at these wineries. The video clips below from North 42 Degrees Estate Winery and Cooper's Hawk Vineyards will give you a sneak peek of the scenery.
Other nearby patio picks include Pelee Island Winery in Kingsville and Viewpointe Estate Winery in Harrow.
Perfect Pairing Suggestion: If patio time at Pelee Island Winery leaves you hungry and thirsty for more, head to Nooch Vegan Eatery to enjoy a crisp glass of Pelee Island Lighthouse Sauvignon Blanc paired with one of their delicious plant-based wraps.
Must Love Dogs
Tempt dog lovers to join in on an afternoon of winery fun by inviting their pooch along. Hounds of Erie Winery is a dog-friendly winery that even hosts special Dog Days of Summer Breed Meetups, where owners of specific breeds can bring their four-legged friends along for fun in the vineyard. Vivace Estate Winery also offers a pet-friendly patio. Guests are welcome to bring food from outside vendors, so pick up some local human and dog treats for a DIY patio picnic with your pups.
Perfect Pairing Suggestion: Enjoy Vivace Estate Winery's Chardonnay with Almond-Crusted Salmon at Amherstburg's Artisan Grill.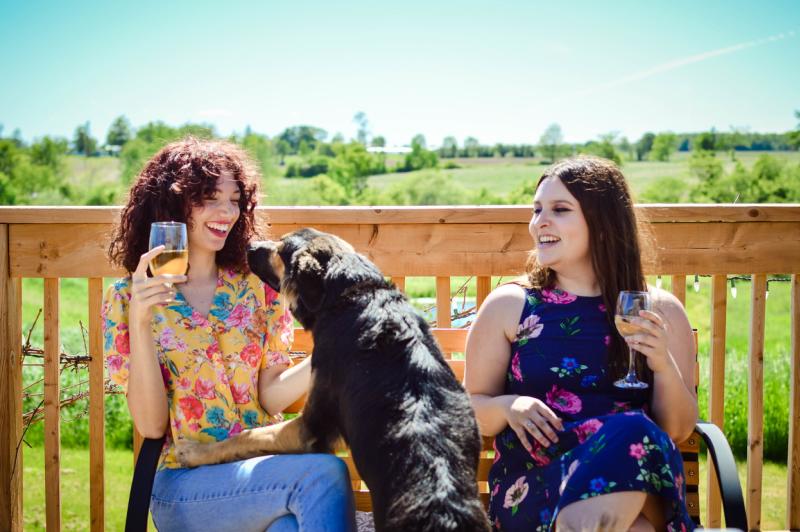 Let Them Drink Cider
Entice non-wine drinkers to join the fun with the promise of icy cold hard apple cider.
Besides making great wine and cider, Shale Ridge Estate Winery offers horseback trail riding paired with their tasting flights. Blueberry Hill Estates is another winery that offers delicious ciders. If a taste there leaves you thirsty for more, follow the Lake Erie shoreline for a scenic drive to Bains Road Cider Company, less than an hour's drive east.
Green Thumbs
If there's a passionate gardener amongst your crew, a trip to Bonnieheath Estate Lavender and Winery is a must. In addition to a 10-acre vineyard, this farm's lavender field is a sight to behold! Take a peek:  
Gardeners will also be interested in learning the horticultural story behind Dark Horse Estate Winery, Huron County's first estate winery. The soils found along the Huron Ridge, where the winery is located, offer similar growing conditions to those in some of the world's most recognized growing regions, including Burgundy, Alsace, and the Loire Valley.
Perfect Pairing Suggestion: Dark Horse Estate Winery's Brash White Wine is a lovely companion to  The Lake Hound's Perch and Chips.
Alton Farms Estate Winery is another winery with a hands-on horticultural vibe that any gardeners in your group will really dig! This video offers a sense of the passion the owners feel toward their land. 
Food Lovers
Friends who care more about what's on their plate than what's in their glass will adore an afternoon of menu surfing at Ontario's Southwest wineries. Paglione Estate Winery in Harrow is an old-world, Tuscan-style masterpiece that turns out pizzas from their wood-burning pizza oven that will make you think you've escaped to Italy!
Perfect Pairing Suggestion: If you decide to sip instead of snack at Paglione Estate Winery, pick up a bottle of their 2019 Cabernet Sauvignon to enjoy with some Barbacoa tacos from nearby El Diablo.
Early Acres Estates Winery invites guests to bring their own picnic to enjoy in their vineyard paired with a glass of their wine.
Stopping by a restaurant that offers a great local wine list, like Kingsville's O'Sarracino Trattoria and Wine Bar, Billy's Taphouse in Essex, or Waldo's on King Bistro and Wine Bar in London is another tasty option to entice foodies to join in on the fun.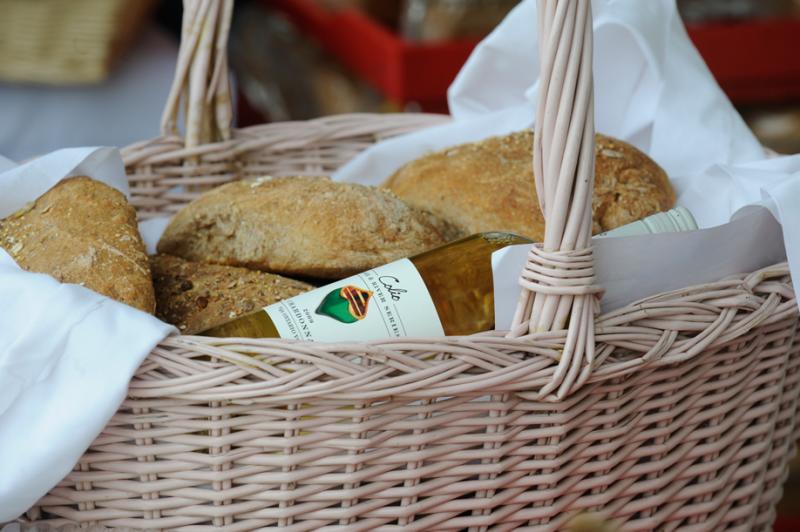 Perfect Pairing Suggestions: If your travels take you to Billy's Taphouse, try a glass of Cooper's Hawk Vineyards' Riesling with the Beer Battered Pickerel. If you dine at O'Sarracino Trattoria and Wine Bar, try their Polle Mare E Monti with Mastronardi Estate Winery's Baco Cabernet.
Visiting a winery that serves up fantastic food truck fare is another way to please the foodies in your pack. In Port Dover, Smoke & Gamble / Frisky Beaver Winery regularly offers farm-to-table fare in partnership with the award-winning David's On Tour food truck.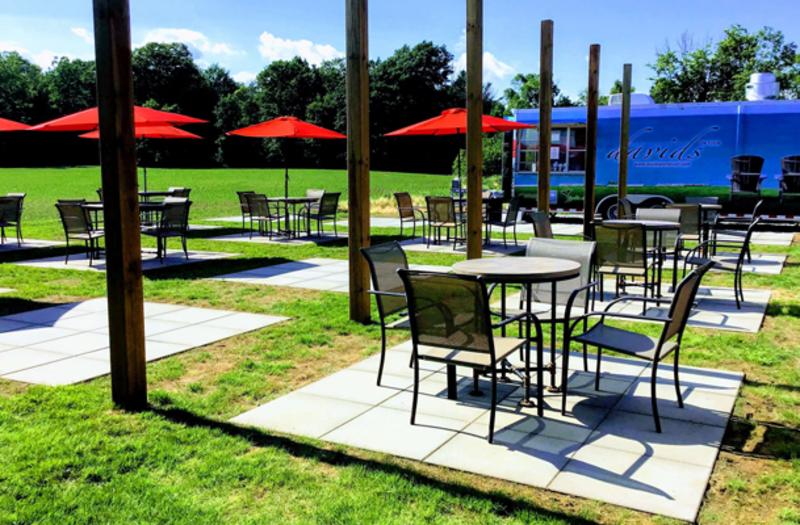 The Promise of Nearby Brews and Spirits
Who says an afternoon of wine touring can't include a few stops to enjoy other types of beverages? If you're visiting EPIC Wine Country wineries in Windsor Essex, plan a visit to Wolfhead Distillery to sip on their premium craft vodkas and whisky products. This video will give you a sense of the spirited fun you can expect: 
Perfect Pairing Suggestion: Pick up some takeout at Wolfhead Distillery's excellent restaurant to enjoy with some of the local wines you've picked up while touring. The Blackened Beef Tips are excellent with Cooper's Hawk Vineyards' Merlot.
If your wine tour takes you to Norfolk County, pair up visits to local wineries like Burning Kiln Winery and Inasphere Wines with stops at local craft breweries to satisfy the thirst of beer fans too.
Great choices include:
Perfect Pairing Suggestion: Blue Elephant Craft Brew House makes a walnut-crusted chicken dish that is amazing with Backyard Brewing Company's Chocolate Banana Milkshake Stout.
Cool Collectables
Rush Creek Wines, in Alymer, doesn't just make award-winning fruit wines. The winery also happens to be home to one of Ontario's largest collections of vintage memorabilia, including Hot Wheels, sports collectables and vintage books. Guests can enjoy a free sample of wine as they browse the collection.
---
Do you have other ideas creative ideas for wine touring that offers greatness beyond the grape? Share pictures of the Ontario's Southwest fun and flavour you find on social using #OSWPerfectPairings.