If you're lucky enough to own a convertible, you already know how much fun it is to drive the scenic Southwest roads in the fall. But, if you aren't a convertible owner, don't sweat it! We've created three must-drive routes to convince your friend with a convertible to road trip with you this fall. Don't forget to call ahead and make sure that the locations listed are open on the day that you want to visit.
1. The Foodie
Is your convertible owning friend the type to adventure far for a restaurant? Do they like to try new foods? Are they excited to sample the local specialties? Then, "The Foodie" must-drive route was created for them! Along the country roads in Oxford county, you'll appreciate the fall colours and experience delicious food at the following stops.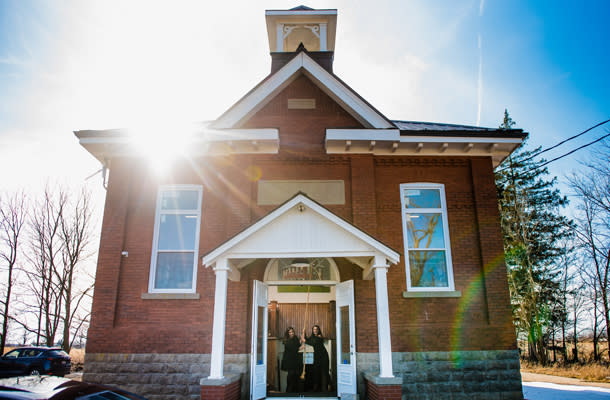 Foodie Stop One: 1909 Culinary Academy
If you are road tripping on a Saturday, make sure to stop by 1909 Culinary Academy to enjoy lunch on their patio! Their locally sourced seasonal dishes are sure to impress your convertible owning friend.
Foodie Stop Two: Snyder's Family Farm
After you've fuelled up, drive the backroads to Snyder's Family Farm where you can visit the pumpkin patch. Your foodie friend will love the pumpkin spice whoopie pie.
The Foodie Stop Three: Bright Cheese & Butter
Since Oxford County is the dairy capital of Canada, you MUST stop at a local cheese producer. Bring your foodie friend to Bright Cheese & Butter store and try some of their speciality cheeses.
Foodie Stop Four: Maple Lake
On your way to the next stop, make sure that you take the scenic route past Maple Lake. Driving with the top down is the bests way to take in those beautiful autumn colours.
Foodie Stop Five: Thames River Melons
Take those beautiful country roads all the way to Thames River Melons and check out their on-farm market. They make their own preserves from the fresh ingredients grown right there on the farm.
Foodie Stop Six: Jakeman's Maple Products
It isn't a Canadian foodie experience without maple syrup. Jakeman's Maple Products are next on the trip of local food and fall country roads.
Foodie Stop Seven: Elm Hurst Inn
The perfect way to end this adventure is by visiting Elm Hurst Inn. It is a beautiful place to visit, especially in the fall. If you know that you'll be in a food coma after dinner here, consider booking a room and resting up before the drive home.
2. The Cider Fan
Norfolk County, with all its apple orchards, screams fall time road trip.  It is a perfect getaway for the convertible owner that loves craft cideries. Pro tip: convince your convertible owning friend to let you behind the wheel by offering to be the designated driver.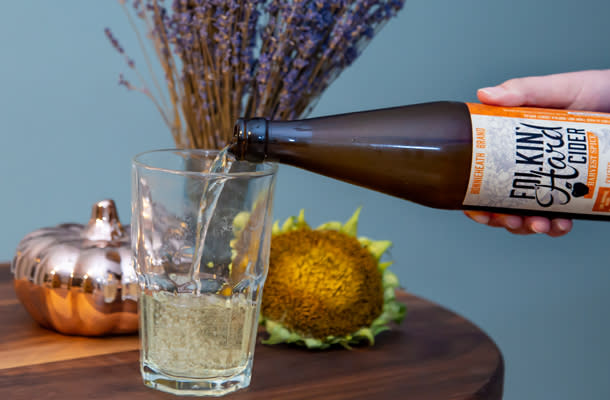 Cider Fans' Option 1: Hounds of Erie Winery
This dog friendly winery has four different cider options that can be sampled at their outdoor tastings or enjoyed on a self guided tour. They also have a retail store so that the designated driver can enjoy some cider when they don't have to drive. 
Cider Fans' Option 2: Blueberry Hill Estates
Blueberry Hill Estates offers many different cider options. And yes, they have a blueberry cider. But if you really want to go full fall, we suggest the Old Grizzly Fresh cider. It's aged in a Chardonnay barrel and has baking spices and vanilla layers to the taste that will remind you of a fresh fall apple pie.
Cider Fans' Option 3: Wooden Bear L Winery
The Bear Claw Hard Cider at Wooden Bear L Winery pairs perfectly with a crisp fall day. Not too sweet and not too dry, even Goldilocks would agree that their cider is just right!
Cider Fans' Option 4: Bonnieheath Estate Lavender & Winery
Lavender season may be over, but you can still pickup some dried lavender or other lavender products when visiting Bonnieheath Estate Lavender & Winery's retail store. Your convertible owning friend can enjoy a tasting and you can buy some Folkin' Hard Cider to go!
Cider Fans' Last Stop: Normandale Century Inn
If you bought cider from the retail stores throughout the road trip, you should consider staying at the Normandale Century Inn for the night. That way you can enjoy some cider in your cozy and comfortable room, and no one needs to drive anywhere!
3. The Art Appreciator
Elgin County is perfect for fall road trips. The back roads are exciting to drive and look amazing when the leaves change colour. Plus, your art appreciating, convertible-owning friend will love the stops on this route so much, that they might even bring you along for suggesting this to them.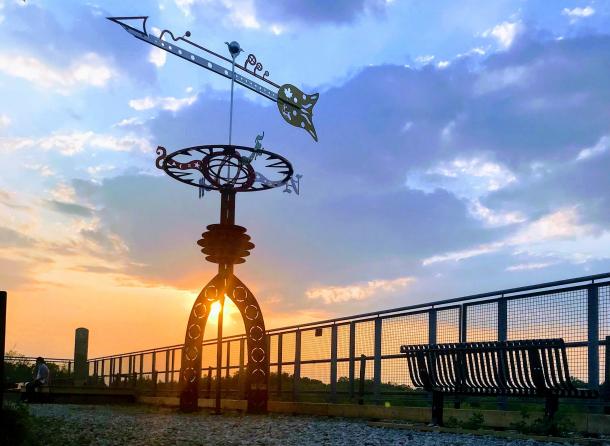 Art Appreciator Stop 1: St. Thomas Elevated Park
Canada has exactly one elevated park, and this is it! It is an old railway bridge that you can walk across safely and enjoy the fall foliage. It is also lined with sculptures and art from local artists. 
Art Appreciator Stop 2: Seed Confections
Who doesn't love when art and food are combined? The Seed Confections is the next stop on this road trip and is a great place to buy a few treats for the road. Try their beautiful, hand crafted, artisan chocolates, cookies, and macarons.
Art Appreciator Stop 3: Boxcar Murals
Before leaving St. Thomas, make sure to visit the Boxcar Murals in that are walkable from Seed Confections. Murals have been painted on old train boxcars by local artists. They are truly mesmerizing!
Art Appreciator Stop 4: Port Stanley Tall Ships Mural
The next stop is Port Stanley. Drive the beautiful back roads along the route until you hit Lake Erie. Stretch your legs and venture towards the Tall Ship Mural for a quick photo opportunity and then on to the next stop!
Art Appreciator Stop 5: Port Bruce Pierhead Lighthouse
The Port Bruce Pierhead Lighthouse is another scenic stop that any art enthusiast will appreciate.
Artist Appreciator Stop 6: Pinecroft
The Pinecroft is a hidden gem along the Elgin Arts Trail where you can enjoy the restaurant, pottery studio, and gallery. It is especially nice in the fall because it is surrounded by trees that change colour at that time of year.
Artist Appreciator Last Stop: Nan's Nook Bed & Breakfast
The last stop on the route is a showstopper anyways! Nan's Nook is located in Port Burwell and overlooks Lake Erie. It is the perfect place to rest for the night to make sure that you are ready for the drive back home.
See map here! Tag your friend with a convertible that you're hoping will ask you to ride shotgun.
To learn more about what you can expect when exploring Ontario's Southwest and how businesses are trying to keep you safe and following government guidelines, click here.