A weekend escape to Oxford County.
When one of my closest friends told me she was moving to London, Ontario, I was naturally a bit saddened by the fact that we wouldn't get to see each other as often as we'd like. But, then it dawned on me…why not use this opportunity to take a road trip and explore a new part of the province. So, for her upcoming 40th birthday, I am planning a girls' getaway weekend in Ontario's Southwest. Here's the plan…
Because she lives in London and the rest of us live in Toronto, we are going to meet somewhere in between – in Oxford County. Oxford County is bordered on the north by Stratford, on the east by Kitchener/Waterloo and on the west by London. Woodstock and Ingersoll are the best-known towns in the region. The region is easily accessible from the 401 and 403 highways and it is a quick 1.5-hour drive from the city, making it the perfect destination for a quick weekend away.
In addition to proximity, Oxford County has a vibrant local, artisanal culinary scene, with its roots dating back to the 1800's as Canada's Dairy Capital. At its peak, there were 98 separate cheese factories in Oxford County. The first cheese factory was owned and operated by James Harris, whose stately family home is now the upscale Elm Hurst Inn & Spa. Today, there are three artisanal cheese makers in the county, as well as farmer's markets, Amish farm stands, top-notch restaurants, artisanal food producers and so much more.
Our group of friends is very passionate about food, making this the perfect destination to play culinary tourists for a couple of days.
On Friday evening, we will be checking in to one of my favourite hotels in Ontario's Southwest - the historic Elm Hurst Inn & Spa, located on Harris Street just north of Highway 401. I have arranged for a relaxing night in where we will indulge in a Pajama Party for Four. This top-selling package includes accommodation for four in an Inn Room; two bottles of house wine; Chef's Signature Cheese Tray; mini gourmet pizzas, as well as individual manis/pedis – all in the comfort of our guest room. Buffet breakfast in the Elm Hurst restaurant the next morning is also included.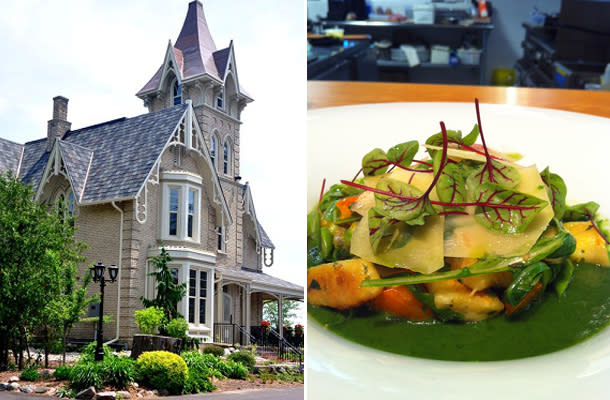 After a delicious breakfast on Saturday morning, we will make our way east to the Woodstock area, where we will become 'Cheesemaker for Day' at Gunn's Hill Artisan Cheese. Located just a few minutes south of Woodstock off of County Road 59, Gunn's Hill is an award-winning cheese producer. I recently had the pleasure of partaking in this experience and it was so fantastic I want my friends to experience it as well. From 9am to 3pm, we will enjoy an in-depth tour of the cheese plant, learn the basics of making cheese, get our hands wet in the actual cheese making process alongside cheese maker Shep Ysselstein, enjoy a late lunch and take some cheese home for the road. Amazing!
For dinner, we are heading to one of my favourite restaurants in the entire province called SixThirtyNine in Woodstock. Established in 2005, SixThirtyNine is an unbelievably delicious restaurant offering ever-changing seasonal menus of locally sourced ingredients. For a decade, Chef Eric Boyar, whose training is in classic French cuisine, honed his craft in numerous Toronto hotspots before returning to his roots to operate this landmark, casual fine dining restaurant. I recently had the pleasure of enjoying a meal of smoked trout carpaccio, asparagus soup and house-made gnocchi, at the chef's table situated right in the kitchen. We will be dining in this intimate space once again. I can't wait to see their reaction!
On Sunday, we will enjoy one final meal together – the famous Sunday brunch at the Elm Hurst Inn & Spa before going our separate ways.
I've discovered there are so many things to do in this region, whether you are food lover, a historian, a bird watcher or a shop-a-holic. I plan to return more than once. If you haven't been, you are truly missing out.