PELEE ISLAND, LAKE ERIE – I've only been in the Anchor and Wheel Inn restaurant for two minutes and I'm already in love.
There are pirate flags and colourful, wooden fish and bright orange buoys hanging on the walls. There's reggae music and Jimmy Buffett tunes floating over the speakers. Owner and head chef Mark Emrich walks by and I compliment him on the décor and the music. "Welcome to the Canadian Keys," he says with a grin. Emrich loads my plate with two huge pieces of blackened pickerel, as well as steamed green beans done just right and a small mountain of fries. Having already polished off half a huge salad with maybe a dozen ingredients, I felt like I had wandered into one of those all-you-can-eat or small-town places on Interstate 75 on the way to Key West.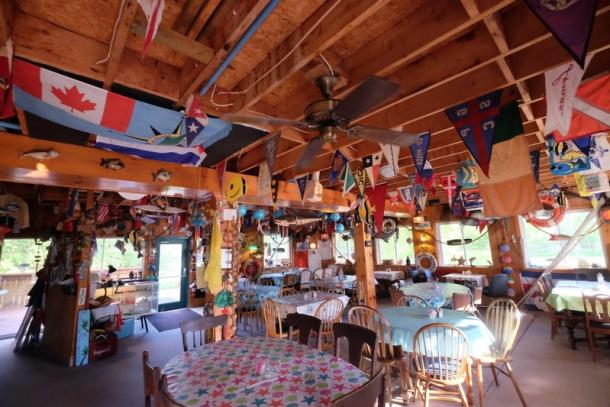 "Mark cooks the way his parents taught him to," Marlene tells me. "They used to come up from Ohio in the 1960s. Mark bought the place in 1986."
Marlene is originally from Dallas but has spent a lot of time in Islamorada in the Florida Keys.
"I came here to visit Mark for 10 days," she says. "I stayed 10 years."
"It's a beautiful place to be, with blue skies and blue water," she says. "It feels like the Keys to me."
I was told some of the Anchor and Wheel guests (they have rooms for rent in the restaurant building and a guest house, as well as cottages and a campground) have been coming to the island every year for 25 or even 50 years. One fellow is now 82 and started coming when he was 16, Marlene tells me.
I've lived in Ontario for 36 years, and I'd heard Pelee Island was cool. I knew it's the southernmost inhabited piece of land in Canada. But somehow my visit in late May at the request of the tourism folks from Ontario's Southwest was my first ever. It most definitely won't be my last, as I fell hard for this spot of land floating in the shallow waters of Lake Erie.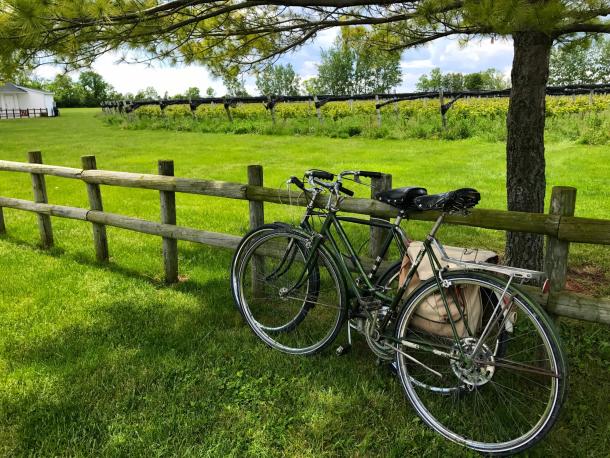 My first stop after arriving on the 90-minute ferry from Leamington is only a few meters down the road from the ferry dock; Pelee Island Winery, where I have one of the best winery tours I've ever experienced. And I've experienced a lot. Tour guide Clement Burgess tells my group highly entertaining stories about the wine business and the geography of the island, explaining that Pelee Island is a major stopping point for migratory birds. "They get tuckered out crossing Lake Erie so they stop here for snacks." I'd never heard this, but Burgess says a winery on the island won awards for its sparkling wine in Paris more than 100 years ago. According to the winesofcanada.com website, Pelee Island Wines (as it was called then) won a bronze medal at an Exhibition in Paris. "His Royal Highness, the Prince of Wales, tasted the wines and was pleased with their flavour and quality," according to the website. (The ruins of the former winery building, known as Vin Villa, can be seen on a tour of the island. More on that later.)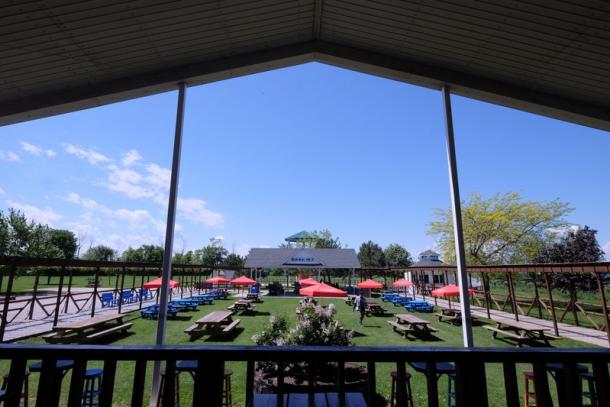 Burgess also talks about a pesky male moth that can devour a vineyard, which forced the winery to come up with a program of spraying the area with the scent from female moths. "It's kind of a Shakespearean tragedy," he explains. "The males get all excited thinking there are females around and they fly in circles looking for something that's not there. Then they get tired and fall down dead."
Like I said, not your average wine tour. And all the better for it. Following the tour with Burgess, I wolf down a nice pulled pork sandwich on the winery's patio with a fine glass of their Meritage red wine. There's a lovely lawn area off to one side of the winery building, along with colourful Muskoka chairs in shades of blue, lime green, cherry red and Golden Gate Bridge orange. Following lunch I get a wonderful island tour with Brenda Boonzijer from Explore Pelee. She lives in southwest Ontario most of the year but came over to Pelee Island to work this summer.
Boonzijer, an environmental studies student who also has taught English in Thailand, Chile and Italy, pointed out the highlights of the tiny village near the ferry dock. I don't think there are more than a dozen buildings with any kind of commercial activity, but locals nonetheless refer to the place as "downtown." The current municipal offices are in a small building with an Ontario Provincial Police detachment on top. Across the street is a Canada customs and border security building, adjacent to the wharf.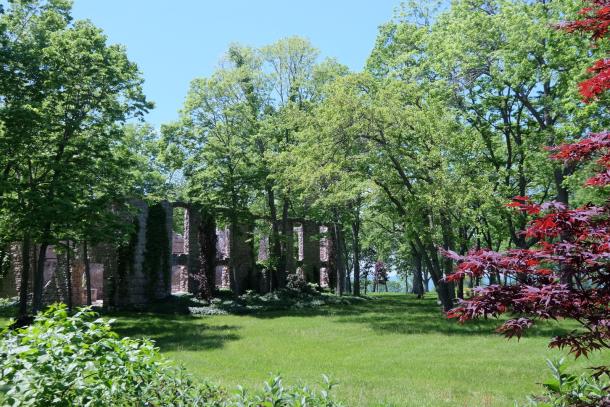 There's also a small park with a patch of grass and a large rock with yellow lichen growing on it. Boonzijer pointed out small depressions in the rock, believed to have been used by aboriginal folks to pound grain or grind seeds for eating.
Up the road, we passed a large Inukshuk called "Stoneman" that looks out over Lake Erie. We also spot a popular tree that's littered with old shoes. The story I was told is that the tree was diseased and was going to be taken down, so someone decided to turn it into a piece of art by tossing old shoes over it instead. The idea took off. This being Canada, someone has naturally tossed a pair of hockey skates on one of the branches.
Pelee Island Winery sponsors an annual half marathon on the island each year. Boonzijer says she was told that a runner from Toronto arrived a few years ago and suddenly realized he had forgotten his running shoes.
"One of the islanders drove him to the shoe tree before the race started and he found a pair that fit, which he wore in the race. But I don't know how he finished."
I have no idea if this story is true. But in the spirit of my favourite author, Mark Twain, I'm going to take this popular legend as fact. Or, at least, as a good story worth repeating.
Someone later tried an underwear tree but it wasn't as popular, Boonzijer tells me. Later in the day, I spotted I small tree with several bras on it, along with a small plaque that talked about the fight against breast cancer.
A little further on we spot the stone ruins of Vin Villa, the old winery building for Pelee Island Wines and the first winery in Ontario. It's been abandoned for years and there's a security fence around the perimeter, but you can still get good photos.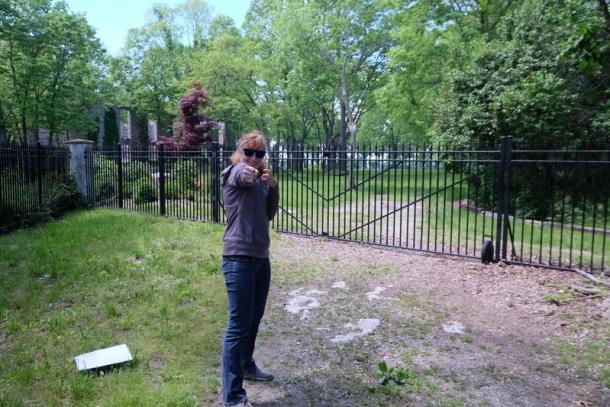 Outside the villa, Boonzijer stops to recite a lengthy poem about a legendary Pelee Island aboriginal woman named Hulda, who was a whiz with a bow and arrow and a beautiful maiden. She fell in love with a visiting Englishman. They lived happily for a time but he sailed home to see his ailing mother and died while back in England. When she heard of her lover's death, she is said to have hurled herself into the lake in despair. "A splash is heard," the poem reads, "and Pelee's pride floats out upon blue Erie's tide." There's a rock off the northwest coast of the island that is called Hulda's Rock to this day. Perhaps it's haunted. After the poetry recital, we drive slowly around the island, checking out pretty log homes and small cottages with lovely views of Lake Erie. "There are two rules of the road here," Boonzijer says. "Number one is you swerve for snakes. There are five types on the island and two are threatened. One, the blue racer, is endangered. So you don't want to run over a snake.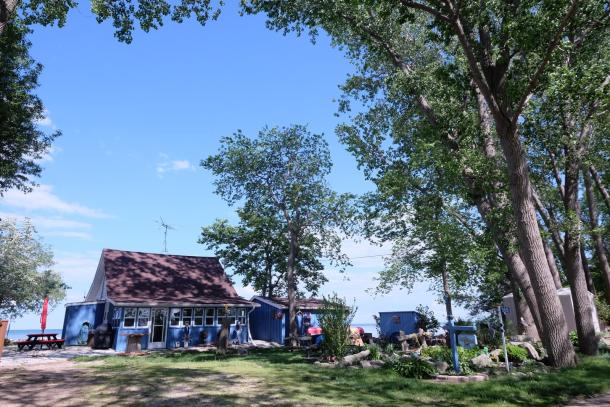 "The second rule is you have to wave at other drivers or people think you're a jerk." We don't see any snakes but we spy a group of small turtles in a roadside pond and also stopped to admire a couple of great herons floating across a marsh. After my dinner at Anchor and Wheel, I drive along the west side of the island and stopped to admire one of the prettiest sunsets I can recall.
There's a crescent moon hanging in the southwest sky and a line of clouds on the horizon with the brilliant orange sun peeking through. Large waves are pounding the rocks on the shore, sending drops of water into the air like momentary orange pearls reflecting the setting sun. I spot maybe three cars in 10 minutes as I watch the sun slide into Lake Erie, then take a short drive to my B & B, the Wandering Dog Inn, billed as the most southern inn in Canada. I had checked in earlier with owner Sandra Laranja and taken photos of her lovely home and gardens, so all I have to do now is put my bags in my room and settle in. I sit out on the covered porch, then decide it would be wiser to use the hammock Sandra provided. I lay back and gaze out at the darkening sky. I listen for birds or cars but I hear nothing for what seems like five minutes. Not the chirp of a robin or the sound of an engine. Not a word from a TV set in a nearby home. Nothing.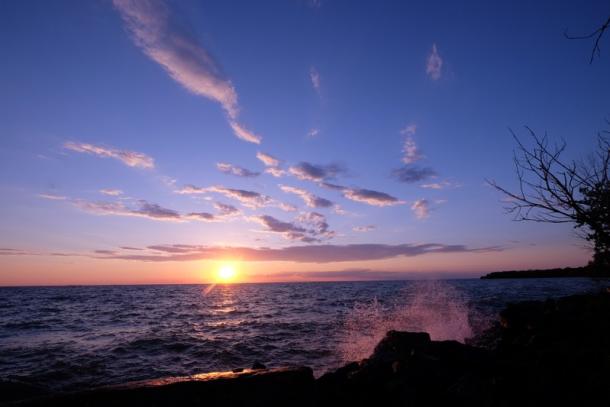 For a city guy it's almost unnerving, so I feel better when I finally hear a frog croak. I sleep great, then wake up to have a shower and some tea that Laranja had left in the room. I also have a fine-looking pastry I had purchased the day before at the Lakeside Bakery in Leamington, which also makes a tremendous breakfast sandwich with ham and plenty of gooey, melted cheese. I walk out to my covered porch and see Sandra, who has driven over from the home she sleeps in to check on her guest. "I felt guilty you didn't have any breakfast," she says. "You want some oatmeal or anything?" I assure her I'm fine with my tea and Danish, so instead of eating together, we sit for a few minutes on the front steps of my room and talk, admiring how the morning sun lights up her home and garden on a perfect May morning. "I think the story is the same for a lot of people here," she tells me. "I came for a day and ended up buying this inn." "Really?" "Yeah, pretty much. I came on a Sunday for the first time for one day in July 2009. I came back the next Saturday and bought this place." She's originally from Sarnia and sometimes thinks of moving back. "But this place won't let me do it."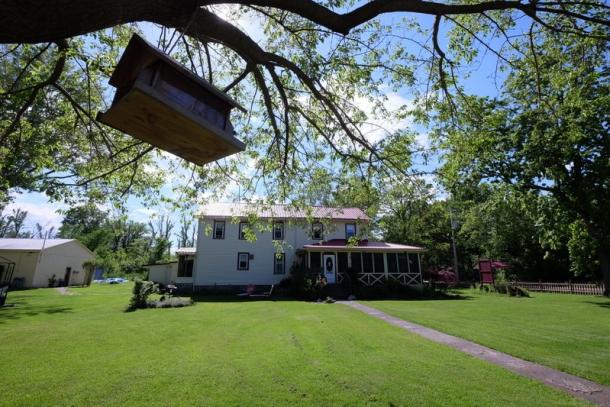 "I've been here for nearly a decade now but I'm still considered a newcomer. You have to work your buns off to make it on this island. But it's magic. It really is. Yesterday I was helping folks band hummingbirds so they can track them. Today, well, look at that light." Laranja insists there's something in the air on Pelee Island. "In summer the fireflies are amazing," she says. "You sometimes see sheets of them that go from the horizon to the stars. Sometimes I walk on the road at night and they line both sides of the road. I've seen grown men look at those fireflies and start to cry." I hop in my car for the short drive to the ferry. There's a guy walking on the left side of the road with his back to me. Not wanting to disobey my tour guide's rule for being friendly as I drive about the island, I roll my window down and give the guy a wave. I look over at my side-view mirror as I toddle down the road. Of course, he's waving back.
To read more from Jim Byers Travel, click here.