Exploring Haldimand County.
I've never really had the chance to explore any part of Haldimand County before and when I did, I was excited to see what the county had to offer. We met up with our awesome tour guide from the Haldimand Tourism office early in the day as she had a full day planned for us.
Our first official stop of the day was at Rock Point Provincial Park, which is just outside of Dunnville. When we got to the park we went right to their birding research station, where we saw birds get banded to track their migration. It was exciting to be able to watch them band the yellow sparrows, something I've never seen before. The birding crew at the park were so knowledgeable and we were fascinated to find out more about the migration patterns of the birds that visit the park. After the birding station, we went to the park's beach on Lake Erie, unfortunately we weren't able to go swimming as it was a little too cold. After admiring the beach, we toured around the camp sites. The camp sites are a perfect size for your tent, dining area or even a camper with great protection from trees. Rock Point Provincial Park is a perfect place to come for a summer camping destination with the entire family.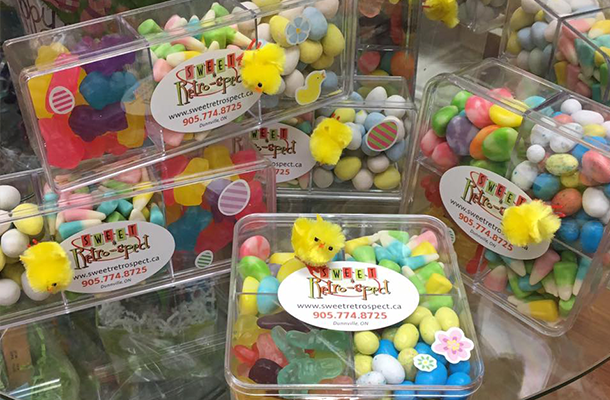 After a quick lunch at Bob's Place in Dunnville, we ended up at Sweet Retro-Spect Candy Store. The term "Kids in a Candy Store" doesn't even begin to describe how excited we were. This store had everything from candy and gourmet popcorn to little gadgets and vintage toys. It was very hard to resist buying too many sweets. Their homemade popcorn is to die for, especially the Chicago Style. If you are in Dunnville and you like sweets, I would definitely recommend paying Sweet Retro-Spect a visit.
After fueling up our stomachs with a delicious lunch and popcorn, we headed over to Knights Beach Resort, a tent and trailer camping resort on the shores of Lake Erie. Knights Beach resort is on a very large property with a lot of facilities for seasonal and day visitors. It has a games room for kids, playground, basketball court, a general store for any supplies you may need, and its own restaurant called 'Surf Shack Bar & Grill'. Knights Beach also has one of the few beaches on Lake Erie that has only pure sand, not rocks, and the beach is raked each morning! The resort does an amazing job of holding events that both adults and children can enjoy. Walking around the resort I could feel the energy and passion that staff has working there, to make the guests' stay as enjoyable as possible.
Finally, our last official stop was Oakwood Escape, a glamping resort located outside Dunnville on a working farm. It may be because I grew up outside of a small town, or because my family never went camping, but this was the first time that I've ever seen glamping, short for 'Glamourous Camping'. This style of camping I could get used to: a large prospector style tent with furniture, a comfy bed and the great outdoors - such a perfect combination. Plus, there's running water, bathrooms, and a hot shower, all while still being able to cook everything on an open fire by a pond. The tents are extraordinary and the staff is amazing. Oakwood supplies everything from bedding, towels, cook ware, utensils, cups, dish soap, etc. The only thing you need to bring to go glamping is clothes and food. Whether you want a romantic getaway, a family weekend, or going for a bachelorette party, Oakwood Escape has everything to accommodate your needs for that perfect getaway.
On our way home we took a little detour and made a stop in Hagersville at Hewitt's Dairy. What better way to end a day of touring around than getting delicious homemade ice cream? So many flavours to choose from too! Naturally I went with chocolate chip cookie dough, my favourite kind! It was so delicious and it was a perfect way to end a beautiful day in Haldimand County!