Exploring the flavours of Essex.
I love food but I'm a newbie to the Essex foodie and wine scene so when I got to the chance to check this part of the region first hand with an expert, I wasn't going to pass it up. Our journey started 9:00am on a slightly damp Monday morning, as we patiently waited for our day's acting tour guide, Adriano of WindsorEats, to pick us up from our starting point in Windsor. After initial greetings and introductions, the sun had come and out we were on our way.
We headed toward Amherstburg, where Adriano pointed out the hidden gems along the way and shared stories of his adventures on the culinary scene. It was great having such a knowledgeable and passionate guide showing us around the area. I couldn't believe how much this area had to offer. Did you know Windsor-Essex has unique and authentic eateries numbering in the hundreds, and over 20 wineries? It was incredible to see the many acres of vineyards we passed on our way to our first destination.
As we approached our first stop at Sprucewood Shores Estate Winery, I was blown away. The building was absolutely gorgeous; grey stonework and stained spruce covered the face and sides while a stunning hunter-green roof highlighted the buildings' charm. We drove around to the main entrance which faced the beautiful shoreline of Lake Erie. Later, I discovered Sprucewood Shores offers gourmet picnic baskets for a romantic lunch on the beach. Once inside, the atmosphere did not disappoint.  The exterior's character was continued with stone flooring, high ceilings, and dark stained wooden railings lining the upper level wraparound walkway. The wine was showcased in the centre of the room while several other product offerings surrounded the edges; everything from wine stoppers and accessories, cheese serving platters, unique ornaments, and dark chocolate to compliment. When it came time for the tasting, I felt a little out of my league, being so inexperienced in this area; but I soon learned a few tasting techniques and proper etiquette. We started off with the 2013 Pinot Grigio and then moved on to the 2013 Unoaked Chardonnay. Each wine was unique in flavour with hints of citrus; however my personal preference was the Pinot which was refreshingly crisp and clean. We topped it off with the 2011 Deux Rouge which was quite nice, infused with raisin and bright cherry notes.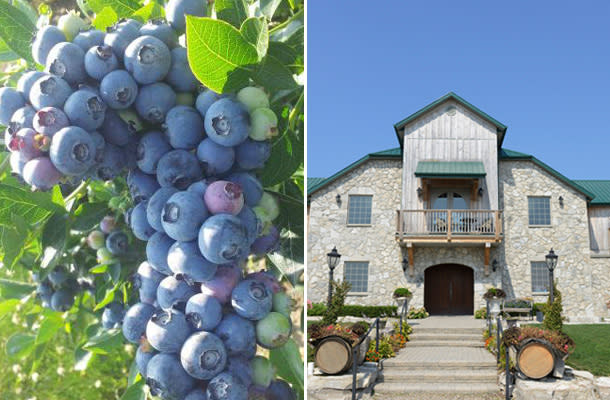 Leaving the winery, we made the short drive to Serenity Lavender Farm and North 42 Degrees Estate Winery. The scent in the air was instantly calming and tranquil. The garden area was beautiful, stocked with lush lavender plants, and acres of vineyards behind. Staff were recovering from their successful 3rd Annual Lavender Festival the day before, which had featured free live music, farm tours, cooking and craft demos, and local artists & artisans.  A short but enjoyable visit moved us on to our next destination.
A stone's throw away from our last stop is Viewpointe Estate Winery nestled right on the North Shore of Lake Erie. I don't know if it's my small town background or the lack of wineries where I'm from, but I honestly was astonished to see the size of these establishments. Viewpointe was just as beautiful as the winery before.  Inspired by an 1890 luxury hotel and casino, the venue was infused with classic charm and divine elegance. Large entertainment rooms, an expansive outdoor patio, and a gorgeous wraparound balcony overlooking Lake Erie were some of my favourite features. We met with the general manager, Claudia, who then gave us a full tour of the facilities. It was fascinating to learn the different aspects of the winery including culinary training, banquet halls, a retail store and tasting area, restaurant, production and aging cellars, as well as over 42 acres of grapes. After admiring the views of Lake Erie from the patio, we then moved inside to the tasting area where we sampled the 2011 Riesling, 2008 Focal Point Cabernet Franc, 2008 Balance Point Cabernet Merlot, and 2010 Sauvignon Blanc, a Gold Medal Winner at Shores of Erie Wine Awards in 2011.
Our guide, next, brought us to Klassen Blueberries in Harrow, where families and friends could come and pick their own blueberries right off the bush. As spoiled guests, we sampled the frozen yogurt with blueberry sauce topped with fresh blueberries, and boy was it delicious! After, we were given a tour of the fields; acres and acres of bushes. The berries were not quite ready yet, as opening season was still a few weeks away, but there some were ripe enough to try. If you've never tried blueberries right from the bush, it is a must. They were so fresh and sweet that I will surely be back for in time for picking season.
Finally, we ended our Essex County adventure with lunch at Jack's Gastropub in Kingsville. The location was very unique, decorated with Canadian Geese and other wildlife creatures. Jack's also offers accommodations upstairs, at Inn 31, as well as produces their own brand of craft beer - Banded Goose Brewing Co. As it was a beautiful day out, we decided to sit on the patio to enjoy our meal. We were pleasantly surprised to find this was the first day of their brand new menu. Everything looked absolutely delicious, and they offered an impressive amount of craft beers on tap. Having a huge passion for food, I was perplexed with where to begin. The menu was stacked with everything from wings, mussels, scallops, lamb burgers, mahi to meatloaf.  I heard the rave of the burgers, especially with the restaurant's appearances on You Gotta Eat Here, and was not disappointed when I ordered The Waldorf. All of the burgers are made from local meats and are fresh to order; one of the other great features of this place prides itself in. When the food came, the burger was quite large and loaded with toppings—a pork patty topped with blue cheese, maple pepper bacon, cider mayo, sliced pear, and shredded lettuce—I was beyond full and downright satisfied.
The trip back to Windsor gave me time to reflect on our day's adventure. I was grateful for such an enjoyable learning experience of Essex County and all the alluring attractions throughout. It was refreshing to meet such welcoming people and witness the vibrant local culture they are so clearly passionate about.  I was so pleased to discover all of the remarkable tourism destinations this area has to offer. It was truly an enlightening experience and has already got me thinking about my next visit to Essex County.