Lake breezes, soothing sun and local wine; these three things were calling my name as we set out to explore Sarnia-Lambton.
Known as Ontario's Blue Coast, I was ready for a lakefront adventure mixed with equal parts exploration and relaxation.
Our first stop was at Munro Honey and Meadery. With 102 years of business history, the staff at Munro are seasoned pros in the honey business. The retail shop tempted us with lots of bee-autiful honey products, including cute stuffed bees, tasty mead and mouth-watering apple cinnamon honey. Be sure to take a tour for a 'backstage pass' uncovering the honey making process. Accompanied by two generations of honey makers we arrived at the processing plant, watched a short video on the procedure and got to see the production and bottling system in action. With 2,800 hives, Munro's is one of Ontario's largest honey suppliers. Munro's also makes mead, a delicious honey wine. They also have varieties infused with fruits such as a blueberry or raspberry. Served chilled, it's a perfect summer drink for the patio.
Next, we made a quick cruise to Sarnia's waterfront ready to embrace the role of adrenaline junkies at Boarder Pass. It was a hot summer afternoon so this cable wakeboarding park was a perfect opportunity for a cool down. Cable wakeboarding works similarly to boat wakeboarding, except you are pulled by an electric power cable system instead of a motorboat. As a first time wakeboarder, I was a little nervous about the challenge, but co-owner Tim provided enthusiastic encouragement. After a few face plants I succeeded and, true to Tim's promise, I was wakeboarding! Although the pre-teen boys showed me up with their tricks and jumps, I was exceptionally proud of my accomplishment and would return in a heartbeat.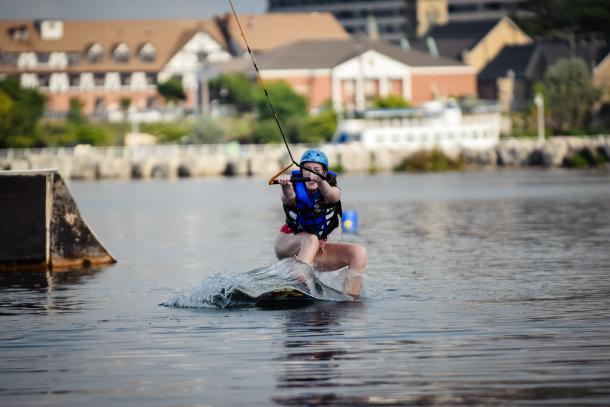 We appreciated the warm welcome and efficient check-in from the friendly staff at the conveniently located Hampton Inn Sarnia/Pt. Edward. We had to delay the temptation for a nap on the comfy beds as we had worked up an appetite at our wakeboarding adventure.
Our dinner destination was Paddy Flaherty's Irish Pub. The pub's large patio overlooking the marina was busy with guests enjoying the warm night. They offered a variety of delicious selections. We shared crunchy battered fish and chips, tasty tacos topped with tangy mango salsa and a delicious, spicy cauliflower curry. It was evident that this is a favourite local choice and we knew we had chosen the perfect place to unwind with yummy eats and a cool glass of sangria.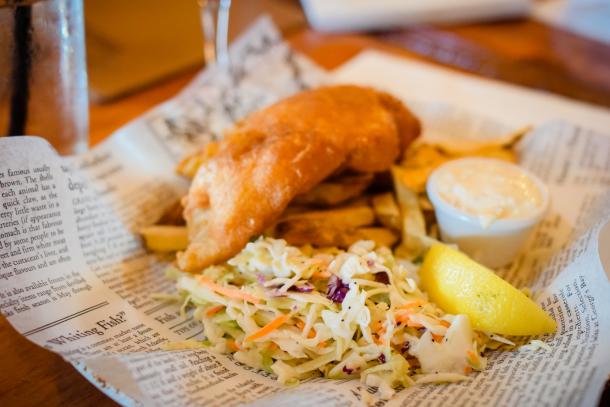 Following a great night's sleep and full breakfast at the Hampton,our next morning began on the 20th anniversary of the completion of the Bluewater Bridge's second span. It was fitting as we arrived at Bridge View Marina for a boat ride to look upward at this busy gateway between two countries. Ron Blake greeted us as we boarded his tri-tube pontoon boat. This boat quietens any rough water travels since it has three tubes instead of the usual two. With boat rentals at $340 for the day it's a fun option for a gathering of friends. We cruised along the Sarnia waterfront following the buoy markers under the Bluewater Bridge. These steer you away from the swells that formed under the bridge due to the sudden drop in depth. Ron explained that volume of water flowing under the bridge is the same as that flowing over Niagara Falls. We then explored the open waters of Lake Huron, revealing sunken shipwrecks and watching young sailors-in-training at the Sarnia Yacht Club.
Curious after the boat tour it was time to discover Sarnia's shores. Canatara Beach, with 200 feet of shoreline, calm water and 200 acres of park to explore, offers a perfect family destination. The beach is also wheelchair accessible with ramps leading towards the inviting sandy beach. Beyond the beach activities, the park has a petting zoo, with curious goats, bunnies, pigs and horses awaiting your arrival.  Additionally, there are several picnic locations, a bandshell and a BMX bike park. All park attractions are free with the exception of the newly installed train ride.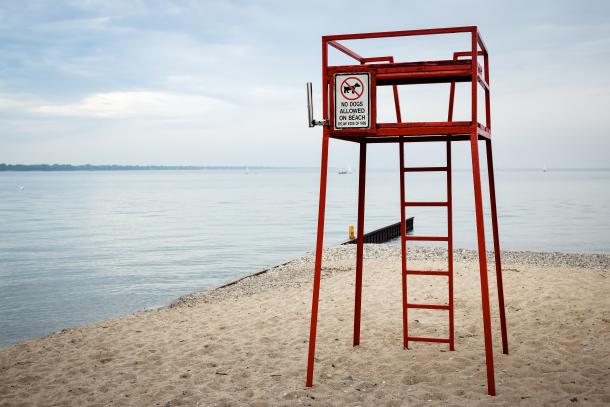 Alton Farms Estate Winery is a short drive inland. A dream realized of owners Marc and Anne Alton it was the first winery/vineyard in the emerging Huron Shores wine region.  As the area's first 'wine pioneers' they have cultivated over six acres of vineyards with more than fifteen varietals. A stop at the tasting room for a glass of Oaked Chardonnay sets the stage for an informative tour of the vineyards. Following the tour, a newly installed patio offers a great place to gather with friends. Tempting wood-fired pizzas are available Friday through Sunday; a delicious pairing for a glass of Red Dog blend or a fruity Marechal Foch Rose.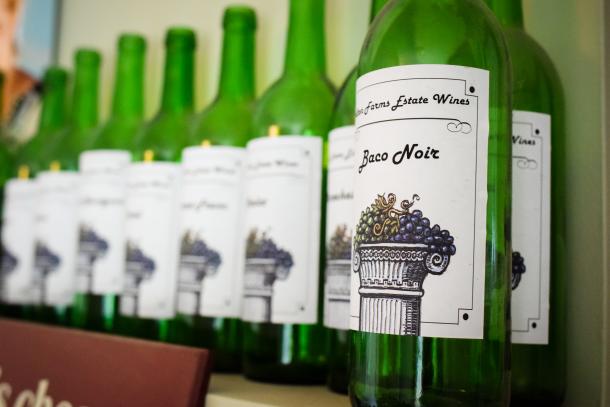 Our lunch destination was Grand Bend's Schoolhouse Restaurant. Located off the main road of the popular beach town, The Schoolhouse offers home-style, made from scratch dishes. There's a small cute patio but we opted for the charming, themed interior with its chalkboard reminders of 'classroom rules.' We dug into some classic comfort food: mac & cheese, chicken pot pie, pear and brie panini and all agreed that school lunches never tasted so good!
On the outskirts of Grand Bend the Dark Horse Estate Winery is truly a destination winery. Upon arrival you understand the passion of the Rasenburg family, proving the naysayers wrong about a winery in this region. The 31,000 sq. ft.building offers stunning architectural design: high ceilings, large windows, a modern barn interpretation in a picturesque setting. Our tour guide Megan showed us the ballroom, which was being transformed for a stunning weekend wedding. The Barrett Room, offers a temperature controlled rental space with a spectacular table made from a 240-year-old oak tree. The winery's large tasting room is staffed with knowledgeable servers who invite you to join them for tastings at the long wrap around bar. The tasting room extends to a patio where pizzas and charcuterie boards can be enjoyed. As we left I was texting my girlfriends to plan a return trip for Friday'Sangria, Chips and Salsa' night.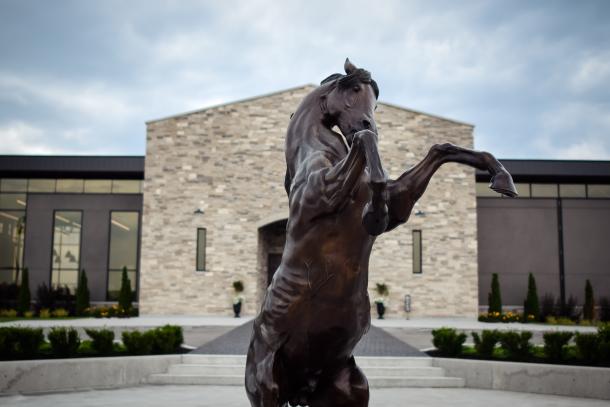 After all of this indulgence, our last stop was Rock Glen Conservation Area for a hike. An orientation in the museum provided fossil displays and information on native woodland species. We were advised of the conservation rules:  no digging and only one fossil specimen per person. The park's affordable entrance fee ($4) and wheel chair accessibility make it a popular visitor's choice. Trails are well maintained with attractive picnic pavilions and play areas. The park is home to a gorge, 150 steps down, taking you to a cool and tranquil environment. Continuing along the trail you'll want to discover the true highlight, Rock Glen Falls. With a higher lookout and short walkway to the bottom, the falls offer a perfect Insta pic location. The sounds of the flowing water were mesmerizing and the location offered a perfect spot to reflect on the treasures we had discovered along Ontario's beautiful Blue Coast.