See, touch and taste the bounty of Oxford County. 
Step back in time by travelling down the back roads, country lanes and rolling hills that make up Oxford County and surrounding area. Meet farmers and chefs who are committed to all things local and artisanal; learn about the historical significance as Canada's Dairy Capital and participate in a culinary experience that is reminiscent of the area's rural roots.
Friday
Start the weekend right with a locally sourced delectable country dinner buffet followed by live music or a theatre production at Walter's Dinner Theatre, located in Bright, Ontario, between Woodstock and Kitchener. The evening takes place in a beautiful 180-year-old converted barn. Performances include 'Walter's Family' concerts, Big Band Swing, rock'n'roll reviews, tribute bands, comedy and original theatrical performances. This popular venue welcomes more than 20,000 visitors annually so be sure to make your reservation well in advance of your trip. Evening shows begin at 6:30 pm.
Now that you've had a chance to get your honky tonk on, it's time to rest your head. Make your way to Ingersoll for two nights of old-world charm and modern-day relaxation at the Elm Hurst Inn & Spa. Located directly off Highway 401 on Harris Street in Ingersoll, the Inn has been offering outstanding hospitality to their guests for more than 30 years. Check into one of the beautifully appointed guest rooms, dine in the original Victorian Mansion Restaurant, where the chef will prepare a locally inspired feast for the senses, or indulge in some much- deserved pampering at the Aveda Spa. The next morning, partake in breakfast before heading out for a day of culinary delights.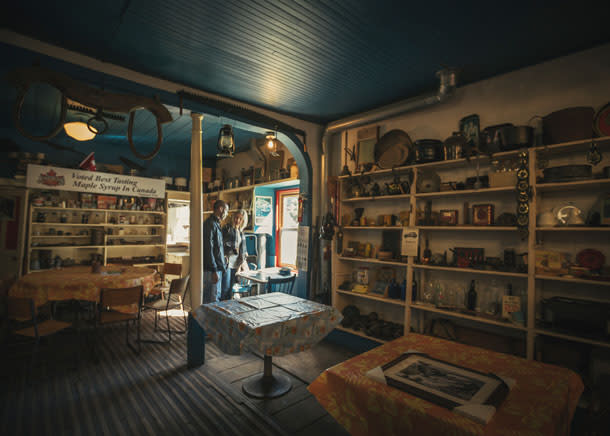 Saturday
Taste and tour your way through the day as you roam the countryside and make stops at:
Patina's Gifts of Arts and Crafts, in Ingersoll, is a unique gift shop that specializes in handcrafted items from across Canada and around the world. Featuring more than 100 artisans, this cozy store has something for everyone, whether it is pottery, hand-blown glass, Canadian art pieces or gourmet food confectioneries, like chocolate and jams. Cheese lovers will be thrilled to find a variety of accompaniments, including pottery trays, slicers and spreaders. Spend an hour browsing and we bet you won't leave empty-handed.
Jakeman's Maple Products, in Sweaburg was voted "Best Tasting Maple Syrup in Canada" by a panel of
 food experts for the National Post. This fifth-generation syrup-producing family learned their craft from the First Nations people and have been making maple syrup ever since. Their deliciously sweet products are exported around the world and can be purchased in their rustic gift shop, formerly the Sweaburg General Store built in 1855, a true step back in time. It also functions as a museum and pancake house. Take some time to walk the Trillium Woods Trail conveniently located across from the store.
Gunn's Hill Artisan Cheese, in Woodstock, won the Premier's Award for Agri-Food Innovation Excellence and took home top honours in the firm cheese category in the annual Dairy Farmers of Canada Canadian Cheese Grand Prix. While here, you will have the opportunity to rub shoulders with cheesemaker Shep Ysselstein, learn about the traditional techniques of crafting Swiss-quality cheese, see the factory, sample a selection of delicious artisan cheeses and enjoy the stunning scenery on this three-generation family farm. For die-hard cheese lovers, there's even an opportunity to become Cheesemaker for a Day. This full-day class walks students through the entire cheese making process, lunch included. Call to discuss booking your lesson.
From the moment you walk in the door, of the Dairy Capital Cheese Shoppe in Woodstock you'll be swept away by the aroma of freshly baked bread. The perfect stop for a late lunch, this gem of a place is a unique food and gift shop experience, complete with indoor and patio dining options. The summer patio overlooks the water fountain and stunning flower gardens at Museum Square in downtown Woodstock. Whether you stop in for a delectable lunchtime treat or to peruse the gourmet confectionaries and plentiful cheese selection, you are sure to be delighted.
After your very busy day exploring the rural roots of this wonderful county, kick back and relax before dinner back at the Elm Hurst Inn & Spa. Curl up by the fire with a book, indulge in a treatment at the Aveda Spa or enjoy a glass of wine at the bar before making the short drive back to Woodstock to one of Ontario's finest casual fine dining restaurants, SixThirtyNine. Established in 2005, SixThirtyNine is a stellar 30-seat restaurant offering ever-changing seasonal menus of locally sourced ingredients. For a decade, Chef Eric Boyar, whose roots are in classic French cuisine, honed his craft in numerous Toronto hotspots before returning to his roots to operate this landmark, casual fine dining restaurant. Unwind 
in the quaint dining room or book the chef's table located right off the kitchen for an unforgettable dining experience.
Sunday
A stone's throw north of the Elm Hurst Inn & Spa, you will find the Ingersoll Cheese and Agricultural Museum. This cultural attraction tells the story about the history, growth and development of the town of Ingersoll as a result of the dairy trade. Curious to see what a 7,300 pound round of cheese looks like? You will find photos of it here. You can also learn how cheese and butter were made centuries ago in a replica 19th Century cheese factory, as well as tour the other buildings on site, discover that Ingersoll was once a major terminal on the Underground Railroad and explore early Pioneer life.
Next, head to Amish Country and visit Coyle's Country Store in Tillsonburg, a popular foodie destination in the area. Established in 1899, Coyle's is known for its fresh roasted nuts, baking supplies, specialty foods and quality giftware. We bet you can't leave empty-handed! After shopping at Coyle's, we recommend you spend some time driving the country roads that make up Amish country. Discover the roadside stands, pick up the freshest produce you'll find anywhere and don't forget to slow down for the horse and buggies.