A new year brings new plans and new goals.  While all that determination is fantastic, it can also add to the pressure. For that reason, we're suggesting that you aim for relaxation this year. Trust us - we think you deserve it! Take a relaxing back road drive to Oxford County and explore all the ways you can completely unwind. Our local inns and bed and breakfasts have really stepped it up with these five packages made for a relaxing getaway.
Romantic Couples Getaway
Where to get it: Chateau la Motte Guest House, Woodstock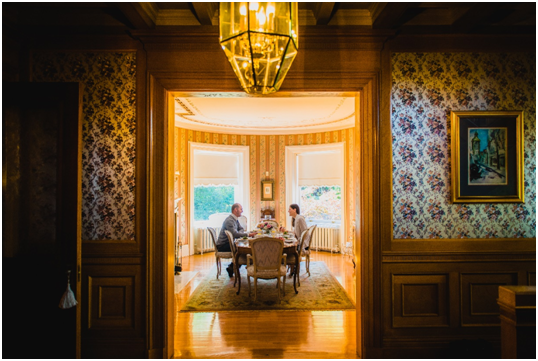 Point your wheels towards Woodstock for a peaceful getaway at a charming historic home.  Chateau la Motte Guest House has an eye-catching exterior with a unique red slate roof and ruby volcanic stone walls.  Step inside and you'll be greeted by warmth and classic décor.  This B&B's list of packages is extensive and the ability to score a great deal is easy.  We highly recommend the romantic couple's getaway which includes a massage at a nearby spa, bottle of wine, artisan chocolate from Woodstock's own Habitual Chocolate, local cheese (it is the dairy capital after all) and delicious hot/cold breakfast.
Want to make it last? Consider the full weekend getaway that not only includes a 60-minute massage but the same chocolate, a free flight of craft beer at Upper Thames Brewing Company, a $50 gift certificate at SixThirtyNine for delicious food made with local ingredients and the same deal with a hot/cold breakfast. Could you ask for more?
Pricing: $325/couple for a single night, $560/couple for the weekend getaway. Call 1-647-783-4440 to book.
Pajama Party for Four Package
Where to get it: The Elm Hurst Inn & Spa, Ingersoll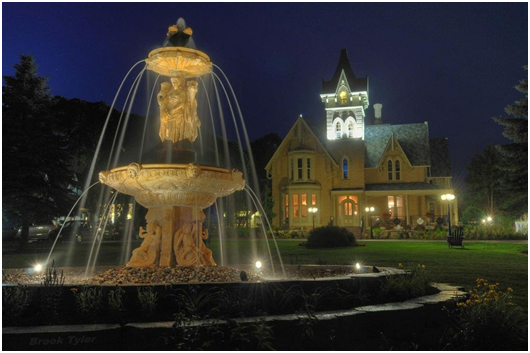 It's time for a jumbo slumbo a.k.a. the world's best slumber party ever. Feel like you're back in school with your besties when you book the pajama party at The Elm Hurst Inn & Spa- no sleeping bags required.  Enjoy a cozy bed in this boutique hotel with the ultimate getaway.  Besides one night accommodation, you'll also get hooked up with a complimentary buffet breakfast for four, a mani or pedi for each of you, two bottles of house wine (red or white) AND four mini gourmet pizzas delivered to the room. Want more? No worries! This package even comes with a gourmet cheese tray compliments of the chef delivered upstairs too. 
Pricing: $170/person based on a four person occupancy. To book call 519-485-5321 or 1-800-561-5321.
DIY Package
Where to get it: Seven Gables, Tillsonburg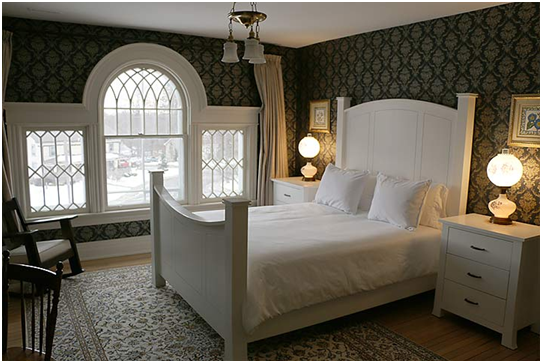 In Oxford's south end, Seven Gables Bed and Breakfast offers an exquisite and quiet getaway build for unplugging. Feel as though you've stepped back in time as you enjoy the luxury of this Edwardian home that at one time belonged to the grandson of Tillsonburg's founder, George Tillson.  Renovated in keeping with its full historic charm, these beautiful suites are ones you're sure to enjoy.  If you don't feel like there's a package that fits your needs, this is the perfect spot for you because you can design it yourself! Feel like you'd like a massage? A manicure? How about a tour of a local museum? No worries! Seven Gables will be happy to set that up for you. 
Pricing and to book: call 419-408-7829.
Overnight Spa Package
Where to Get it: Just for You B&B, Thamesford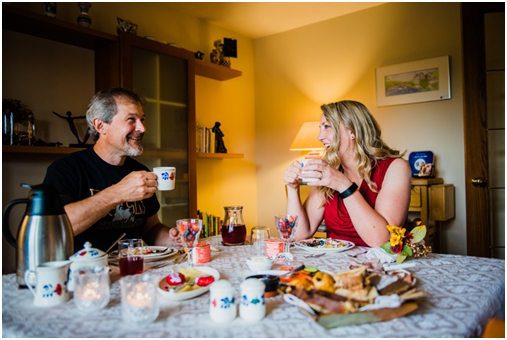 Find peace and serenity at Just for You B&B in Thamesford.  Located on 24 acres of luscious country property, this B&B is an amazing spot to just relax and enjoy the perks of leaving the city. Spend the day enjoying the on-site spa facilities with a refreshing jump in the pool in the summer or a soak in the hot tub on those chillier days.  Follow it up with a sauna!  If you really want to relax though, booking Just for You B&B's Overnight Spa Package is the best way to do it. The staff will arrange for a registered masseuse to come on site so you can enjoy anything from a hot stone massage to Indian head massage. Now cue the meditative state.
Pricing and to book: Call 226-781-2498 or 519-532-3167.
The Breakfast Package
Where: R Wee Inn, Otterville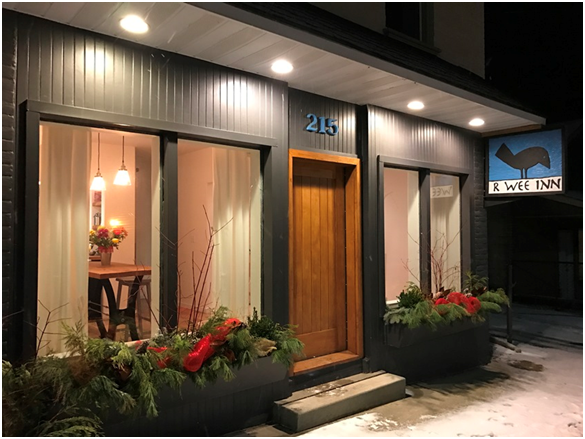 The village of Otterville will really help you get off the grid.  Head to R Wee Inn, a Scandinavian-inspired bed and breakfast that offers complete privacy.  This space has its own entrance, living space, bathroom, and a trendy room.  Have kids to join you? No worries! There are built-in bunk beds that your wee ones will love.  Be sure to check out the breakfast package for a variety of delicious local flavours to savour.  The peace and privacy of this ultra-cool spot will have you feeling refreshed in no time.
Pricing: $120/night. To book call 519-495-8803.
Want to plan a getaway to Oxford? Email us at tourism@oxfordcounty.ca and we can plan an itinerary with you or consider signing up for the Oxford Insider newsletter for some trip inspiration.
---
---