Last time this year, you probably had a social calendar filled with things to do and people to see. This year, you shouldn't be going to parties, travelling far, or gathering with people outside of your household. But that doesn't mean that you can't have fun!
With lockdowns and stay at home orders in place, we recommend that locals stay home as much as possible and use this article to inspire future travel. Only venture out for essentials and if you feel comfortable doing so safely and in accordance with health guidelines. Better yet, buying gift cards and shopping online is a great way to show your support for these local businesses while staying safe. 
No matter where you live in Ontario's Southwest, we have hotel suggestion near you so that you can feel like you are on vacation, even if you are close to home. To get the most out of your getaway or new-year's eve celebration, play "tourist" in your own home.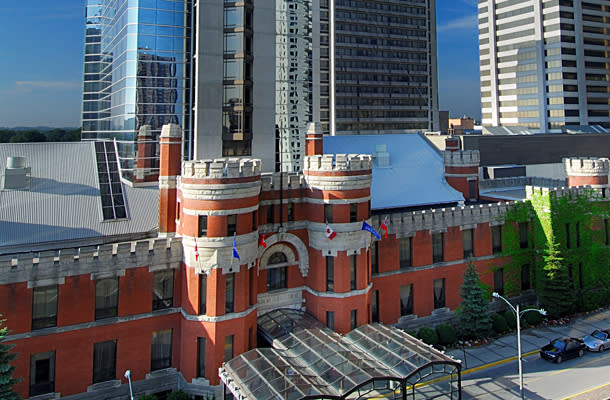 The Delta Hotels by Marriott London Armouries, also known as "London's Castle", is in the heart of downtown London. The Armouries Grille is open for breakfast and the Cantata Lounge is open for dinner without you ever needing to step a foot outside of the hotel. Where possible, staying in the hotel room is recommended. Plus, who doesn't love wearing fancy robes and ordering room service? 
If you choose to venture outside the hotel, it is walkable from many restaurants, cafes, and shops. For example, the Morrissey House and the Early Bird are both within a 15 minute walk and sure to please any foodie.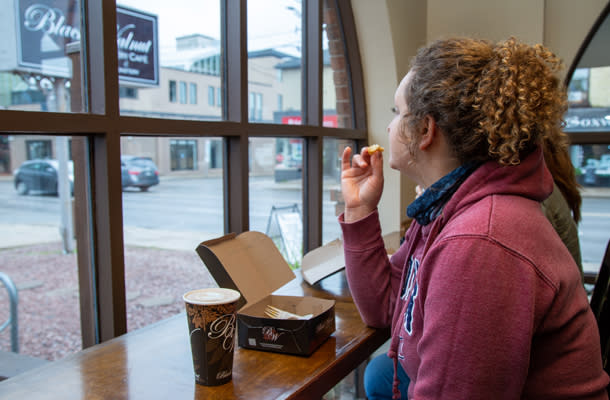 Dundas Place is filled with local businesses that will make your time in downtown London extra special. You can satisfy your sweet tooth with delicious juices at Rebel Remedy Health Bar. Or head over to Richmond Row to grab some balloons from the Dashing Balloon Shop and a speciality coffee from the Black Walnut Bakery Café. Call ahead to learn about curbside pickup or delivery services. 
Londoners, as well as those in neighbouring regions, that book a hotel for a consecutive 2-night stay, will have the second night free at participating hotels in the "Stay a Little Longer" program. This program for bookings made by December 31, 2020 and will cover stays until January 31, 2021. For more information, please visit Tourism London's website here.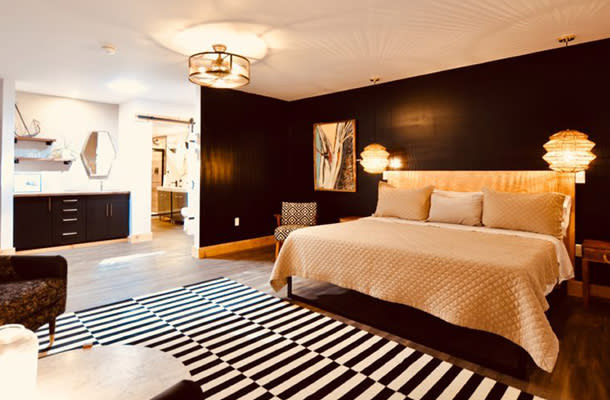 The PRINN is a beautiful boutique hotel in Port Rowan. The rooms are decorated with attention to detail that establishes an elegant ambiance perfectly suited for a New Year's Eve celebration or winter escape.
The PRINN is only a 15-minute drive away from Charlotteville Brewing Company where you can enjoy a cheese plate, charcuterie board, or sandwich and a locally brewed beer.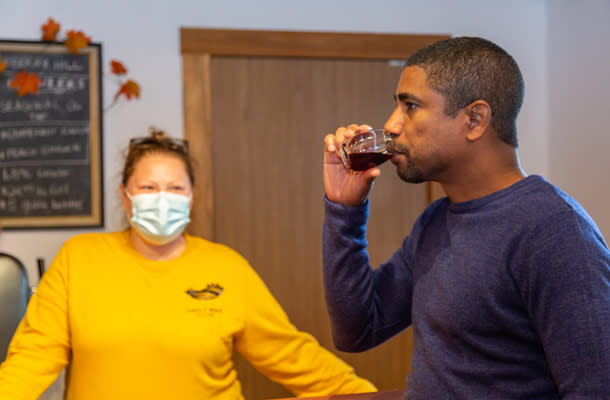 ​
For wine drinkers, Blueberry Hill Estates is only a ten minute drive from the PRINN. Enjoy a wine tasting or bring a bottle back to cheers to the new year in your hotel room. If your household includes non-drinkers, the Cider Keg's non-alcoholic sparking cider is perfect to be inclusive as you cheers to the new year.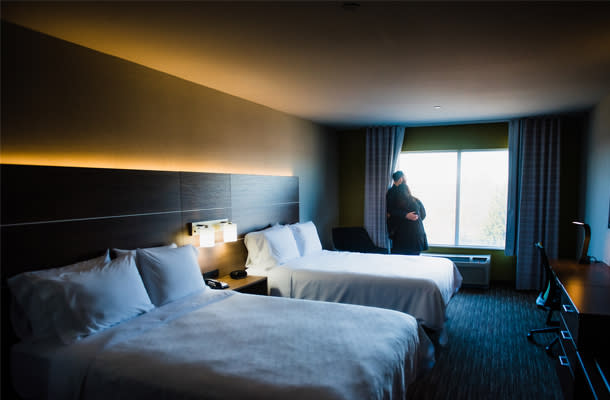 The Holiday Inn Express & Suites is a beautiful hotel in the heart of Woodstock. It is within a ten-minute drive from a brewery, many restaurants, coffee shops, and skincare supplies making it an ideal location for your staycation.
Only a seven-minute drive away from your hotel is the Upper Thames Brewing Company, Oxford's only brewery. For coffee lovers, the Early Bird Coffee is a six-minute walk away from your hotel and offers coffee tasting experiences.
You can support a local business and have a spa night of your dreams by stopping at Wild Comfort to pick up some skincare essentials. It is only a ten-minute drive from your accommodations and has online ordering, with pick-up and delivery options.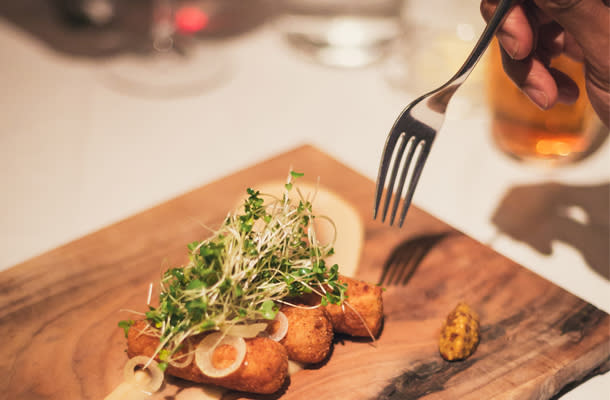 The Sixthirtynine annual Chef's Tasting Menu will no longer be available on New Year's Eve for indoor dining. However, they are offering takeaway meals for you to enjoy from your home safely.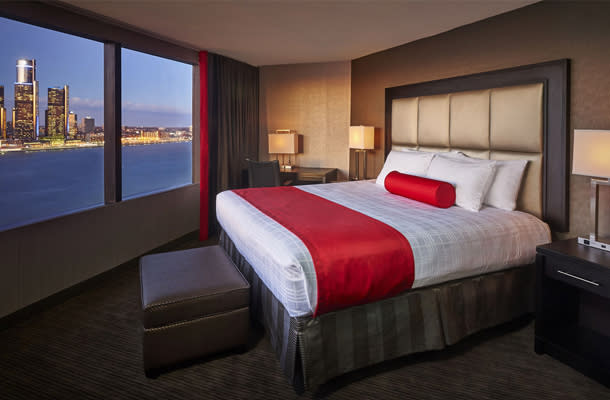 Locals looking to get away within the Windsor Essex and Pelee Island area will love the location of the Best Western Plus Waterfront Hotel. This hotel features spectacular views, and is a five-minute drive from Via Italia, Windsor's Little Italy. Where possible, staying in the hotel room is recommended. And with such beautiful views, why would you want to leave?
The Mezzo Ristorante & Lounge is in Little Italy and therefore is less than five minutes away from your hotel and offer gourmet boxes to go. This award-winning restaurant offers take-out and delivery options. So that you can stay safe and social distanced in your hotel room.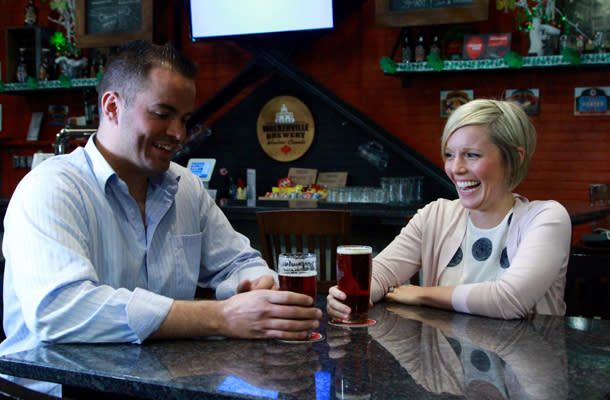 There are two local breweries within a five-minute drive from your hotel, Walkerville Brewery and Chapter Two Brewing Company. With these two options, you'll be in for high-quality beer since the Walkerville Brewery won several awards at the 2020 Canadian Brewing Awards and the brewer at Chapter Two is a Certified Cicerone. Both breweries want you to be safe and social distanced and therefore they offer online ordering. 
If you prefer to toast to the new year in your room, with a bottle of locally produced sparkling wine, pick up a bottle of Lily from Colio Winery or pick up a bottle of Lola Secco from Pelee Island Winery that is also available at the LCBO. The LCBO also allows you to shop online with delivery and same day pick up so that you can limit your time in the community.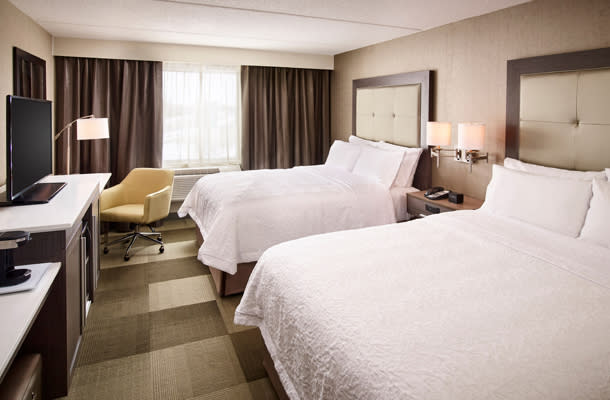 The Hampton Inn by Hilton in Sarnia is one of the participating hotels where you can earn vouchers through the Stay, Earn, and Discover in Sarnia-Lambton program. That means that staying at this hotel will earn you up to $100 in vouchers that you can use at local attractions, restaurants, and stores during your stay. Having a staycation at a local hotel has never been more affordable.
Alton Farms Estate Winery is a participating attraction that will accept vouchers from this program. Use the vouchers to enjoy their winter wine tasting patio. But don't forget your blanket and warm clothes so that you can truly enjoy the beauty of winter.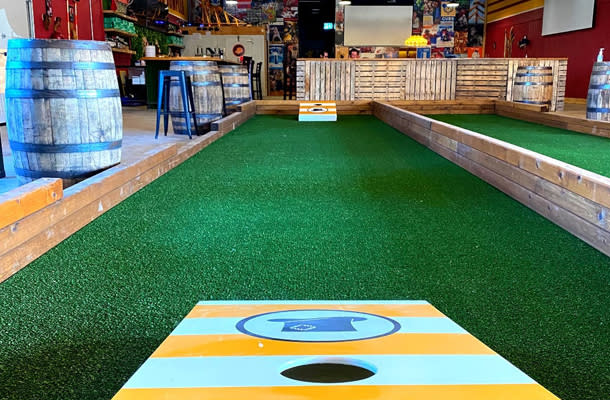 Photo courtesy of Refined Fool's Facebook Page. 
Refined Fool Brewing Co. is another participating attraction that the vouchers can be used at and is less than ten-minutes away from your hotel. Their new bar, "Sports" is complete with food, Refined Fool beer, and as the name would indicate, sports! Sports has cornhole, darts, pool, foosball, shuffleboard, and more for their patrons to play for free.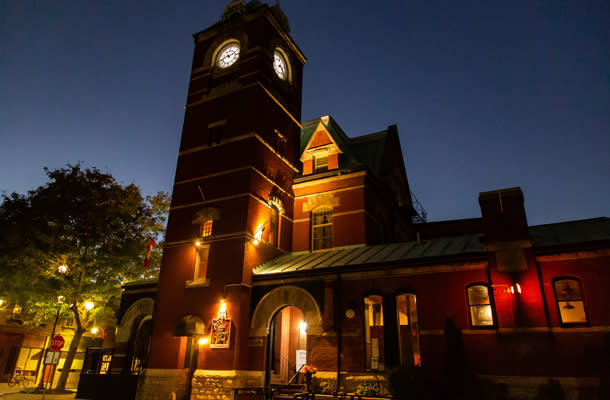 The Clock Tower Inn is built in a historical building yet has been renovated to meet the needs of a modern guest. The bistro is part of the inn so that guests can enjoy pizza, crab cakes, and warming soups that are perfect during the colder months. Where possible, staying in your room and ordering take-out is recommended.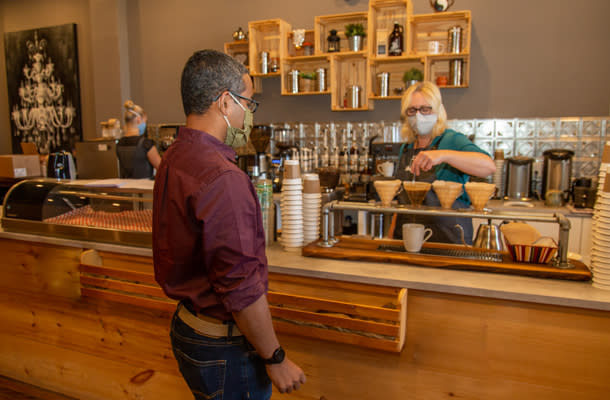 There are so many great places to visit within walking distance from your accommodations. For the coffee lovers, Muggs Coffeebar and Clayroom is a one-minute walk away from the hotel. They have fantastic coffee, baked goods, and food. There is also a clayroom and kiln on site, so you can pick up a pottery painting kit, paint it at the inn, and bring it back to Muggs when it is ready for the kiln. Please note that the kiln takes time and you should be ready to pick up your souvenir at a later date.
The Rusty Wrench Brewing Company is also walkable from your stay. It is about a ten-minute walk and when you arrive you can enjoy locally crafted beer and some delicious food. Call ahead to learn about curbside pickup or delivery services. 
Strathroy is bursting with food options fit for foodies. If you're in the mood for authentic Portuguese food, Tia's Place is also walkable and offers take-out and delivery so that you can enjoy your meal in your beautiful room.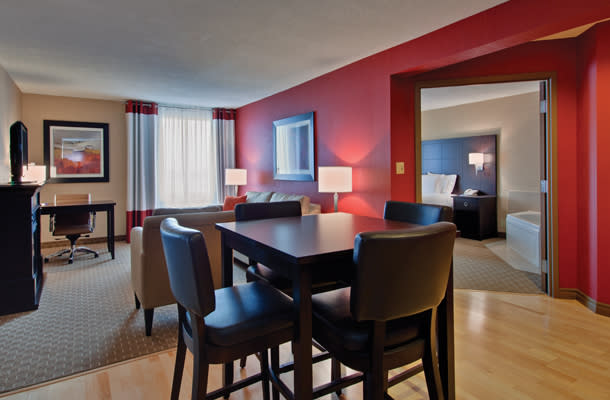 The Holiday Inn Express in Chatham is the perfect staycation destination for locals. This large hotel safe, clean, and it is a short drive away from Chatham's downtown and other fantastic attractions.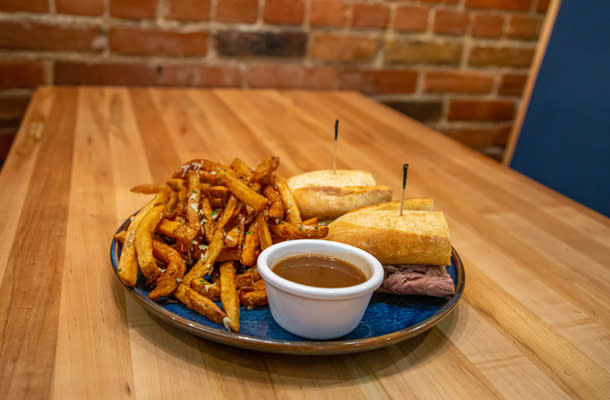 The Chilled Cork is a five-minute drive from your hotel and is offering festive catering to put you and your household in the holiday spirit. These meals are available for delivery and for dine in. Sons of Kent Brewing Co. is about a minute away from the Chilled Cork. Their premium beer can be brought back to the hotel with you to enjoy later. And don't forget an Edible Fruit Arrangement from Bella Chocolatier. They can even be delivered to your hotel the day after you order them.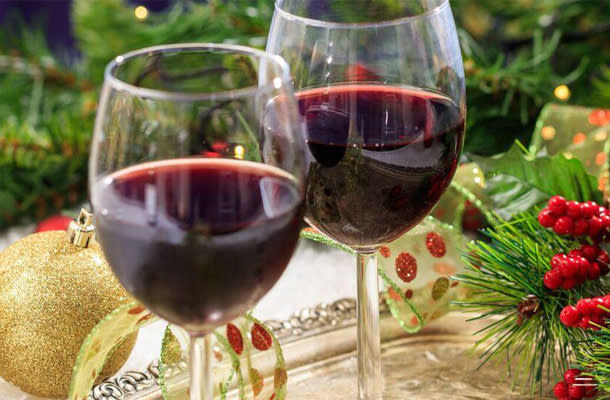 For wine drinkers, the Early Acres Estate Winery is only a 15 minute drive from your hotel and has award winning wines.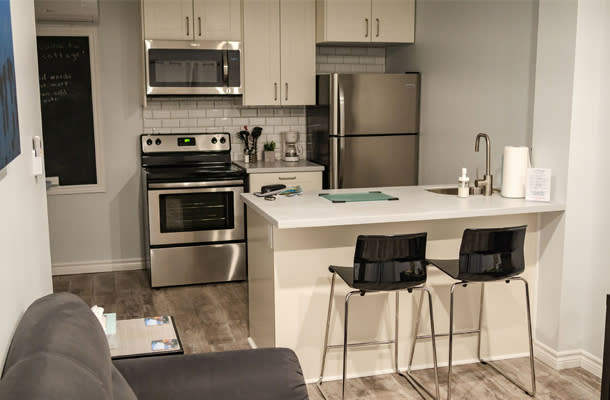 Haldimand locals looking for a peaceful NYE or winter escape should head to My Lighthouse Cottages in Dunnville. These waterfront cottages will make you feel like you're in a winter wonderland but are close to many local attractions.
For a unique dining experience that is less than ten-minutes away from your stay, check out Debb's Cuisine on Queen. Reserve a heated greenhouse for your household to social distance with ease. These heated greenhouses are perfect for a family of four to enjoy Chef Debb's delicious culinary creations.
Since your cottage will be equipped with a kitchen, stopping at Richardson's Farm and Market to pick up some local ingredients may be exactly what you are looking for. Their non-alcoholic ciders are fan favourites. Or if hard cider if more your speed, the Bains Road Cider Company is also located in Dunnville and makes 100% Ontario Wines and Ciders.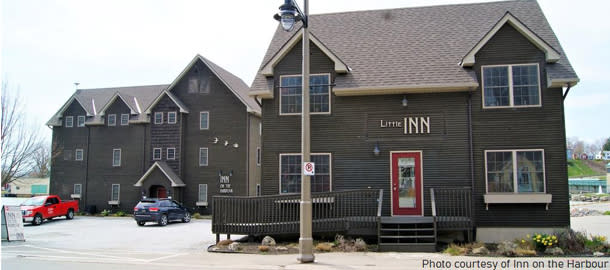 The Inn on the Harbour in Port Stanley is located right on the Lake Erie harbour. This charming inn has 12 different themed rooms so that you can choose the perfect décor for your winter get-away or NYE staycation.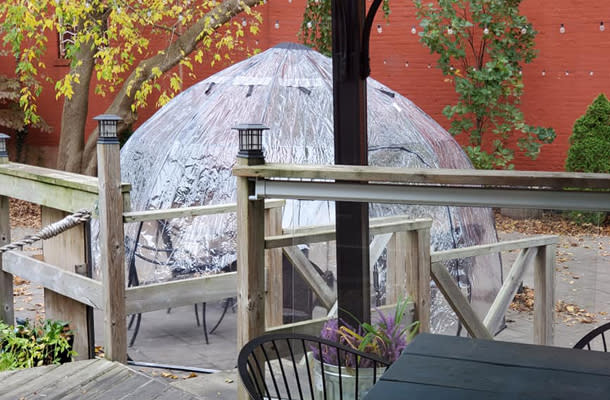 The above photo is from the Two Forks' Facebook page. 
There are many storybook restaurant options walkable from the inn. The new dining domes at Two Forks will turn your outdoor dinning into a new experience that is sure to make your winter-getaway or NYE special.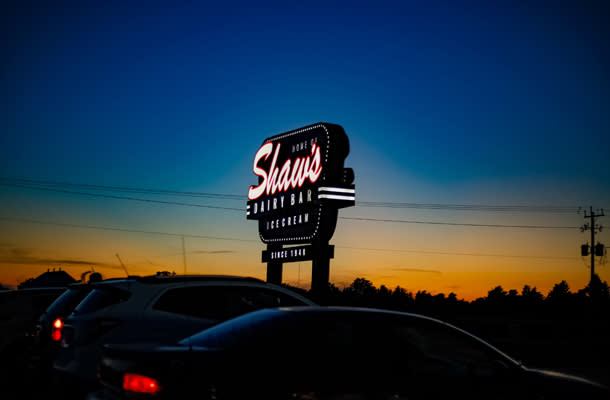 If you really want to celebrate right, you should head over to Rush Creek Wines for their award winning raspberry chocolate wine. It pairs perfectly with Shaw's limited-edition ice cream. Seriously, try it, you won't be disappointed.
For coffee drinkers, the Village Square Coffee House's specialty drinks are sure to make you feel warm, toasty, and ready to take on the day.
---
To learn more about what you can expect when exploring Ontario's Southwest and how businesses are trying to keep you safe and following government guidelines, click here.
---
---