Norfolk County is known as Ontario's Garden for its rich farmers' fields as well as a growing wine and craft beer scene. However, it's not just a foodie's dream, it's also a paradise for those that love the great outdoors. The rich forests, expansive Lake Erie shoreline, and waterways all make for an amazing playground of outdoor activity. The main hubs of it all are Long Point and Turkey Point.
Long Point and Turkey Point both reside on the shores of Lake Erie and are home to Provincial parks. These Ontario Parks make for a great start to your outdoor adventures so grab your sunscreen and let's start making tracks!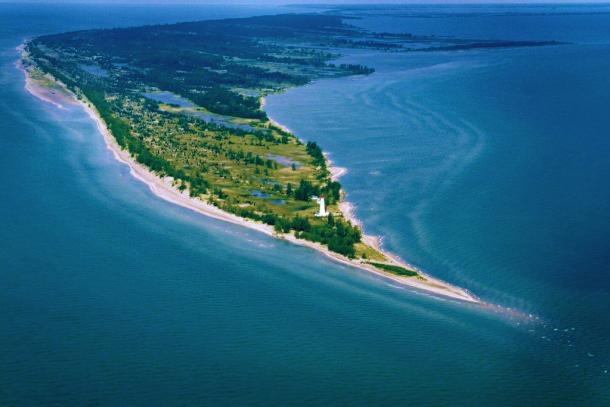 Hiking & Biking
Norfolk County is located within the rich and diverse Carolinian forest zone making it perfect for those that love trails. Whether it's hiking or mountain biking, there's a great network of trails in Long Point and Turkey Point. You'll definitely want to take in the unique landscape of Long Point which is recognized as a UNESCO World Biosphere Reserve.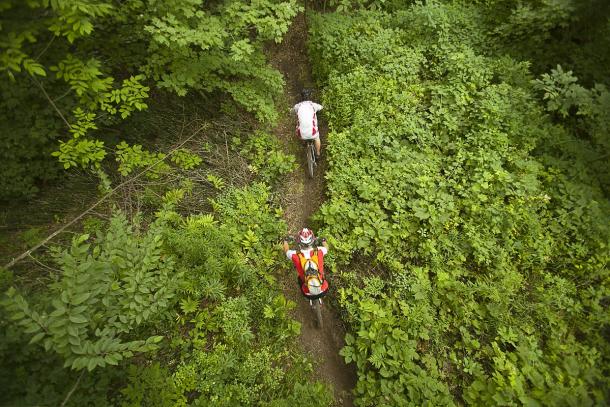 For mountain bikers, the area is home to some of the best trail riding in Ontario with 75+ kilometers of single-track trail. You can even take a guided tour on these trails with the experts at Elevation Mountain Bike Camps. They offer half day or full day tours and can even rent you a bike if you don't have your own.
Don't worry, we haven't forgotten about you on-road cycling fans. You'll love the Waterfront Trail route along the shores of Lake Erie. This trail is part of the 3000 km Great Lakes Waterfront Trail that stretches along the St. Lawrence River, Lake Ontario, Lake Erie, Lake Huron. The Norfolk portion is 64 km long and goes near the shore in many portions as well as along scenic country roads.

Paddling
With the abundance of shoreline between the two points as well as the gentle waterway of nearby Big Creek, it's no surprise there are plenty of opportunities to dip your paddles into the water in this area. From stand-up paddle boarding tours from South Coast Watersports on Lake Erie to Long Point Eco-Adventure's fully guided kayaking adventure on Big Creek, also known as the Canadian Amazon, all your paddling needs are covered!

Fishing
Norfolk is home to some of the greatest fishing opportunities in Southern Ontario and you can virtually fish all-year long in this area. Chase smallmouth bass and northern pike in Long Point Bay or troll the depths of Lake Erie for trophy walleye and rainbow trout. You don't have to be a fisherman already to get in on the action though. Jimmy Riggin' Fishing Charters has been taking novice, and pro, anglers out to fish the waters off Long Point for over a decade. Or you can try kayak fishing with the folks at Baer Fishing Adventures. They offer half day tours as well as picturesque sunset fishing adventures on Long Point Bay. Recently, Baer has also started offering fishing adventures on a sport-fishing vessel making it great for families and groups.

Boating & Watersports
A Great Lake absolutely means great boating and watersports activity. There are full service marinas for boaters in the area including MacDonald Turkey Point Marina, the largest full service privately owned marina on the north shore of Lake Erie. Rentals are also available for watersports fans that don't have their own machines. Rent sea-doos, jet boats or pontoon boats from Waveline Seadoo Rentals, or head to Turkey Point Watersports for waverunners, pontoon boats, and even paddleboards or sit-on kayaks.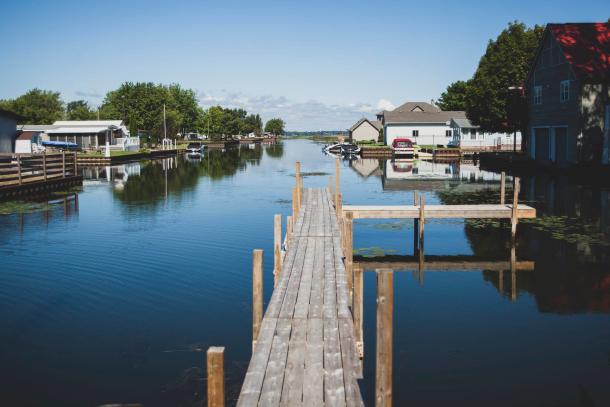 Overnight Stays
All this active fun in the sun and on the water means you're going to need a place to rest your head for the night. If you book early in the year, you'll be able to secure a campsite at either Long Point or Turkey Point, however they do fill up fast. Luckily, there are a number of awesome options nearby. Long Point Cottage Rentals has five different cottages of various sizes available including some with their own beach access. Bayside Vacation Resort is another great option with their seven cottages by the water's edge. Or head up the road from Turkey Point to Martins Glen Cottages nestled in a private property in the trees overlooking Lake Erie. You can even glamp if you prefer glamourous camping with pods or luxury yurts at Long Point Eco-Adventures.
As you can see, no matter how you like to experience the great outdoors, the Turkey Point and Long Point area of Norfolk is sure to please any outdoorsy type. So what are you waiting for? Pack the car and head to the 'Points!'
Please take a moment prior to your visit to confirm that the places you plan to enjoy will be operating when you arrive. The partner listings in our Things To Do section are a great resource to find operator websites and phone numbers.
We are so lucky to have beautiful natural areas in Ontario's Southwest to enjoy. Let's take action to protect our precious natural spaces. Click here to join the #ForTheLoveOfParks movement and learn 5 ways you can help keep parks clean and safe.