Looking for slightly more challenging paddle routes in Southwestern Ontario? The region is chalked full of amazing paddling destinations, from day use to a quick overnight. Here are some of my favourite intermediate routes.
Detroit Lower River
Canada's side of the Detroit River is far more paddle friendly then the U.S side. Townships have created access points and picnics areas along the shoreline and the local canoe club organizes several day outings for newbie paddlers.
The upper and middle stretches of the Detroit River are nice floats and very historic, but the lower river is the preferred portion to canoe or kayak. The route begins in the town of La Salle, a quaint community below Windsor on the Canadian side. The best put-in is at the foot of Laurier Drive across from the top of Fighting Island. Parking is available. From there a few narrow channels can be navigated but the main run is the passage down the west side. There are also two eastern channels passing many private marinas.
At the bottom end of Fighting Island and Turkey Island, the Detroit River opens and becomes more lake-like, bordered by large wetlands that are alive with bird life. A strip of land jaunting out from Bob-lo Island, toward Lake Erie, gives shape to White Sands Beach Conservation Area. This is a good place to take out since you are close to where the Detroit River flushes out into the expanse of Lake Erie.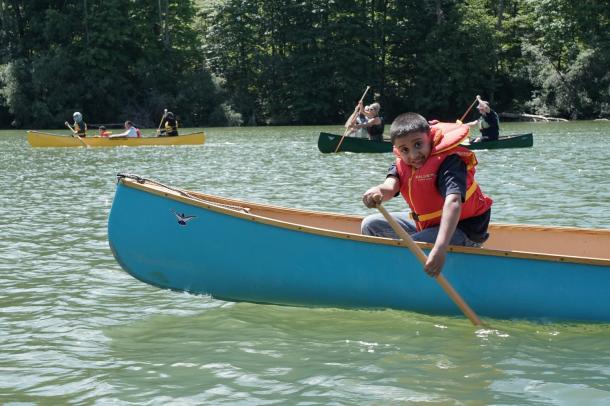 This waterway is more doable during the shoulder season when water levels are higher but it's still possible to paddle stretches year-round. The entire river has little current, so you can travel up or downstream. A popular put-in is near the village of Wilkesport, just a few hundred meters west of the Kimball Side Road on Wilkesport Line. Parking can be had alongside the road. From here you can paddle east and under the first bridge, or west and south towards the Darcy McKeough Floodway. Both stretches are scenic, isolated, and full of wildlife. It makes for a perfect novice day outing.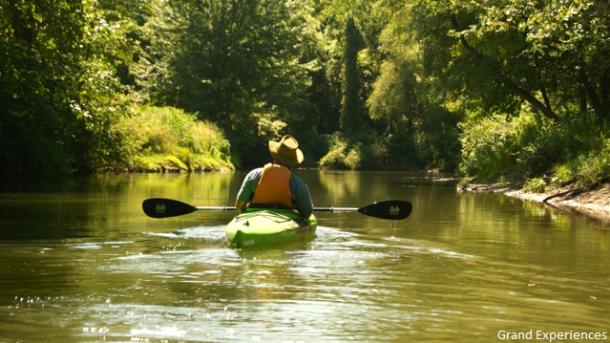 The creek starts near Norwich and snakes through Tillsonburg until it finally empties in Lake Erie in the town of Port Burwell. The scenery is of dramatic sand bluffs as high as 30 meters, as well as thick Carolinian forest. There is a sandy bottom and no rapids. Camping is available at nearby Port Burwell Provincial Park.
The put-in is on the Richmond Road (just south of Richmond) pull over area on the northeast side of Richmond Road Bridge. An alternative put-in is High 45 (Calton Line) Bridge—but I prefer Richmond Road. The take-out is Port Burwell Beach/Park, on the east side of the waterway. Some paddlers, however, shorten their day by taking out at Vienna, upstream of Port Burwell. That take-out is under a small bridge with road parking—Plank Road (Hwy 19) bridge at the end of Chapel Street.
This is an intermediate-to-advanced run. While there are no rapids, the creek has many log jams and possible sweepers. This can be quite dangerous in high water levels. Richmond Road to Vienna is 27 kilometres (four to five-hour paddle). Richmond to Port Burwell is 32 kilometres (six to seven-hour paddle).
Big Creek—Rowan Mills to Port Royal
This is a fantastic paddle. Big Creek winds south through the Carolinian forests of Norfolk County into the Big Creek National Wildlife Area, an internationally recognized marsh and wetland, and finally empties into Long Point's Inner Bay.
There are numerous put-in locations along Big Creek. The starting point if you wish to paddle the creek in its entirety, which will take about 12 hours, is on McDowell Road. For a shorter paddle, use the Rowan Mills Conservation Area or Lower Big Creek Conservation Area as your starting point. It's a novice-to-intermediate run.
This is an excellent half-day paddle. The 25 hectare-reservoir is the focal point of this park that is owned and operated by the Long Point Region Conservation Authority. The shoreline is undeveloped and there are many inlets to explore. Canoe rentals are available. Boat motors are restricted to electric power only. The lake is surrounded by Carolinian forest on all sides. The route is accessed at the public boat launch at Deer Creek Campground. It's perfect for the any skill-level paddler and the entire shoreline adds up to eight km (three hours).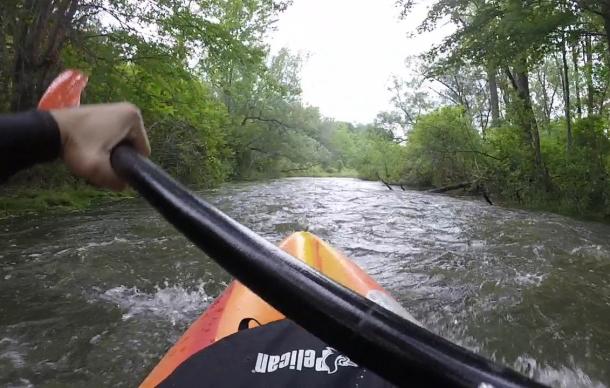 The Thames River, originating northeast of London and flowing southwesterly to Lake St. Clair, offers more than 300 km of navigable waterway. The upper river water levels usually get too low mid-summer for paddling. But levels after the city of London can be generally good throughout. The preferred day outing is a 19-km section of shallow swifts and deep forested banks, beginning just below London's Springbank Dam and ending before the town of Delaware, along Highway 2. Mid-way you'll paddle through Komoka Provincial Park.
To reach the put-in, head south on Sanatorium Road and make a right on Halls Mill Road, and then a left on Old Bridge Road. There is a parking area beside a pump house, and a rough road heads down to the launch area. To shuttle a second vehicle to the take-out on the east side of Highway 2, drive back to Sanatorium Road and turn right onto Commissioners Road West. Approximately 3 km south, make a left onto Gideon Road (County Road 3), and then eventually a right on to Highway 2. The parking area is on the northeast side of the bridge.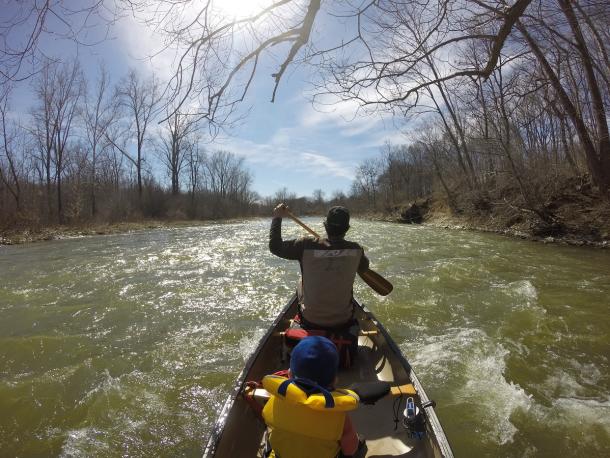 There is a set of fast water (nothing bigger than a class I) about every 15 to 20 minutes of paddling throughout the day; just make sure to make a point of deciding which channel holds less rock and more water. When in doubt, the rule is to choose the outside bend and make sure to keep the canoe pointed downstream.
Apart from the odd development encroaching on the river, it's quite a wild setting with lots of wildlife: great blue herons, belted kingfishers, osprey, bald eagles, longnose gar (a fish similar to a pike but with an elongated nose), and the endangered softshell turtle. Surprisingly, the Thames River is home to 40 percent of Canada's endangered species.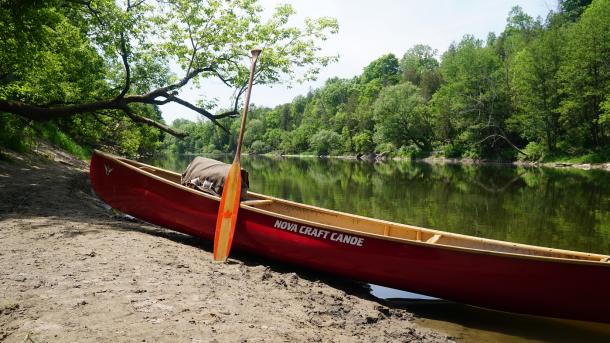 The Nith is a hidden gem of Oxford County, twisting its way through rural fields and woodlots most of its length. Unfortunately, it's mostly a spring or fall run when water levels are up. But there are sections that can provide a suitable float throughout the summer.
There are three popular sections that make for excellent day trips. The upper stretch from the hamlet of Greenfield to the takeout at Frog Bridge at Drumbo (a.k.a. Silver Bridge); the middle run between Frog Bridge and the second bridge in Canning; and the lower portion from the Canning Bridge to Bean Park in the town of Paris.
The upper cuts through Carolinian wooded banks and the occasional farmer's field. The middle snakes its way through the tranquil countryside of Oxford, cutting into high clay banks and Carolinian sycamore trees. On the lower run the river then picks up its pace, forming a stretch of class one and two rapids before flushing out into the Grand River. That last stretch, however, can only be done when the water level is up.
Looking to learn some new paddling skills?
Southwestern Ontario has a good selection of guides, outfitters and volunteer paddling clubs that will jump at the chance to teach others how to canoe or kayak safely. Here are some recommended choices:
We are so lucky to have beautiful natural areas in Ontario's Southwest to enjoy. Let's take action to protect our precious natural spaces. Click here to join the #ForTheLoveOfParks movement and learn 5 ways you can help keep parks clean and safe.