Amazing Outdoor Dining Spots Ready to Welcome You Right Now
We are continuously impressed by the spirited local entrepreneurs who have persevered during the pandemic.  Now that it is patio season, businesses within Ontario's Southwest have adapted to serve you safely this summer - be sure to check out these new, extended, or modified patios! 
Windsor
On specified dates, streets in Windsor are closing for traffic so that patios can take over! Craft Heads Brewing Co. is taking this opportunity to create an extended patio where you can enjoy their cold, locally brewed beers. With their lactose infused kettle sours, specialty ales, or IPAs, there is something for everyone!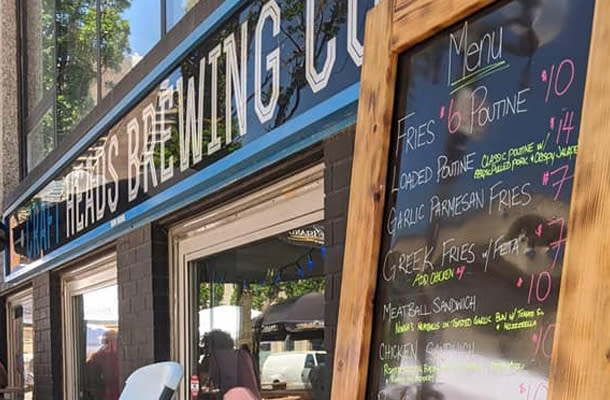 If you are more of a wine drinker, Dancing Swallows Vineyard has a beautiful outdoor wine tasting patio. Make sure to try their "Artist's Series" Craft Wines, where the winemakers at Dancing Swallows Vineyard crafted "a little something different."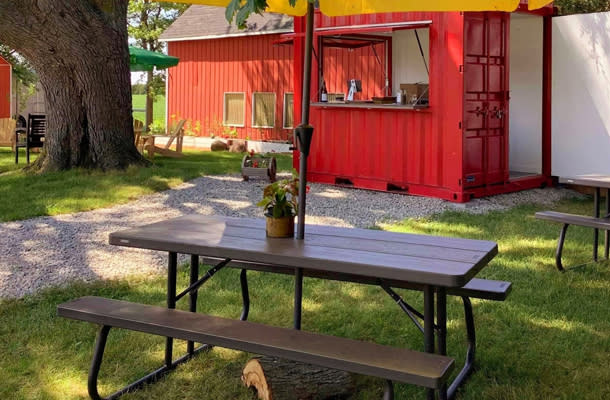 Norfolk
New Limburg Brewery turned their beach volleyball court turned into beach patio to create extra room! They are currently accepting reservations for their patio on weekends. Be sure to check their Facebook page for updates. The Black Sheep stout is a fan favourite and sure to impress dark beer enthusiasts.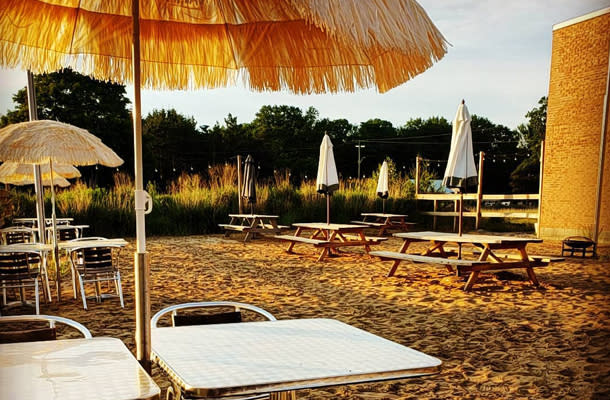 Hounds of Erie Winery is offering self guided tours that guests can access via their phones or a sanitized tablet provided by Hounds of Erie Winery. During these tours, guests can sit down at a picnic table and enjoy a cider or glass of wine.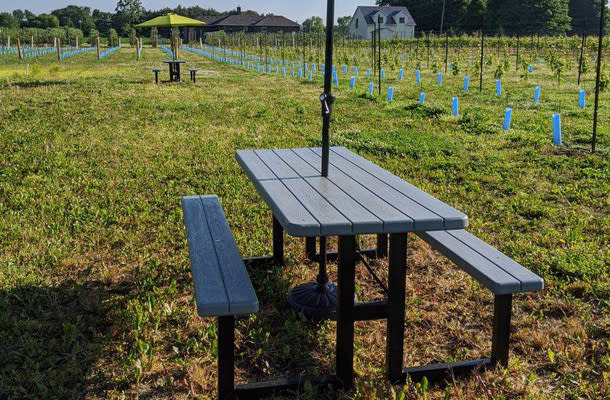 Oxford
Imagine yourself comfortable and happy on the patio. You are enjoying a Brickhouse Burger and an Upper Thames Brewing Company Beer. If that sounds good to you, make a reservation and celebrate the return of patio season at the Brickhouse Brewpub. The charcuterie board comes highly recommended and is a must try if you are there with your circle.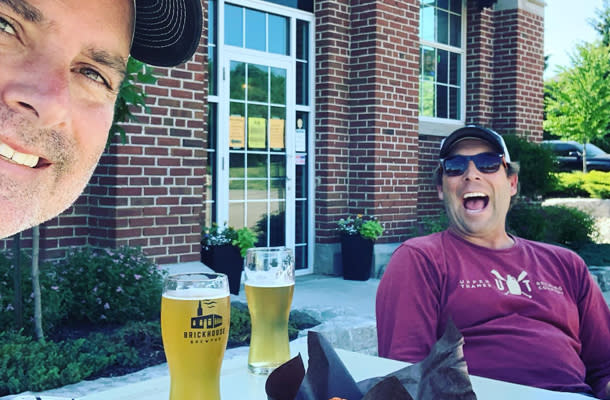 The new patio at 1909 Culinary Academy pairs open the open country side peace with luxurious chef creations you'd expect to find in the big city. Make sure to try their smoked meats that are locally sourced and smoked on-site.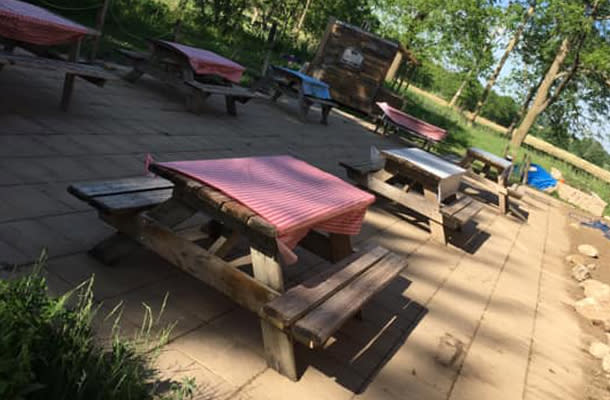 London
If you're in London and want to try something new, Dundas and Sons Brewing Company has a newly built kitchen. Now you can pair your patio beer with a delicious speciality poutine.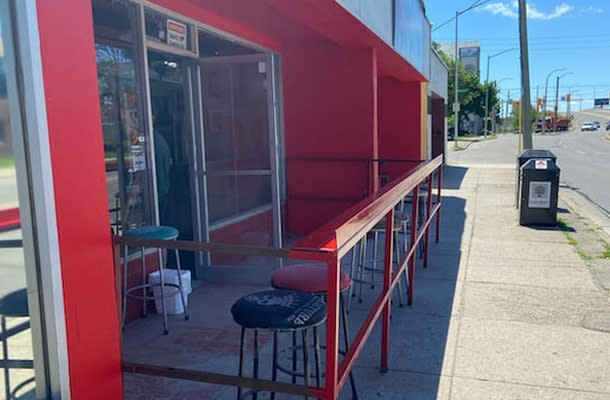 Another brewery that's offering new food is Powerhouse Brewery! Come for the cream ale and stay for the food truck that's serving BBQ right on the patio.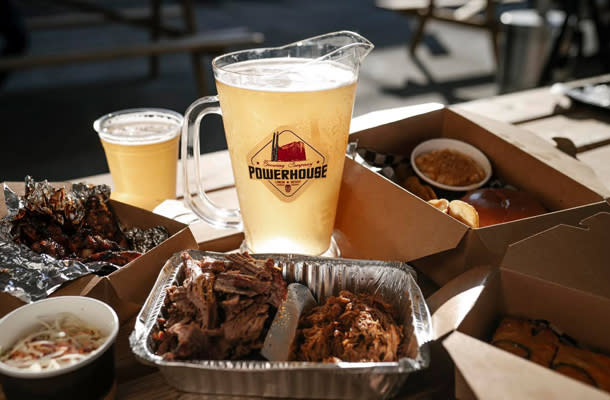 Sarnia-Lambton
The new patio at Stonepicker Brewing Company is open and ready to impress! Enjoy your beer in the shade of trees. You can even pack a picnic or purchase snacks and chips.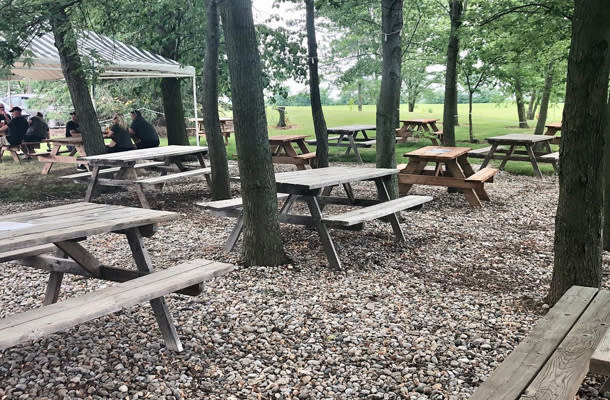 The new outdoor store and patio at Alton Farms Estate Winery are open! Enjoy their VQA wines on the patio and bask in the sweet strumming of Tom Taylor on the guitar.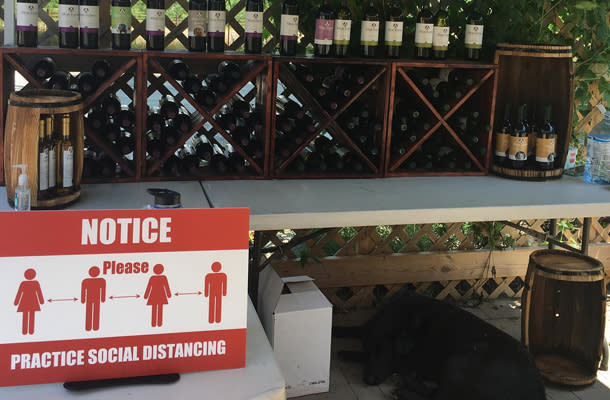 Haldimand
For the Haldimand locals who have been missing the small batch hand crafted ales created by Concession Road Brewing Company, we have good news for you. The outdoor taproom is open, and ready to serve you! Grab yourself an Air Raid IPA which is a modification on an old favourite brew. This version has the hop finish you love, with a fruity addition fitting for the summertime.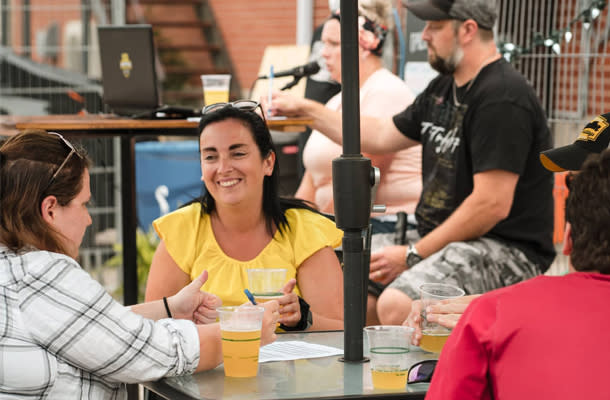 Chatham-Kent
Check out the newest cool sidewalk patio in Chatham at the Chilled Cork Restaurant & Lounge.  This spot comes highly recommended for those looking for a spacious and comfortable patio to enjoy the weather and their amazing cuisine like the Mr. Pigglesworth Ribwich.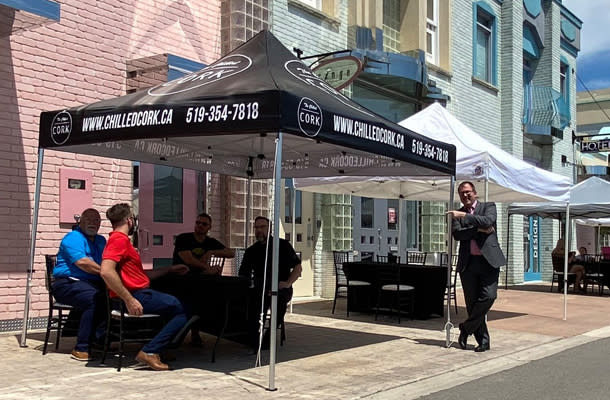 The newest brewery in Chatham-Kent, Red Barn Brewing Company, has officially opened their "Farm Patio"! Supporting local is so much fun when you can sit at a picnic table in the open air and enjoy locally brewed beer.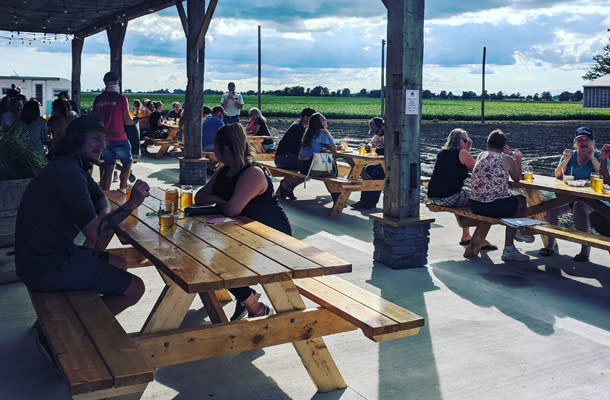 Elgin & St. Thomas
GTs On The Beach has extended their patio to be literally on the beach! The beach patio is a perfectly spacious place to enjoy some nachos and a drink. They even have a webcam that lets you check how busy it is before coming.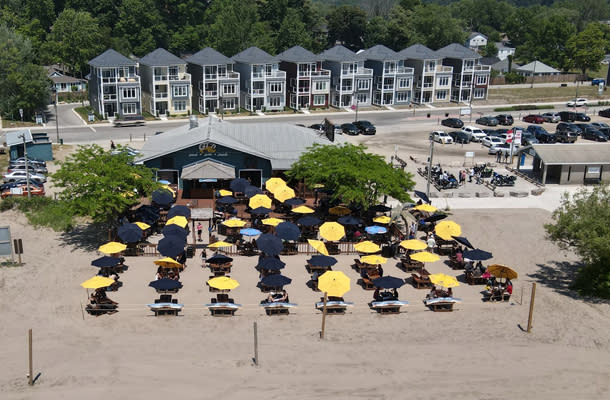 The Wayside Dining Lounge is minutes away from Saint Thomas and sets the standard for turning a parking lot into a patio people want to go to. Now you can have your favourite ribs fresh on the patio. No more messy car rides because you could not wait until you were home to break into that take-out container.
Middlesex
The King Edward Restaurant and Pub's patio has been updated and extended into the garden! Having your prime rib sandwich with a cold beer in the garden will show you what a real beer garden looks like!