Sip cider straight from the source.
The hard cider market is burning up and the orchards of Ontario's Southwest are throwing some delicious fuel on the fire. Get a taste for how local fruit sparkles in crisp apple and pear ciders.
Wooden Bear L. Winery's Claw Hard Cider is a traditional English-style cider that is clear and dry. Stock up at their retail store just south of the town of Simcoe on Friday, Saturday or Sunday.
Twin Pines Orchards Cider House and Estate Winery has won countless medals at the annual Great Lakes International Cider and Perry Competition including Best in Show. Stop by the Cider House and enjoy the full tasting tour with owners, operators and cider makers Mark or Mike and then explore the beautiful gardens and forest trails.
What follows is an account from the Tipsy Teachers bloggers about their trip to explore some of the cideries of Ontario's Southwest.
Hard Core Mad Science: A Field Trip to the lab in Norfolk County
The Experiment
Through our years at School House Booze, we've attempted many experiments; we've brewed our own beer, baked with booze and even made a watermelon keg, but our biggest science experiment to date was plucking these two city girls out of Toronto and plunking them in the heart of the country. Uh, excuse me. Have ya' met us? No late night food deliveries? Do they even serve boozy milkshakes in the country?! Just the two of us and the open road. So much nature - such a shock to our smog clogged systems. To say that we were nervous was an understatement, but as our past experiments have proven, a lot can be learned from a little adventure.
We've met some pretty passionate people doing exciting things with booze. We once found ourselves surrounded by 300+ cask conditioned ales, with flavours ranging from siracha to peanut butter! Tried umami flavoured bitters? Yeah, we've done that. Heck, we've even met that famous family behind the new House of Mandela wines ;). The world of cider has been left almost untapped for us thus far. Which now begs the question - are there Mad Scientists of the cider world?
And so the experiment began.
The Process
Waking up early is not our forte (beer and yoga is our only exception), but a drive in a cute Mini Cooper with your best pal? You can bet your bottom dollar that we're there. AutoShare conveniently has lots all over the city, including right across the street from Rachel's apartment. Naturally, we chose our pick up at the least convenient location. So after battling the morning crazies on the subway, we soothed ourselves with chocolate croissants as we hit the road, waving goodbye to our beloved skyline.
"Being the DD (designated driver) isn't so bad when you have a view like this" - Rachel. Looking to rent your own vehicle to get out of the city? AutoShare was our best friend that weekend. 
Did you know that the country has a lot of animals that aren't racoons? Instead of watching out for j-walkers (read:us), a deer could jump in front of your car at any moment! Flocks of hipsters in Trinity Bellwoods were quickly replaced by fields of grazing cows and horses. We began to feel a little more at home as we cruised up to St. John's B&B, our quaint hideaway for the weekend.
After a 2.5 hour drive, there was only one thing on our mind. Food. To fuel up for our cider filled afternoon, we recharged by chowing down at The Crepe House, a popular Port Dover mid-town stop.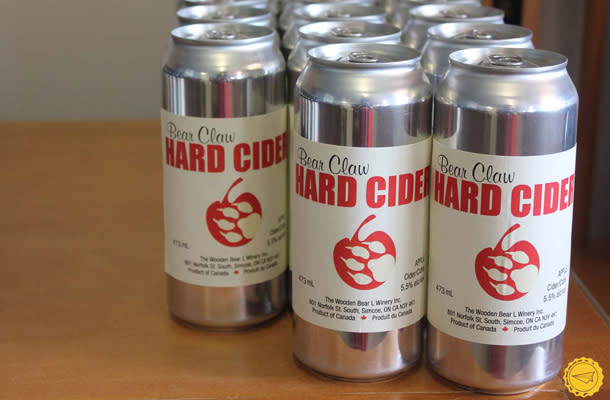 Wooden Bear L
Conveniently located just down the road from St. John's B&B is Wooden Bear L, a winery that also dabbles in cider making. Curious about wine from a young age, Founder Kim Ludwig followed her passion by attending Winemaking School at Niagara College, making her our Most Educated Mad Scientist! Living out her dream, she took the leap and opened Wooden Bear L in 2010. It was just a mere two years ago that she began to tinker with cider, putting their seven acre apple orchard to good use. After sampling their peach and apple cherry blossom ciders, we're excited to see what they come up with next!
Curious about what the town of Port Dover had to offer, we zipped into town to catch a last minute show at the Lighthouse Festival Theatre. Nothing pairs better with cider than...murder? We caught a performance of Corpse!, a comedic murder mystery. Afterwards we went to 211 Main that was serving a late night meal with a side of live music. We dropped $100 on dinner for two and went on our merry way.
The next morning, after indulging in the "breakfast" part of our B'nB, we battled the rain as we set off to Grand Bend, in search of more cider.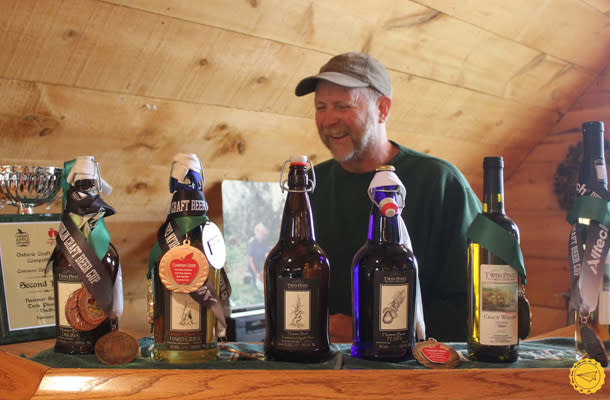 Twin Pines
We pulled into Twin Pines, a glorious, family built (literally) cathedral like venue situated in the heart of a 40 acre apple orchard. Innovative Mad Scientists and brothers Mike and Mark inherited the land from their parents who started the company as a strawberry farm 50 years ago. After helping out throughout their youth, the boys knew they never wanted to grow strawberries again. What they were interested in was apples.
After 10 years of experimenting with the growing processes of apples, the Vansteenkiste brothers realized that Ontario's harsh winters and hot summers cultivate the perfect climate to produce high quality dry British style cider. They now grow 40 different types of apples at Twin Pines. Mark and Mike use two innovative systems to produce their apples. Half of their orchards are grown from a rootstock that dwarfs the plants, making the fruit much easier to hand pick. This also allows for higher density planting and space for the sunshine to hit each apple equally. They grow the rest of their apples on trellises to help support the trunks of some of their rarer breeds.
Mark and Mike now produce 3 ciders, one perry, one apple mead, an apple wine and an apple ice wine, almost all of which are award winners that sell out each season without the help of the LCBO! We were lucky enough to sample the entire line-up!
We're not sure if it was the passion in Mark's voice, or the cider but we were hard pressed (see what we did there?) not to fall head over heels for this place and everything they stand for. Their ciders never leave the farm and everything is done with the utmost care and respect for the trees. Don't test their knowledge, these Mad Scientists are hard core about cider innovation. Now stop drooling over these photos and make the trip out there to stare in awe of their gorgeous property.
Conclusions
Before heading home, we gorged ourselves at Schoolhouse Restaurant, the perfect place to find two cider happy, sleepy Tipsy Teachers. As we ate, we came to some scientifically proven conclusions about our trip:
1: The cider industry is packed with hard core Mad Scientists, all using different processes to put Ontario on the map for world recognized cider. Their passion is contagious. We almost quit our day jobs to help these wide eyed whizzes accomplish their dreams.
2: Turns out that we actually love the country. Apparently a break from the big city is just what you need to feel recharged (although, the cider was a perk!). If these two Torontonians can love it, then you can too! Pro tip: share the driving responsibility. The trip is long, scenic and worth the venture, but Rachel's "driving hip" took a few days to recover!
3: There ain't no folk like Norfolk! Quirky and compassionate, this is deeply connected to their food and their roots, aiding each other to, as Chris Whitney puts it, all get a piece of that (tourism) pie.
4: Going straight to the source is the best way to learn about a product. We gained more information by talking to the founders than we ever could online. Curiosity breeds A+ students - don't be afraid to ask the questions that others are too embarrassed to ask.
Need an extra tid-bit of info for your notebooks before heading out on your own cider science trip? We would be happy to give you the full report card on our weekend getaway! Email us, find us on Twitter, Instagram, Facebook or at schoolhousebooze.com.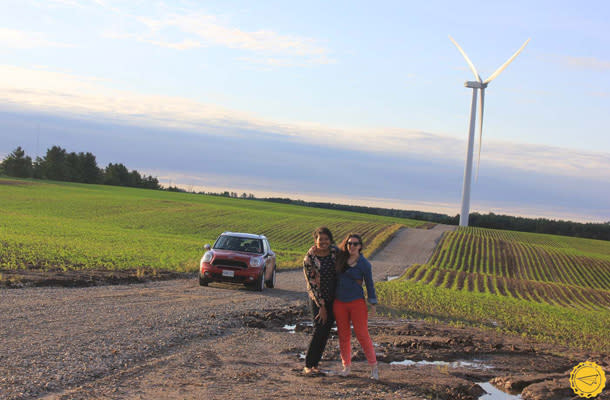 About the Bloggers
Dubbed as the Tipsy Teachers, Ashley and Rachel ask the questions we were once too afraid to ask; what's the difference between ales and lagers? Shaken and stirred? Do bitters make your drink bitter? Wait… you're supposed to sip tequila? What's on tap and what does draught even mean? Before starting out on this boozy adventure, we found ourselves ordering the same drink all the time and came to the conclusion that there's more to life than a vodka cran. Now we're on a mission to learn all things alcohol and share our new knowledge with our readers! Join the class to learn all about this wonderful, and sometimes confusing, world of booze.