Home to the longest growing season in the province, it's no wonder Essex County has become a must-visit destination for foodie fans.Whether you cross the border in Detroit, come down the 401, or travel across the waters of Lake Erie, you will be landing in an area of Ontario's Southwest full of amazing food, family run wineries, small batch brews, and so much more.
Best of all, you won't have to seek out all these tasty spots on your own as there are trails and guides available to help you discover it all in Windsor-Essex.
Local Food Love
Kicking it off is the amazing locally grown food thanks to the rich agricultural history of the region. The long growing season in Windsor-Essex gives the area's farms plenty of warm sunshine mixed with Great Lakes breezes to cultivate their bounty of fresh vegetable & fruits. All these farm fresh ingredients give local chefs an abundance of flavours to craft amazing farm-to-table dishes for their seasonal menus. To plan out your local food adventures, visit W.E. Heart Local for info on farmers' markets, farm stands, producers, chefs & more.
EPIC Wineries
Located on the same latitude as the Mediterranean, the wine region in Windsor-Essex is home to a unique maritime climate in a continental region, with exceptional soil conditions, and longer sun hours and greater heat units than any other area in Canada. All of this results in growing grapes that lead to fantastic award-winning wines. Visit EPIC Wine Country and you'll discover an amazing collection of passionate winemakers and family run vineyards. Whether you like red, white, rose, fruit, or ice wines, you're bound to discover a new favourite at an Essex winery. Best of all, as many of the wineries are family run, you have a great chance to meet the winemaker. Grab an EPIC Passport to enjoy unique experiences at each participating winery. There are so many great experiences, you'll want to spend the night at the Grove Hotel and make it a multi-day trip.
If you want a guide to show you around this wine region, you have multiple options. For tours by bicycle, check out Wine Trail Rides, for a tour in a vehicle, Grape Vine Tours will take you on guided or even custom tours.
Barrels, Bottles & Brews
Barrels Bottles & Brews are booming once again in Windsor-Essex! As the birthplace of whisky in Canada, the tradition continues today with a new generation of distillers and an ever-growing number of craft brewers. For small batch premium spirits, you'll want to head to Wolfhead Distillery in Amherstburg for their hand-crafted vodkas and whisky. On the other end of the scale, you can tour the largest distillery in North America, Hiram Walker & Sons – home to J.P. Wiser's Canadian Whisky with the J.P. Wiser's Experience. 
Craft beer lovers will be in brew heaven in Windsor-Essex on the Barrels, Bottles & Brews trail. Currently sitting at 10 breweries, with more coming, there's an amazing collection of beers with their own unique local flavours available. The majority of breweries can be found in Windsor and one of the best ways to check them out is on the Bikes & Beers Cycling Tour.
For a truly unique experience, book a Rum Runners Tour. With this tour, you'll go back in time to the Roaring Twenties as costumed actors tell the story of prohibition in Windsor. There's so much beverage fun to be had, you'll need a place to rest your head. Spend a night in the newly renovated  TownePlace Suites by Marriott – Windsor or the Holiday Inn Express Windsor Waterfront Hotel.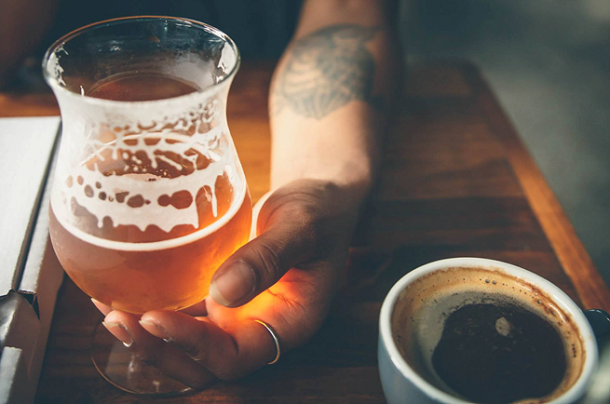 Coffee Trail
Are you a coffee lover? Then you have to sip your way along the Windsor-Essex Coffee Trail. A great collection of coffee roasters are bringing in robust and exotic brews from the world's finest coffee growing regions to their local coffee shops. No matter how you take your coffee, from the pour over style available at Red Lantern Coffee Co. to cold brew from 30mL Coffee Co. , the perfect cup is waiting to be made your way in the cafes of Windsor-Essex.