Experience nature with a side of luxury in Ontario's Southwest.
I'm sure you've heard the word 'glamping' a few times and wondered what exactly it is.Glamping is short for glamorous camping and it has become quite popular in recent years. It's a fabulous way to experience and enjoy the great outdoors without sacrificing luxury. When you're Glamping, there's no tent to pitch, no sleeping bags to enroll, and no sleeping on the ground.  From luxury tents to yurts there's a number of ways to experience Glamping; and here in Ontario's Southwest, we've got a few great options for you to check out.
If you're following us on Facebook, and I hope you are, you've seen some images of the truly luxurious Wilderness Suites at Long Point-Eco Adventures in St. Williams.  These suites provide the comforts of home, including hot & cold running water, but with the added benefit of spectacular views of Long Point Bay and the sights and sounds of the great outdoors.  Fully furnished tents with hardwood floors are available as private suites, with king or queen beds, or double suites, with queen beds. They feature a private deck, sliding glass locking door, electrical outlets, private flush toilet, and outdoor shower. And, you're just steps from great trails & other nature activities, zip-lining, and even a winery. Now if all that doesn't sound like luxury camping, then I don't know what it is.
Next up, we've got Oakwood Escape, located in Dunnville. The large canvas prospector style tents built on raised wooden decks that you'll call home on this escape into nature are stunning. Each tent boasts furniture that is handmade right on site, including the queen sized bed, side tables, hutch containing kitchen equipment for your use, and even a small dresser.  On the outside, there's a nice deck with comfy Adirondack chairs, handmade of course, a barbeque, a fire pit, and a picnic table.  What really sets Oakwood Escape apart is that the campsites are a part of a working farm, so you can partake in one of numerous experiential farm activities. Not to mention, each tent also comes with its own picture perfect views.
Last on our tour of Glamping options, we've got the very popular Yurts at Pinery Provincial Park in Grand Bend. These 8-sided tent-like structures are fully furnished and even heated so they can be used year round, even for winter camping.  Each yurt has bunks to accommodate up to six people, table & chairs, and electric lighting. The yurts sit on their own wooden decks and include a gas barbeque. Reservations for these yurts fill up very fast so it's best to book your stay early.
Now, I understand Glamping may not be considered "real camping" by purists but it's a great way to introduce a form of camping to those who have never tried it before.  Not all of us, myself included, are able to get into traditional camping straight away, we need to be eased into it.  With that said, if you can't get into camping while surrounded by the comforts of home like beds and electricity, that you get with Glamping, then traditional camping may be a hard road to go down.  But even if you're a seasoned camper, Glamping may be a whole new way to enjoy the sights and sounds of the great outdoors.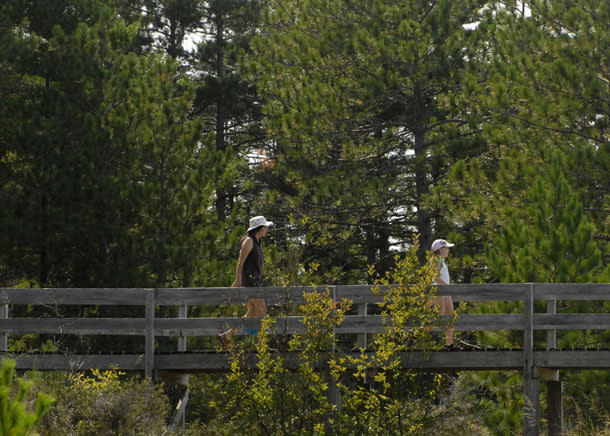 ---
---