A road-tested weekend road trip in Ontario's Southwest.
My early October weekend away in London and surrounding areas allowed me to learn about Canada's history, experience great local eateries, support local merchants and stay in a world class inn.
It's close enough that the drive can be done in a couple of hours and yet it feels like you're getting a true weekend away. Submarines, markets, food and wine make for an interesting combination and ended up making for a stellar and memorable trip.
I've divided it into five components for easy consumption. And with that…
HMCS Ojibwa
"Do you have any idea how close we came to World War III in the '80s?"
With a statement like that, the next line is pretty crucial. Sadly, there were no particulars that followed but what I can tell you is that the now out-of-service HMCS Ojibwa, on display in beautiful Port Burwell, is a majestic submarine. It wasn't until after I finished my tour that it occurred to me that I'll almost certainly never be inside a submarine ever again.
Melissa Raven and her husband Ian, gave my travel partner and I a very thorough external tour from top to bottom, outlining all sorts of historical information. The internal tour was just as informative.
We were shown where and how the torpedoes were located and launched, the periscope location all the way to the electrical and mechanical room and everything in between.
Being a submariner definitely isn't for the claustrophobic, as nearly 90 men were aboard this vessel when in operation. Being of a robust figure myself, I found it a bit hard to maneuver the narrow hallways and corridors. At the outset, I wasn't really expecting that much of a "wow" factor but as soon as we set foot inside, that all changed. Nearly everything is still intact!
It's only a couple of hours away and it makes for a great day trip. Port Burwell has plenty of other quaint offerings for visitors. Great for families, couples, friends, or even a solo trip, it's a great way to experience a part of Canadian history.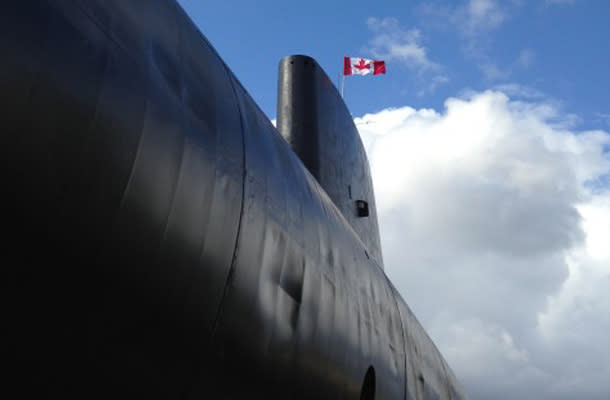 Idlewyld Inn & Spa
I've been lucky enough to stay in some fancy international hotels and inns in my day. It's not bragging, more factual. What I will brag about is having the opportunity to stay at the Idlewyld Inn & Spa in London as part of my whirlwind weekend. My King Estate room on the top floor was beautifully made, the staff was very friendly and informative and there's an immediate feeling of world class luxury that aerates through the entire building.
It's a shame I only got to stay there one night. A guy like me could get used to frequent visits! It's one of those blink and you'll miss it kind of places but when you do find it, you'll see why I'm raving about the place simply based on the exterior. Just over an hour away from the HMCS Ojibwa, it's a close enough place to call home for the night afterwards. There's a restaurant on site that adds to the exquisiteness of the experience as well.
The Only on King
For dinner, The Only on King was our destination. With an intimate dining room, a menu that changes daily, and our server Raven taking great care of us for the night, this place knows how to entertain both large groups as well as an intimate dinner for two, all under one roof.
We started with complimentary sourdough bread and butter and a glass of Malbec 11 Terra Rosa from Mendoza, Argentina, which was elegant, full of flavour and easy to drink.
While I'm not sure when these items will appear on the menu next, the potato gnocchi and ravioli doppi were delicious starters. Small, flavour-filled portions will always chalk up a W in my books, and that's exactly what they did. The mains were Paul Spence's roast chicken with cabbage, guanciale, spaetzle and mustard sauce along with a grade AAA beef striploin, spinach, romanesco broccoli and fried fingerling potatoes in a romesco sauce.
With chicken and beef, it's easy to follow the rule book and serve an "average" meal but what came out of the kitchen was simply amazing. The beef was cooked medium and was delicious. Yup, no trail of fancy words here… Just plain delicious! Here's hoping the picture will do it a touch of justice. The chicken was the same as the beef: very enjoyable. I tacked on a side of mac 'n' cheese because, well, at a place like this, I knew it'd be simple yet tasteful.
Their chef, Paul Harding is passionate about what he does and it shines through in the food guests experience.
To wrap up the evening, an apple bread pudding and an almond peach tart with vanilla ice cream was ordered and along with the previous dishes, dessert was made oh so well! Even with the small portions, we couldn't get through all of it. But what we were able to eat was perfect.
Another great thing about this place? It's only a few minutes away from Idlewyld Inn & Spa. I'll be happily and honestly endorsing this place on TripAdvisor for a wonderful and memorable meal. Oh, and Raven, our server… Full marks to her for being attentive, knowledgeable, friendly and contributing to a great dinner.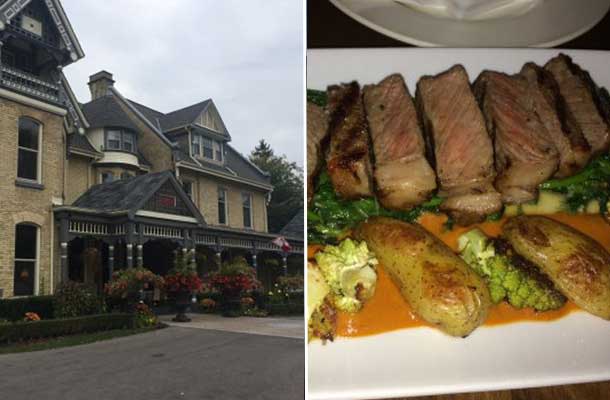 Covent Garden Market
A local gem in London, the colorful Covent Garden Market is a collection of merchants selling produce, food, trinkets, gifts and more as well as offering a good selection of restaurants for visitors. It took about 15 minutes for a full walk about with a couple of stops here and there, so it's not overwhelming like other markets. I ended up picking up some gourmet coffee beans to bring home. And yes, I realize I could go to a grocery store and pick up the same thing but it's good to support local merchants and their economy. Opened from 11:00 a.m.-4:00 p.m. on Sundays, it's a great way to spend a lazy Sunday.
This autumn, or anytime really, I strongly recommend planning a weekend trip similar to what I've outlined above. It's not too far away and even if you want to pick and choose a couple of destinations, you can still turn a less than two hour drive into a great experience.
Click Here to see more images from trip and other articles from Jay Kana