No matter where we go and when we like to travel, vacationing is all about one of two things: escapism or discovery. We are either taking a break from our every day lives and routines, or we are trying to discover a new destination and its culture. When you're looking for discovery, taking part in local hands-on experiences is the best way to immerse yourself in the local culture and really get to know the community. One community in Ontario's Southwest leading the charge for amazing experiences is Oxford County.
You can get hands-on with the tasty culinary culture of Oxford with these exceptional experiences!
Walk in the shoes of a local cheesemaker when you get a behind-the-scenes look at Gunn's Hill Artisan Cheese, nestled in the rolling countryside of Oxford County. You'll be greeted with delicious artisan cheese before heading into the stunning aging rooms to learn about how Gunn's Hill crafts unique artisan cheese with recipes developed by cheesemaker Shep Ysselstein while studying in the Swiss Alps.
Learn about the heart that goes into each wheel of cheese, and what aging process secrets sets their cheese apart as you wash and flip them and of course, indulge in some too! Next, join the cheesemaker to learn how to judge the quality of cheese and understand the various flavour profiles. You'll go head to head with the cheesemaker to test your palette and refine it. Finally, wind down this experience by creating three different delicious cheese fondues as a group to enjoy. Each fondue will use a different combination of Gunn's Hill Artisan Cheese.
Hop heads will love this experience from Upper Thames Brewing Company. Different from any brewery tour you've done before, the Brewed Exploration Experience takes you behind the bar at Oxford's own craft brewery and into the heart of a brewery based around community partnerships. Start off by discovering the various grain flavor profiles and how the tastes of each grain effect the taste of our beers in a blind taste test. Next, head over to the bottling area where you'll get to bottle your own Dark Side Stout and cap it by hand just as our brewers do every day. And yes, you get to take your bottle home, right after you colour your very own label and place it on your bottle!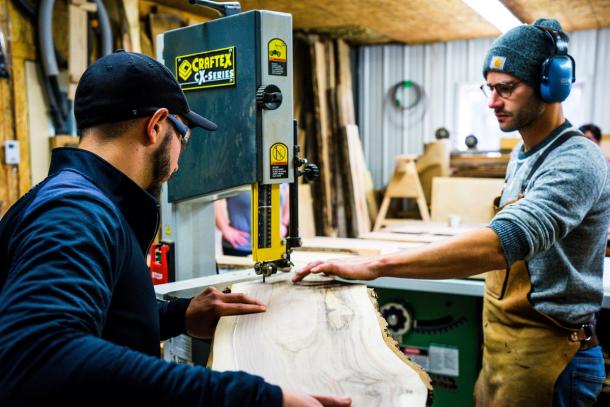 Enjoy a guided walk inside a Carolinian Forest with woodworker Dave Schonberger to get in touch with the roots of the forest. Enter the artisanal workshop and create your own live-edge charcuterie board alongside Dave using a piece of locally harvested lumber you select yourself. Draw your board with local artist Michelle Schonberger and work with a variety of tools including Dave's grandfather's tools to create your board.
In addition to getting your hands dirty in the woodshop, enjoy a handpicked selection of savoury, local charcuterie while socializing near the vegetable garden under the mighty spruces. Finally, return to the workshop to personalize your work and learn how to use your new charcuterie board at home to enjoy with friends.
Do you feel like you already know Oxford County better just by reading the descriptions of these experiences? Imagine how much more connected you'll feel with the area's culture once you take part in them! Get those hands moving and book your hands-on Oxford experience through the links above today.