Between long workdays, taking care of your household, your home, and adjusting to the changing rules,  you're definitely ready for some fun and adventure with your significant other. Check out these ideas to enjoy in the cold winter months with your special someone.
Explore Oxford County Cheese Trail
Check out the Oxford County Cheese Trail where foodies can see Oxford County's rich history in dairy and cheese when you dine, visit a museum, art gallery, or boutique. You can even visit a replica cheese factory from the 1800 and take your picture with the "wheels of cheese." Visit hot spots along the cheese trail including unique shops, cheese at local restaurants, cheese makers, and art galleries that show the county's agricultural roots.  
Make sure to check out the Ingersoll Cheese & Agricultural Museum, which was voted the Top Small Museum in Ontario, a must-see stop for cheese lovers!
Not all locations on the Cheese Trail will be open due to the COVID-19 pandemic. Therefore, it is important to check online or by calling the business prior to heading out.
Hide from the Cold in Port Stanley
Enjoy a night to remember in Port Stanley where you can have a delicious, intimate dinner at the Solo on Main, committed to using only the freshest local foods to compose a menu with all house-made ingredients. Explore the unique shops like Sparta Candles, Joshua and Company, and the Village Collective. Then finish your night at the Kettle Creek Inn where visitors from all over the world come to stay and eat.
Travel Back In Time At The Retro Suites
The Retro Suites in Chatham offers individually-designed suites that will bring excitement, elegance and style to your romantic overnight experience. The century-old building has exposed brick-walls, loft-style ceilings and large custom-built washrooms. In fact, the original tin ceilings, terrazzo floors, and contemporary artwork makes this experience truly unforgettable. With rooms styled after log cabins, the wild wild west, libraries, and Paris, you'll never have the same experience twice. While you're there, you can even grab a bite to eat at the Chilled Cork where you'll experience an eclectic atmosphere, a modern take on culinary favourites, and unparalleled service. Close out the night with a three-minute stroll to Son's of Kent Brewing Company for a night cap.
Skate Through London
London's has some epic skating spots when the weather is cold outside! Skate surrounded by the trees and lights at Victoria Park or feel like royalty skating through the romantic Storybook Gardens on their 250-metre trail! Stop at the Covent Market skating rink and pick up some delicious treats from their vendors! These locations are dependent on the weather.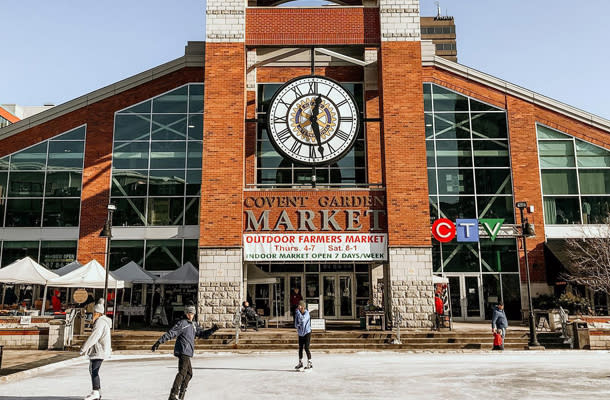 Warm up with some spirits from the new distillery Paradigm Spirits Co. located at 100 Kellogg Lane. Then top off your night at the Idlewyld Inn & Spa, a boutique hotel that combines the elegance of the past with modern amenities. Or enjoy the Dine and Stay Package at the Four Points by Sheraton.
Get Physical in Sarnia
When the going gets tough, the tough get going.  Get your blood pumping and don't let the cold weather keep you from being active. You can practice your axe throwing skills at Valley Axe or rent out one of their new synthetic ice pads that are designed for small groups to enjoy safely.
There are many urban trails in that you'll want to take advantage of, including Canatara Park. After your romantic winter walk, warming up with a warm drink at Blackwater Coffee will be the perfect end to your date.
Sometimes the most romantic getaways are those with the best food. Have dinner at downtown Sarnia's Limbo Lounge. They pride themselves on providing the best of food, drink, and music for a memorable dinning and social experience. Lastly, whisk yourselves away in luxurious comfort at Insignia Hotel offering a truly authentic, upscale Sarnia experience.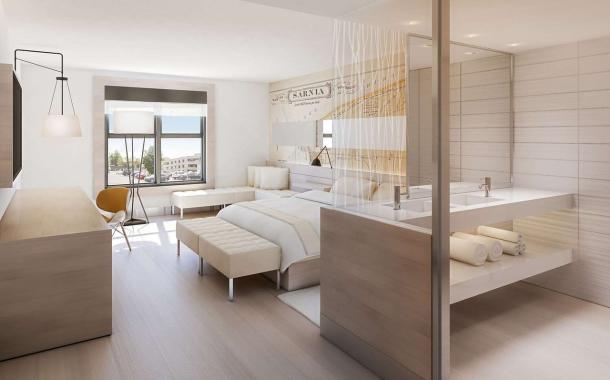 Enjoy a Winery Weekend
Most wineries in Ontario's Southwest don't close for the winter and make for a great weekend getaway. Check out the Toast the Coast Wine Trail where you can explore beautiful and tasty wineries from Norfolk County and Elgin County. You can sample the region's distinctive wines, see the beauty of the vineyards in the snow, and indulge in the splendor of fine food and wine pairings. Looking for a place to cozy up for the night try The PRINN a boutique hotel offering modern cozy overnight accommodations in Port Rowan.
Or head to the Essex Pelee Island Coast (EPIC) Wine Country and use the EPIC Tasting Pass, which unlocks complimentary tastings, premium samples, discounts on food, and even a tour at one of the stops on the route.
Take a look at this list of wineries that are open year round and make for amazing snowy photo ops. 
A few nearby accommodations to suit every couples style include The Grove Hotel, one of the Distinctive Inns of Kingsville, and HoriZen Bed and Breakfast. And don't forget to check out the Iron Kettle. They are making bread and foodie boxes that you'll want to take home with you for sure.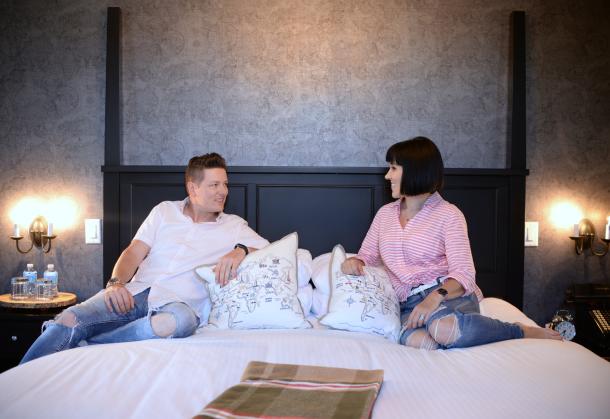 Photo of Inn136 in Kingsville.
Still looking for some more date night ideas? Why not go hiking, snowshoeing, or cross-country skiing at one of the beautiful trails in Ontario's Southwest?