Check out these romantic nights out or cozy weekend getaways for you and your significant other to enjoy in the cold winter months.
Explore Oxford County Cheese Trail
Check out the Oxford County Cheese Trail where foodies can see Oxford County's rich history in dairy and cheese when you dine, visit a museum, art gallery, or local fair. You can even visit a replica cheese factory from the 1800 and take your picture with the "wheels of cheese." Visit hot spots along the cheese trail include unique shops, cheese at local restaurants, cheese makers, and art galleries that show the county's agricultural roots. Some of the locations include Chocolatea, a professional chocolatier who follows the artisan tradition of creating everything by hand, and the Ingersoll Cheese & Agricultural Museum, which was voted the Top Small Museum in Ontario.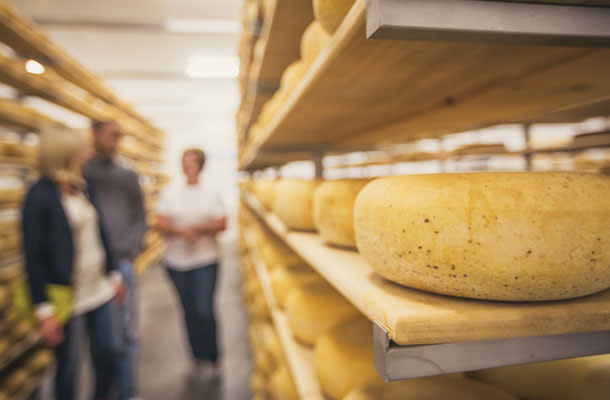 Spend the Night in Port Stanley
Enjoy a cozy night in Port Stanley where you can have a delicious, intimate dinner at the Windjammer Inn, which features modern twists on classic dinners like Fresh Lake Erie Perch, Risotto, or "Lo's" Smoked Trout Frites. Then, art lovers can catch a play at the 150 seat Port Stanley Festival Theatre located in the former Town Hall. Upcoming winter shows include Take It Easy: The Story of the Eagles, Mudmen in Concert, and Surfin' Safari: The Ultimate Beach Party Tribute. Finish your night at the Kettle Creek Inn where visitors from all over the world come to stay and eat. In the winter, the English-style pub on site is the place to be on Friday nights; or you can enjoy a relaxing evening and attend their yoga studio located right inside the inn.
Travel Back In Time At The Retro Suites
The Retro Suites in Chatham offers 45 individually-designed suites that will bring excitement, elegance and style to your romantic overnight experience. The century-old building has exposed brick-walls, loft-style ceilings and large custom-built washrooms. In fact, the original tin ceilings, terrazzo floors, and contemporary artwork makes this experience truly unforgettable. With rooms styled after log cabins, the wild wild west, libraries, and Paris, you'll never have the same experience twice. While you're there, you can even grab a bite to eat at the Chilled Cork where you'll experience an eclectic atmosphere, a modern take on culinary favourites, and unparalleled service.
Catch a Play at The Grand Theatre
Located in the downtown core of London, The Grand Theatre has a new Artistic Director, Dennis Garnhum, for the 2017/2018 season, which is bound to be their most impressive yet. There are some big name plays taking place during the Winter season, such as Once, A Christmas Carol, and Silence. As Canada's oldest continually-performing playhouse, you are guaranteed a fun night out with outstanding live, professional theatre and entertainment. Top off your night at the Idlewyld Inn & Spa, a boutique hotel that combines the elegance of the past with modern amenities.
Concerts at Caesars Colosseum
If you're a music lover, there are some great concerts coming up at The Colosseum at Caesars Windsor. On Saturday, November 4th you can catch the critically acclaimed Broadway hit musical, A Night with Janis Joplin. For the classic rock couples, you can experience an unforgettable night with songs like "Me and Bobby McGee," "Piece of My Heart," and "Cry Baby." Or if you're looking to get into the Christmas Spirit, check out the Mariah Carey: All I Want For Christmas Is You tour. The joy of the holiday season will be arriving early this year at Caesars Windsor when an award-winning multi-platinum celebrity, Mariah Carey, brings her powerhouse vocals. On December 9th, you can also see a twist on modern rock band Evanescence's music when they perform on their Synthesis Live tour, which features a reimagining of their best-loved songs, as it is accompanied with a full orchestra and electronics.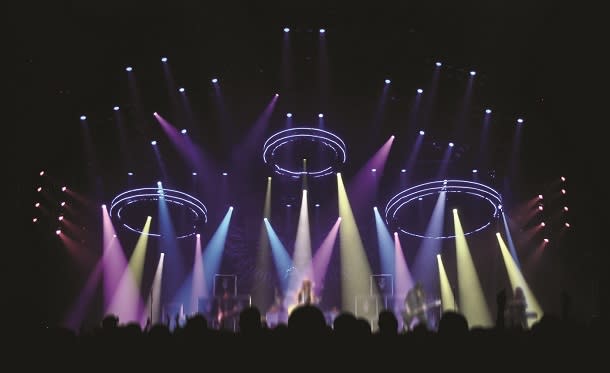 Enjoy a Winery Weekend
Most wineries in Ontario's Southwest don't close for the winter, and make for a great weekend getaway. Check out the Toast the Coast Wine Trail where you can explore some beautiful and tasty wineries from Norfolk and Elgin. You can sample the region's distinctive wines, see the beauty of the vineyards in the snow, and indulge in the splendor of fine food and wine pairings. Or head to the Essex Pelee Island Coast (EPIC) Wine Country and use the EPIC Passport to take advantage of special offers from each participating winery, as it has great offers to Eat, Stay, and Play.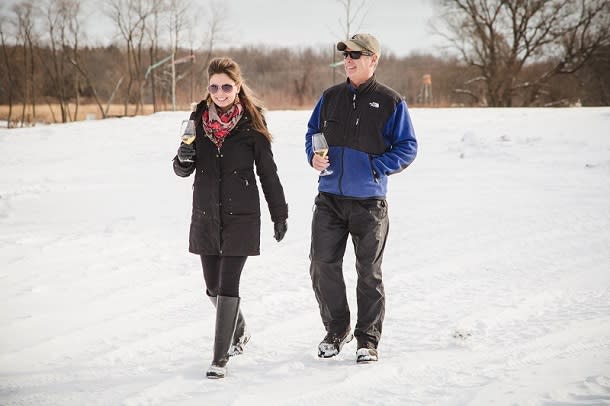 Still looking for some more date night ideas? Why not go hiking, snowshoeing, or cross-country skiing at one of the beautiful trails in Ontario's Southwest?
---
---