This is the moment that you will look back on and be grateful for. It's often forgotten. The decision that needed to happen for the "remember when we…" stories to take place. It's the moment that you decided to finally book the experience, commit to the creation of memories, or give the greatest gift to the adventurous person in your life.
In Ontario's Southwest, we pride ourselves in having the most unique, authentic, and memorable experiences you won't find anywhere else in the world! That's why we've created our very own signature experiences. These are the experiences to book if you care about the details, want to know the real story behind the people and the products, or make a connection with the host.
Winter OSW Signature Experiences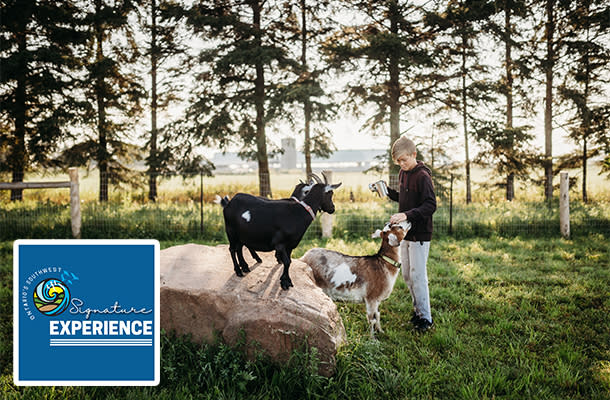 When Cheryl Haskett married a farmer and made the big move from Guelph to Oxford County, she quickly realized there was a lot to learn. From a plethora of new sites and chores to the realization that farm life isn't the quiet life they tell you about in books, Cheryl has approached every aspect of supporting a farm with humility and yeah, a lot of humour.
Now, she's ready to give you the inside scoop. Join Cheryl on their third-generation farm and the birthplace of her company Udderly Ridiculous- producing award-winning goat milk ice creams. Learn the zany stories of life on a farm as you do agility training with a lively pack of goats, get up close and personal with the chickens and spend some quality time out in the hay field with your alpaca guide. 
If you have children under the age of 16 who want to participate, the family friendly version of this experience will be better suited for your group! Click here to learn more about that experience.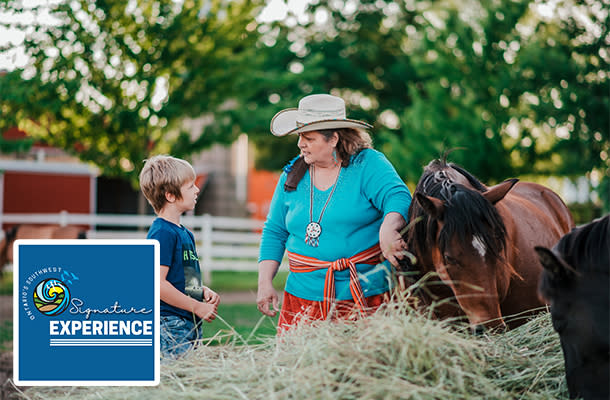 Once living freely in the boreal forest of Ontario and northern Minnesota, thousands of Indigenous ponies ran wild around the Great Lakes region and lived in harmony with the First Peoples. Colonization brought the ponies to the brink of extinction. In 1977 only 4 ponies remained. Through conservation efforts, these horses have been returned to their ancestral lands near Walpole Island to live once again as the Little Horses of the Big Woods.
Walk amongst these rare and endangered little horses and experience their incredible spiritual power and make your own connection. Listen to the oral stories that were passed down by generations of First Nations People about their bond with these little horses. Gather around the fire at the authentic Metis fur trade Tipi encampment, tap your toe to the lively Metis fiddle music, and laugh at the adventures of the fur trader. He might just slice you a piece of what's cooking in the pot. Indigenous drumming and songs by your first Nations guide will enlighten you to the relationship we all have with Mother Earth.
This 3-hour experience for all ages will captivate and educate about Indigenous culture, resilience and recovery like no other.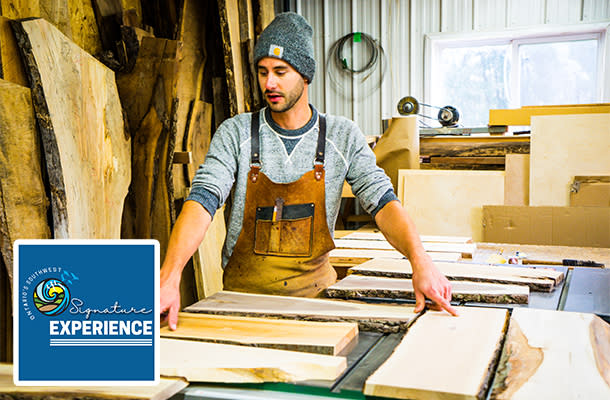 Rediscover nature at the award-winning From Tree to Table Experience. Gain knowledge about the trees of Ontario's vast Carolinian Forest with woodworker David Schonberger on 2 acres of property. Gather around an open fire, sip on tea with freshly-foraged ingredients and engage your senses. Communicate with the roots of the forest as we discover reverence of the woodland ecosystem through smell, taste, touch and sight.
Enter the artisanal woodshop to create your own live-edge charcuterie board alongside David and choose your own piece of locally harvested lumber. Work with a variety of tools including David's grandfather's vintage handtools to shape your board. In addition to getting your hands dusty in the woodshop, enjoy a handpicked selection of the local terroir including local artisan charcuterie, cheeses, preserves and breads while socializing around a Feasting table. Finally, return to the woodshop to explore Ottercreek Woodworks' studio of handcrafted boards, personalize your work and learn how to use your new charcuterie board at home to enjoy with loved ones.
Maybe you've been to a local farm, encountered horses, and even made your own charcutier board. But if you haven't done these things through an OSW Signature Experience, we challenge you to try these things again because our hosts will delight you. Yes, that's a bold claim but it is also true. If you don't believe us, see for yourself!
Other Winter Experiences in Ontario's Southwest
If you are looking for more amazing experiences in Ontario's Southwest, check out these ones. They aren't signature experiences (yet) but we think that you'll love them.
Hat Trick Farms' tulip experience, "Beyond the Vase" is an OSW Signature Experience that's available in the spring. But if you want to visit in the winter, we suggest trying a Winterberry Workshop where you will create festive decorations that you can bring home! Click here to learn more about the 2021 Winterberry Workshops and to book.
Learn how to make soap from an expert. Danielle, the owner, will work with you to create a soap using natural ingredients!  Call (519) 532-3724 to book! 
Learn how to roast your own coffee beans! Start the experience by tasting a selection of Early Bird's roasts from light to dark, alongside a local baked good and get a sense for what differentiates each batch. You'll learn about the origins of Early Bird's coffee beans and how their flavour profiles are affected by the climate in which they were grown. Finally, you'll select which type of roast you'd like to create as a group with Elio as he walks you through the process. Call (519) 532-3127 to book!
Enjoy a Hallmark snowy setting with a warm campfire. Book online, here.
See things from a new perspective and experience the joy of flight in a vintage historic aircraft! Click here for details and to book!
Experience London's foodie and cultural scene on a three-hour guided walking experience by a culinary insider. The experience begins at the historic Covent Garden Market where you'll meet friendly speciality food vendors and culminates with a cooking class! Call 519-280-7565 to book. 
In this experience, you will be guided by a personal winery expert who will give you an exclusive up-close look at the winemaking process that takes place behind the glass walls of the winery, while savouring your custom pairings. Each tasting flight includes five wines and is accompanied by gourmet food pairings from Chef Ryan Rivard. Click here to learn more and to book online. 
Alpaca Walks 
If you want to meet an adorable alpaca up close, consider taking them for a walk. There are many amazing alpaca walks to choose from in Ontario's Southwest. Take them on a walk around the rolling countryside at Sylvan Alpacas in Parkhill, S.A.M.Y.'s Alpaca Farm and Fibre Studio in Kerwood, Stoneleigh Farm in Denfield, or through an Udderly Ridiculous Farm Life experience in Bright. Booking ahead is required at most locations. 
Guided Tours Through Wine Country
Guided tours are great ways to experience Ontario's Southwest without needing a designated driver because the tour guides will drive you! You can experience Essex County with the Grape Vine Tours, Lambton and Norfolk County with a Ride the Bine tour or a Wave Limo & Tour, or a Backyard Adventure in Elgin County. 
Experiences for Future Fun
If you are looking to plan a memorable trip in the future or want to pick out a gift card for an awesome experience to give to someone special, here are some experiences you'll want to consider that are selling gift cards now! Check out the videos below to see what is in store for you at the following experiences. 
An OSW Signature Experience that is available in the summer! Picnics last for approximately two-hours and are designed to accommodate groups of 1-4 guests, depending on the basket. Please contact the owner, Wendy with any specific inquiries and to purchase a gift card at 519-532-0009. 
Harvest your own fruits and vegetables, visit the chickens, gather eggs, and explore the farm. Then head back to their brand-new Farm Kitchen where you'll spend time creating a beautiful brunch with Registered Dietitian and Farmer, Alex Chesney. Click here to learn more and to purchase a gift card. 
There's nothing quite like a being on the water of Lake Erie. The warm sun, fresh air and beautiful water is a combination that just can't be beat. Urban Surf offers many outdoor paddling experiences and rentals that any outdoor enthusiast will love. Click here to purchase a gift card for next season. 
The Exotic Dream Car Experience runs on the 1.8 km road racing circuit in Cayuga and provides you with the opportunity to drive an exotic dream car, in a safe and controlled environment. Click here to purchase a gift card online. 
Explore the Barrels Bottles & Brews trail with The Flight Log – a self guided tour of the Windsor Essex #BarrelTrail. Click the here for more information and to purchase a digital flight log. 
We know that there is an experience perfectly created for you in Ontario's Southwest! Which one will you try first? Share your experiences with us on social media by using #OntSouthwest in your caption or by tagging us @OntSouthwest on Instagram or Twitter, and @OntariosSouthwest on Facebook.
---
---