Find one-of-a-kind foodie experiences.
As culinary tourists, we seek out one-of-a-kind foodie experiences that are so authentic you can't imagine them being anywhere else. If that's what you're after, you are in for a treat in this special part of Ontario's Southwest.The biological diversity and vast mosaic of natural areas, including open waters, wetlands and lush farmlands, make this area one of the most agriculturally productive regions in the country. With that comes a passion for all things local and authentic.
Friday
Check into Caesars Windsor, a CAA/AAA Four Diamond award-winning hotel that offers the ultimate luxury experience. Spectacular riverfront views, elegantly appointed rooms, indoor pool, round-the-clock room service, 4-Green Key certified and free WiFi are just a few of the amenities awaiting you. Enjoy non-stop gaming action in the casino or a headline show at the Colosseum upon returning from dinner.
Plan ahead so you arrive in Windsor by late afternoon as you don't want to miss the opportunity to visit the Canadian Club Brand Centre, in Walkerville, home to Canada's famous Canadian Club whisky. Enjoy a tour where visitors are told the story of how Canadian Club whisky quenched the thirst of many U.S. citizens for 13 long years during Prohibition from 1920-1933. You will be taken back in time to the height of the Hiram Walker family's success and brought into the basement's Speak Easy room where meetings were held with Al Capone and The Purple Gang. The tour moves into the Hiram's Sampling Room, a Canadian Art Gallery and more before finishing with a formal tasting of the premium and classic whiskies, as well as sherry cask. Tours run until 6 pm. Following the tour, spend some time exploring historic Walkerville.
Enjoy dinner at The Willistead Restaurant & Bar in Windsor. One of the newest culinary sensations in the city, The Willistead has received rave reviews from critics and customers alike for its Farm to Fork – Nose to Tail culinary point of view. From the beet salad to the beef heart burger, you'll be treated to the ultimate gastronomic experience.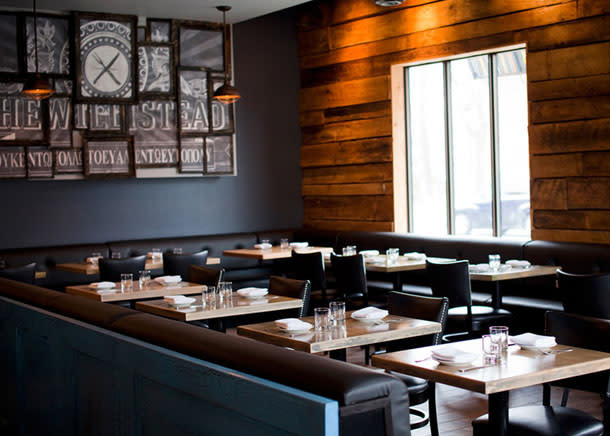 Saturday
Start your day with breakfast at Taloola Cafe. Located adjacent to the Windsor riverfront, Taloola Cafe specializes in healthy food, organic and fair trade coffees, teas, creativity, and charm. With "real" food as the criteria, they steer away from preserved and processed-type food with an emphasis on homemade. Enjoy a cup of fair trade organic java with a delicious, nutritious breakfast, whether it be a breakfast burrito, toasty sandwich or cheesy French toast.
After breakfast, head to Harrow, a 45-minute drive down the road, to Viewpointe Estate Winery. Viewpointe was conceived through careful planning, embracing a vision from a truly regional perspective. Their mission is to showcase Essex County's fine wine and culinary diversity. Chef Jodie Brown directs the winery's culinary arts centre where fresh, local flavours are as close as nearby gardens, farms and roadside stands along the lakefront. The Winery Shoppe provides tastings of their award-winning wines, such as Pinot Noir, Cabernet Franc, Pinot Grigio, Riesling, Auxerrois and Chardonnay.
While in Harrow, be sure to stop at Cooper's Hawk Vineyards. Cooper's Hawk is one of the area's newest wineries with 14 out of 69 acres dedicated to grapes and five acres of forest around a new wetland. Set in a pristine setting, the winery produces Cabernet Franc, Merlot, Riesling, Rose, Musque and Chardonnay, with 
Icewine production playing a role in future plans. Tastings and tours are available.
Pop into Jack's Gastropub in Kingsville for lunch where you can enjoy a signature burger or other pub-inspired specialities. The owners take pride in sourcing local produce, fish and meats and their wine list consists of "only local" wines. Continue along the Lake Erie North Shore Wine Route east towards Chatham-Kent, stopping at additional wineries along the way, if you desire.
Make your way to Blenheim for a stop at Delhaven Orchards. With over 400 acres under cultivation, Delhaven Orchards is one of the area's top farms. Twenty varieties of apples and 12 varieties of peaches are grown alongside cherries, nectarines, pears, apricots, strawberries, soybeans, corn and wheat. By using a "controlled atmosphere" process, apples are available all year long. Spend some time in the retail shop and try their famous fresh-pressed apple cider.
Head to the lakeside town of Erieau to Bayside Brewing Co., Chatham-Kent's first micro-brewery. The former Tilt 'N' Hilt 'N' Hotel has been transformed to include brewing facilities, a tasting room, retail area and brew pub. Indulge in a sampling of their Long Pond Lager and make sure to ask for a tour of the brewery.
Breathtaking, fun, and luxurious hardly begin to describe the fabulous wonder that is the Retro Suites Hotel located in the heart of downtown Chatham. A stunning display of architecture, contemporary furnishings and pop culture mixed with downtown style in a historic building, this luxury boutique hotel has been transformed from a 100-year-old warehouse into a breathtaking retreat from everyday life. We promise you won't want to leave! Fellow travelers agree, having been awarded Trip Advisor's Traveler's Choice Award in 2012 and the Certificate of Excellence for 2013, The Retro Suites Hotel makes a lasting impression with every guest.
Tear yourself away from the comforts of your home away from home for a couple of hours and enjoy dinner at the Breakfast House and Grille/ Churrascaria Steak House. From the Mediterranean-inspired flavours of Portugal, to the mouthwatering tastes of a steakhouse, this restaurant offers a beautiful cultural dining experience.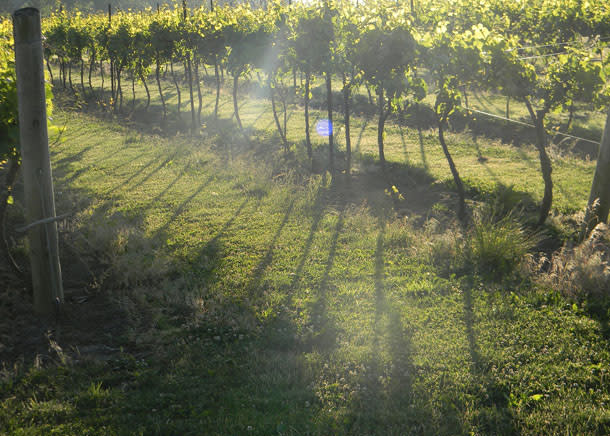 Sunday
Before checking out of your room, enjoy a local breakfast at The Chilled Cork, which is connected to the hotel on the lobby level. The menu consists of traditional favourites and international dishes, all prepared with the freshest local ingredients possible. Lunch and dinner are also served here.
Early Acres Estate Winery in Chatham is a family-run winery that produces wines from 100 percent Canadian-grown grapes. Steal special moments as you stroll leisurely through the vineyards and sample the wines. Winery tours are also available if pre-booked.
Thirty years ago, the Parks planted their first bushes and today they stand up to six feet tall on over 40 irrigated and picturesque acres of one of Ontario's largest blueberry orchards, Park's Blueberries in Bothwell. They are also entirely under netting for food safety reasons. Visitors have the option to pick their own berries or purchase ready-picked berries from four different varieties. Visit the café and take a stroll through the country store filled with frozen, unbaked pies, preserves, pie fillings, local jams, salsas and much more.
Looking to become a culinary tourist? Click to discover more of our Foodie experiences.