A visit to Fanshawe Pioneer Village.
We took a much needed family road trip to London in South Western Ontario this weekend and stopped at a few fun destinations for families. The first attraction we took in was Fanshawe Pioneer Village.
Fanshawe Pioneer Village is an interactive museum that allows visitors to explore the story of rural communities in South Western Ontario from 1820 to 1920 as well as the founding and development of the City of London up to 1840.
The village is staffed with costumed historical interpreters who demonstrate daily life in the 19th century through trade-work, farming, domestic chores and social pastimes.  There are original houses, churches, a woodworking shop, a school and more.
Many of the buildings are wheelchair and stroller accessible however it is a good idea if you are bringing a baby to take along a baby carrier instead or be prepared to take baby in and out of the stroller repeatedly to view buildings that are not accessible or have an upper floor.
There is also a Village Café which offers homemade soups, baked goods and other fare perfect for stopping in for lunch or even just a little snack.  The Denfield General Store  operates as a full gift shop offering a unique variety of hand crafted gifts and souvenirs.
One of the many buildings you can explore is the village's blacksmith shop which is a working reproduction, designed by Park Superintendent Rex H. Bishop, and constructed in 1958 by the Upper Thames River Conservation Authority.   You will find a historical interpreter on site happy to demonstrate how a smithy worked his trade during the 19th century with plenty of examples of what would have been produced at the time.  The Blacksmith shop is also used to fabricate metal pieces for maintenance around the village as needed.
The London Brewery in Fanshawe Pioneer Village is a replica of the original brewery.  When we visited there were no historical interpreters but we were able to freely look around the brewery and with the help of information posted outside we got a good idea about the history behind the Original brewery.
Inside the Peel home we found another costumed interpreter who explained the history of the home to us.  It was also an opportunity for Keira to play with replica's of toys that would have been available at the time.  While most of the buildings follow a look but don't touch rule, at times the interpreters will invite you to a hands on experience such as this.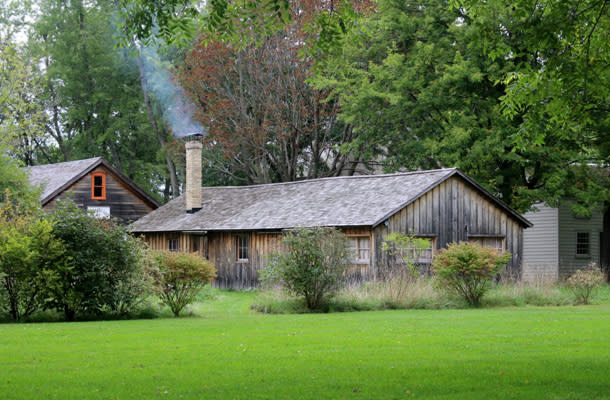 Upstairs there is also a bedroom setup with real toys from the 19th century; set up as if a child had just been playing with them. 
This house was pretty interesting as the furnishings belonged with the home and it was returned to how it would have looked under the guidance of Wilfrid Jury.
I was also intrigued by the fact that one of the bedrooms had a window out over the stairwell with a view of the other two bedrooms.  I found out after asking the historical interpreter in the home that the bedroom was part of a later addition and at the time they would not have been able to fill in the window to instead it was just left.
The village also offers a look into farming life in the 19th century with plenty of farm equipment and barns located in the village.
Keira loved seeing the animals and was talking for the rest of the day about the Sheep, Piggy and Ducks that she saw.
Of course the village also offers many opportunities for really cool photographs.  I'd love to go back when the girls are a bit older so I can attempt some photography without having my arm tugged at. 
My husband was really intrigued by the Mount Moriah Masonic Lodge.
The Elgie Log House was certainly interesting and I challenge you to visit it and not feel grateful for the type of life we are all accustomed to thanks to modern conveniences.  I can't even begin to image how miserably cold a winter spent in this house would be. 
There are of course many other buildings in the village which makes it a wonderful day trip for the family.  I can't think of a more interesting and fun way to learn about Canadian history than to take a trip to Fanshawe Pioneer Village!  Visit the Fanshawe Pioneer Village website for hours of operation and ticket information.
Click Here to read more and see additional pictures.
Visit the Frugal Mom Eh! website to read more from Elizabeth Lampman.