If you don't think that you like the winter, it's probably because you don't know about these secret little hideaways that are all over Ontario's Southwest. While you were living the "catch flights, not feelings" life, you might have been missing out on these Canadian gems. Pack your warmest plaid because here are 8 winter cabins, cottages, and unique escapes to help you embrace winter.
The Mabee Marsh Cabin is the perfect place to get away! It's equipped with a complimentary hot chocolate bar, a cozy wood fireplace, an an outdoor fire pit, and over 90 km of hiking/biking trails to explore!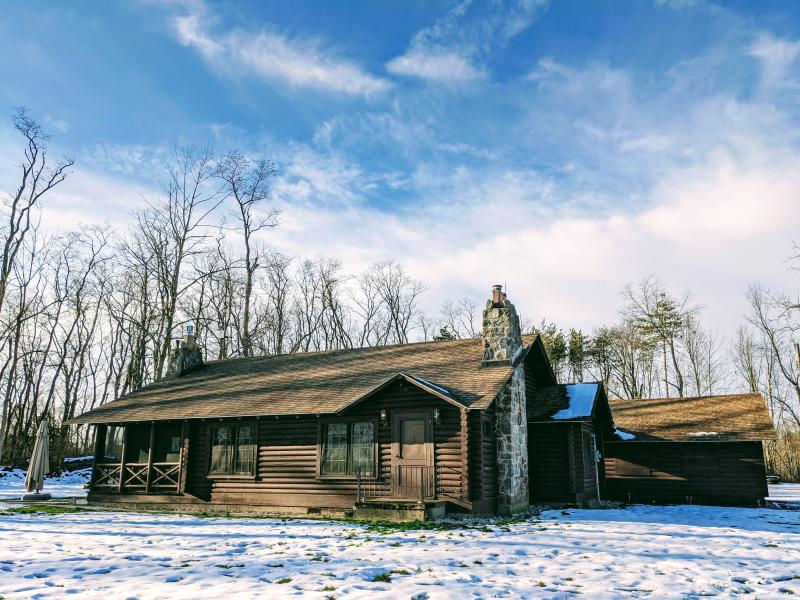 Since the cabin has a full kitchen, you can show your support for local businesses by purchasing your groceries and trying a recipe from the Cider Keg. Cooking something warm and tasty together is the perfect way for your family to spend a cold winter night!
If you aren't looking to cook, there are many options nearby for food. The Crepe House, with their heated pods, allows you to be warm on the patio. 
Within walking distance of the Mabee Marsh Cabin is the Burning Kiln Winery and Hometown Brew so that you can stock up on locally crafted wine and beer and enjoy them by the fire at night. If your group would like to participate in a wine tasting experience, the Behind the Glass Experience at the Burning Kiln is an excellent choice. This private wine tasting experience teaches participants about the journey from grape to glass. It not only includes a flight of 5 wines to try, but is also accompanied by gourmet food pairings. 
If you are looking for another cozy accommodation in the area, complimentary wine tastings are included for guests that stay at the Burning Kiln's Farmhouse!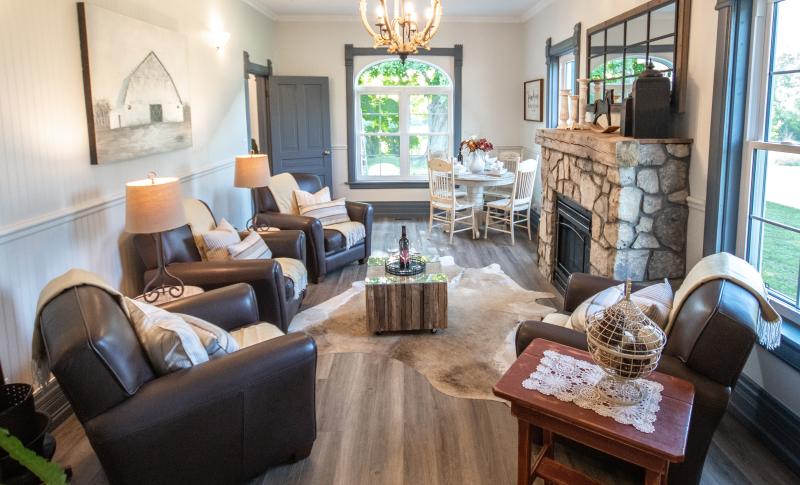 Photo of the Farmhouse provided by the Burning Kiln.
The River Treehouse in Florence is a perfect escape for one to two people that want an isolated staycation in a beautiful forest. There isn't electricity or wifi in the treehouse. This allows you to remove any distractions and truly be alone together. Visitors rave about the beautiful snow-covered trees and enjoy hiking in the area.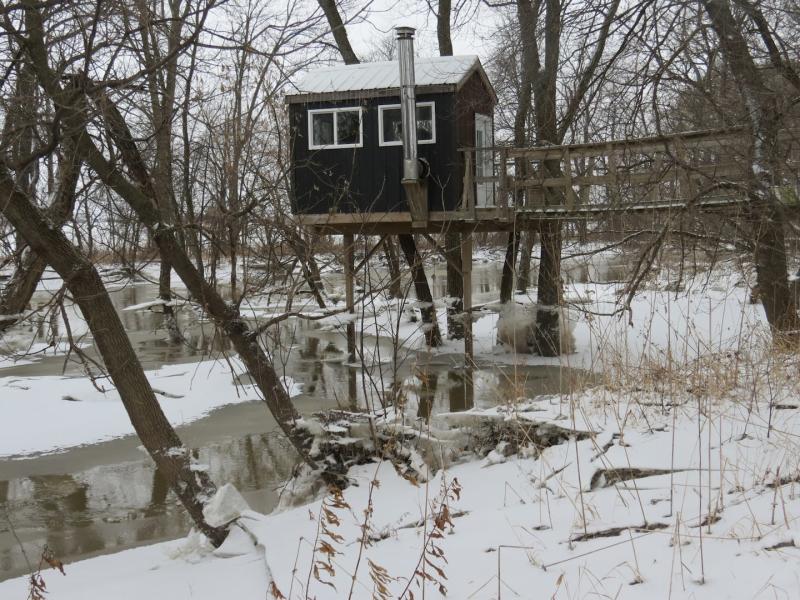 If you get hungry check out Parks Blueberries, Johnny Quest, or the Kent Bridge Country Market. All three options are close by and have take-out so that you can sneak back to your private treehouse and be away from the hustle and bustle of other people.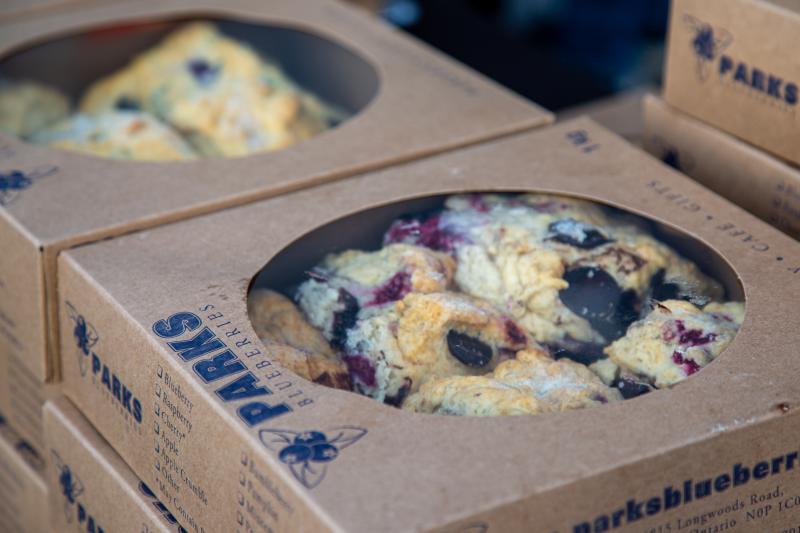 Since the River Treehouse on the Sydenham books up quickly, if the dates you want to visit aren't available, you may also like the Riverside Cabins on the Sydenham in Dresden. 
Lambton Shores Retreats
For Lambton Shore locals, you already know that your home is a hot spot during the summer months. But when the cold weather comes, challenge yourself to be a tourist in your own home. Staying at the Mid-Century Modern Retreat or the Silver Dream Maple Cottage will have you feeling like you're living the life of luxury.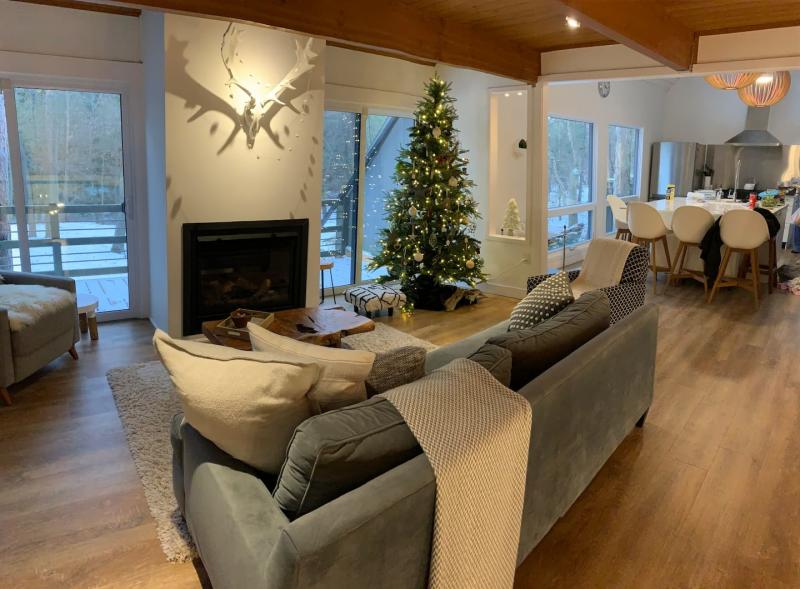 Photo provided by of the host of the Mid-Century Modern Retreat. 
Bring your cross-country skis because these beautiful cottages are located on either side of the Pinery which has 38 kilometres of trails open. We suggest going during the week because that is when this popular park is less busy.
If your household isn't into cross-country skiing, Dark Horse Estate Winery is offering outdoor wine tastings and skating at their award-winning winery. And for those under the age of 18, walking adorable alpacas at Sylvan Alpacas is a great outdoor activity for all ages.
For food, you can get take-out from The Lake Hound or enjoy a grab n'go dinner from MacPherson's.
If you like glamping, birding, or something a little bit different, this floating dome is the winter getaway for you. It is the perfect space for two people to get away from their busy lives and be in nature, without giving up any luxuries or comforts from home. It is glamping on steroids because your stay will be complete with a shower, electricity, a tv, and more.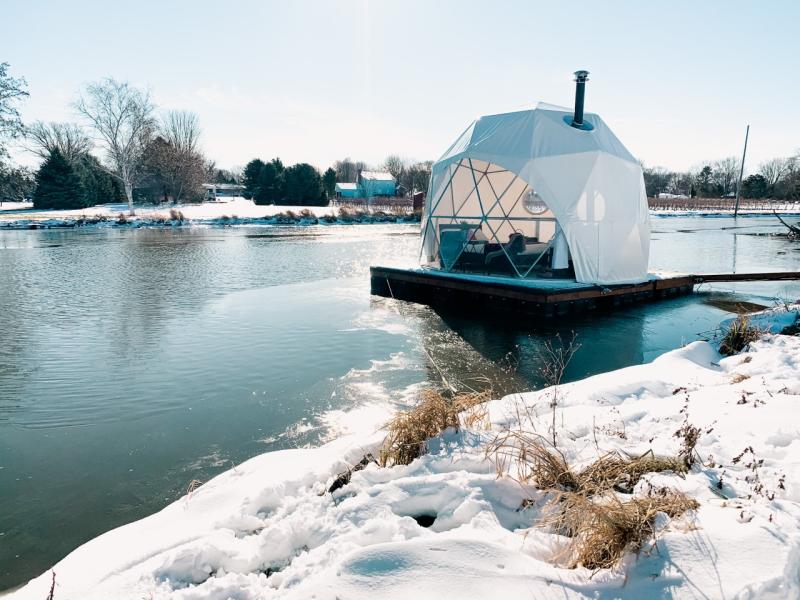 Since this accommodation doesn't have a full kitchen, you have an excuse to take a break from cooking. The Kings Bake Shop is an option if you have a sweet tooth and want to "treat yourself" like royalty.
When it is time for dinner, Cooper's Hawk is a great option. This winery is very close by and has excellent food available for both dine-in and takeout at their restaurant, The Vines. Another close by option is the Bistro at North 42 Degrees Estate Winery! The Bistro is a Feast On Certified restaurant, which means that they source their supplies from local farms. 
If you are looking for more trip inspiration featuring the floating geodome, check out the video below!