There's something special about road-tripping in Ontario's Southwest during the fall. It could be the scenic backroads that you take or the picturesque small towns you visit along the way. Or maybe it's the restaurants you discover that only serve the freshest, locally sourced, fall flavours. If you haven't had a chance to experience our historical destinations or appreciate the breathtaking views and vibrant colours of Ontario's Southwest during the fall, this is your chance.
We've created six must-drive routes that are themed so that no matter what you are interested in, you can enjoy a meaningful road-trip like no other this fall. It doesn't matter if you are a foodie, a cider fan, an art appreciator, a wine lover, a history buff, a craft beer connoisseur, or a combination of the six. We've thought of you and created a driving-route specific for you to enjoy this fall.  Just don't forget to call ahead and make sure that the locations listed are open on the day that you want to visit.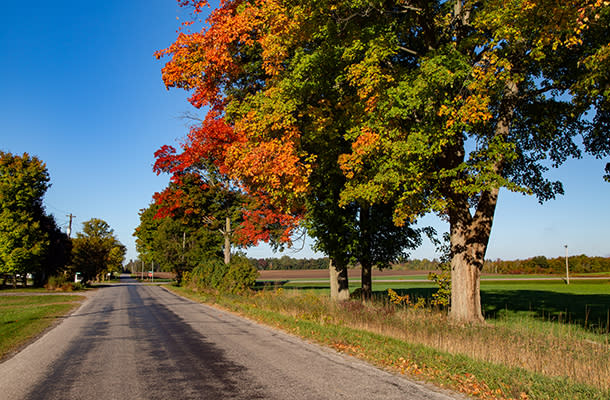 1. The Foodie
Do you like to plan your vacations around the local cuisine? Do you enjoy trying new foods and are excited to sample the local specialties? Then, "The Foodie" must-drive route was created for you! Along the country roads in Oxford County, you'll drive through beautiful fall foliage and encounter delicious farm-to-table food each of the following stops.
Foodie Stop One: 1909 Culinary Academy
If you are road tripping on a Saturday, make sure to stop by 1909 Culinary Academy to enjoy lunch on their patio! Their locally sourced seasonal dishes are sure to make your trip. By enjoying a meal here, you are indirectly giving back to the local community because 1909 Culinary Academy donates food grown in their community gardens organizations that combat food insecurity in the community.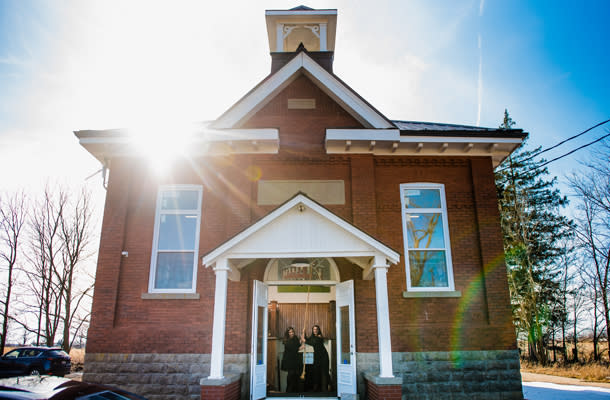 Foodie Stop Two: Snyder's Family Farm
After you've fuelled up, drive the backroads to Snyder's Family Farm where you can visit the pumpkin patch. You should try their seasonal fall treats, like the pumpkin spice whoopie pie.
The Foodie Stop Three: Bright Cheese & Butter
Since Oxford County is the dairy capital of Canada, you MUST stop at a local cheese producer or two. Bright Cheese & Butter has fabulous speciality cheeses and is known for their high-quality cheese curds.
Foodie Stop Four: Thames River Melons
Take those beautiful country roads all the way to Thames River Melons and check out their on-farm market. They make their own preserves from the fresh ingredients grown right there on the farm. While you are there, you should visit their Pick-Your-Own patch to pick seasonal vegetables including pumpkins.
Foodie Stop Five: Gunn's Hill
There is another local cheese producer along this route that you can't miss is Gunn's Hill. We recommend trying a sampler plate of 5 different Gunn's Hill cheeses while sitting at a picnic table outside the store. This is the best way to enjoy both the cheeses and the beautiful fall colours.
Foodie Stop Six: Jakeman's Maple Products
It isn't a Canadian foodie experience without maple syrup. Jakeman's Maple Products are next on the trip of local food and fall country roads.
Foodie Stop Seven: Elm Hurst Inn
The perfect way to end this adventure is by visiting Elm Hurst Inn. It is a beautiful place to visit, especially in the fall. If you know that you'll be in a food coma after dinner here, consider booking a room and resting up before the drive home.
2. The Cider Fan
Norfolk County, with all its apple orchards, screams fall time road trip. It is a perfect getaway for the road-tripper that loves craft cideries. Just make sure that you have a designated driver so that you can indulge in cider scene safely. If you're having a hard time locking down a designated driver, check out the guided tour options in Norfolk County by Ride the Bine and let them do the driving for you.
Cider Fans' Option 1: Hounds of Erie Winery
This dog friendly winery has four different cider options that can be sampled at their outdoor tastings or enjoyed on a self guided tour. They also have a retail store so that the designated driver can buy some cider to enjoy later.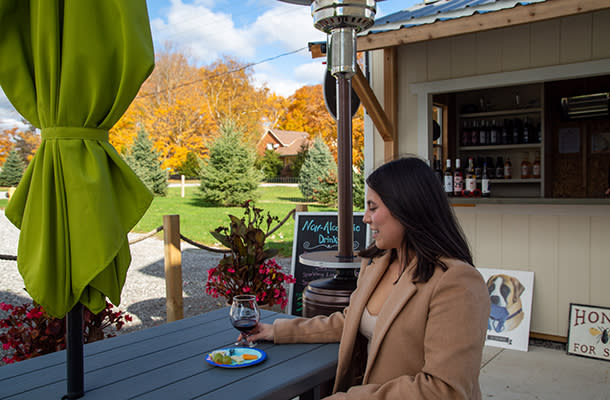 Cider Fans' Option 2: Blueberry Hill Estates
Blueberry Hill Estates offers many different cider options. And yes, they have a blueberry cider. But if you really want to go full fall, we suggest the Old Grizzly Fresh cider. It's aged in a Chardonnay barrel and has baking spices and vanilla layers to the taste that will remind you of a fresh fall apple pie.
Cider Fans' Option 3: Wooden Bear L Winery
The Bear Claw Hard Cider at Wooden Bear L Winery pairs perfectly with a crisp fall day. Not too sweet and not too dry, even Goldilocks would agree that their cider is just right!
Cider Fans' Option 4: Bonnieheath Estate Lavender & Winery
Lavender season may be over, but you can still pickup some dried lavender or other lavender products when visiting Bonnieheath Estate Lavender & Winery's retail store. The Harvest Spice Folkin' Hard Cider comes out during the fall and is a fan favourite!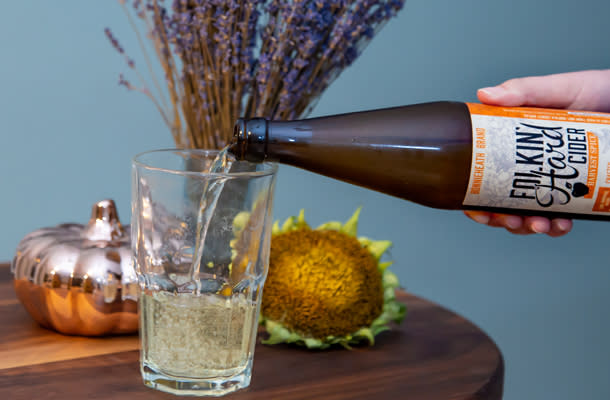 Cider Fans' Last Stop: Normandale Century Inn
If you or your designated driver bought cider from the retail stores throughout the road trip, you should consider staying at the Normandale Century Inn for the night. That way you can enjoy some cider in your cozy and comfortable room, and no one needs to drive anywhere!
3. The Art Appreciator
Elgin County is perfect for fall road trips. The back roads are exciting to drive and look amazing when the leaves change colour. Plus, any art appreciating friends you bring along will love the stops on this route so much, that they might even buy you lunch to thank you for suggesting this to them. 
Art Appreciator Stop 1: St. Thomas Elevated Park
Canada has exactly one elevated park, and this is it! It is an old railway bridge that you can walk across safely and enjoy the fall foliage. It is also lined with sculptures and art from local artists.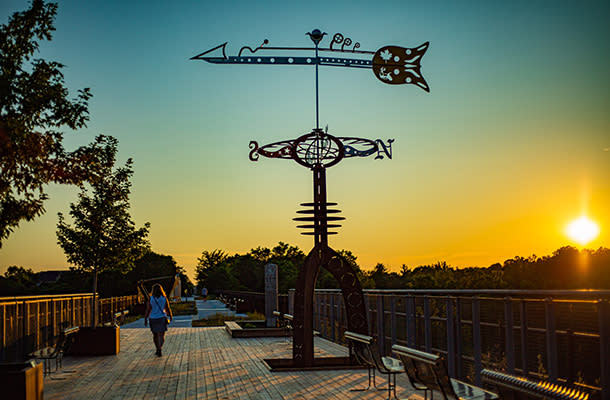 Art Appreciator Stop 2: Seed Confections
Who doesn't love when art and food are combined? The Seed Confections is the next stop on this road trip and is a great place to buy a few treats for the road. Try their beautiful, hand crafted, artisan chocolates, cookies, and macarons.
Art Appreciator Stop 3: Boxcar Murals
Before leaving St. Thomas, make sure to visit the Boxcar Murals in that are walkable from Seed Confections. Murals have been painted on old train boxcars by local artists. They are truly mesmerizing!
Art Appreciator Stop 4: Drift
The next stop is in the charming town of Port Stanley. Stretch your legs while you browse through the hand-made products at Drift. When shopping at Drift, you'll find yourself surrounded by custom wood furniture and beach inspired décor that were lovingly crafted by local artisans.
Art Appreciator Stop 5: Port Bruce Pierhead Lighthouse
The Port Bruce Pierhead Lighthouse is another scenic stop that any art enthusiast will appreciate. Drive a short distance to Lake Erie for a quick photo opportunity and then on to the next stop!
Artist Appreciator Stop 6: Pinecroft
The Pinecroft is a hidden gem along the Elgin Arts Trail where you can enjoy the restaurant, pottery studio, and gallery. It is especially nice in the fall because it is surrounded by trees that change colour at that time of year.
Artist Appreciator Last Stop: Nan's Nook Bed & Breakfast
The last stop on the route is a showstopper anyways! Nan's Nook is located in Port Burwell and overlooks Lake Erie. It is the perfect place to rest for the night to make sure that you are ready for the drive back home.
4. The Wine Lover
Must-drive route number four is crafted specially with the wine loving road trip enthusiast in mind. Ask your designated driver to head to Epic Wine Country where 14 wineries are located within the same scenic route along Lake Erie (Aleksander Estate Winery, Colchester Ridge Estate Winery (CREW), Colio Estate Winery, Cooper's Hawk Vineyards, Dancing Swallows Vineyards, Mastronardi Estate Winery, Muscedere Vineyards, North 42 Degrees Estate Winery, Oxley Estate Winery, Paglione Estate Winery, Pelee Island Winery, Sprucewood Shores Estate Winery, Viewpointe Estate Winery, and Vivace Estate Winery). Since hitting all 14 isn't possible, here are 5 options that would make a great fall road-trip.
Keep in mind that if no one is interested in being the designated driver, you can enjoy a North Shore Wine Adventure with Grape Vine Tours. These tours include transportation to tastings at 3 wineries. You may also enjoy the Wine Trail Ride experience with Windsor Eats where you ride along the EPIC wine route and make 4 stops at wineries along the way.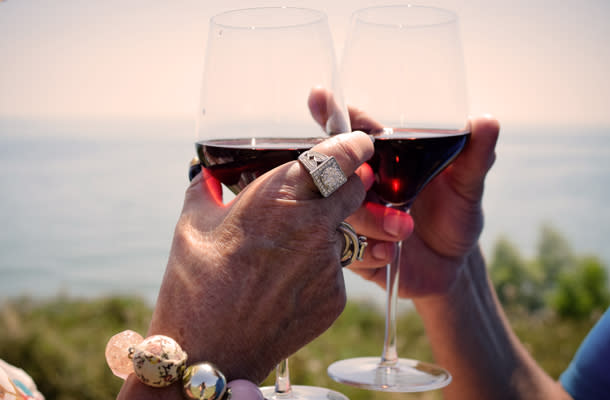 Wine Lover Option 1: Aleksander Estate Winery
Stop at Aleksander Estate Winery and enjoy lunch and the beauty of the vineyard in the fall. The Bemben family have been in the wine industry for over 30 years. It's clear from their award-winning wines, that they know what they're doing.
Wine Lover Option 2: Paglione Estate Winery
Feel like you've flown to Italy and stop by Paglione Estate Winery. This winery shows beautiful attention to detail with a mural on the ceiling and a real stone oven that they use to make delicious pizza.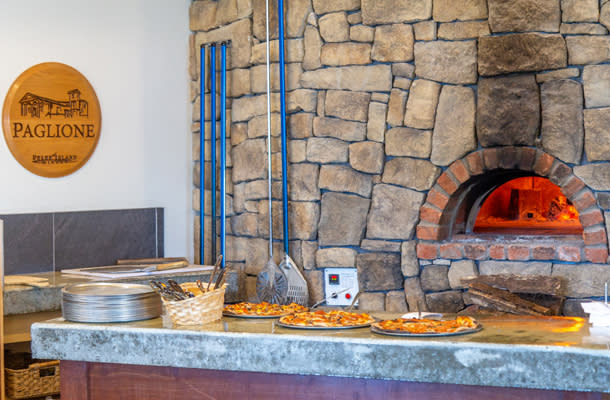 Wine Lover Option 3: CREW - Colchester Ridge Estate Winery
The beautiful, raised patio is a fantastic spot to stop when on a fall road trip. This winery has a great vantage to view the vineyard with the fall forest in the background.
Wine Lover Option 4: Erie Shore Vineyard
Erie Shore Vineyard is another option to stop in at as your make your way down the coast. They even have a drive through, so you can grab a bottle to go, and continue your road trip.
Wine Lover Option 5: Vivace Estate Winery
The last winery along the route is Vivace Estate Winery. This winery is a wonderful place to finish the fall winery tour!
Wine Lover's Last Stop: The Bondy House Bed and Breakfast
We get it, how can you possibly pick when there are so many great wineries to try? We suggest upgrading this day trip to a weekend getaway and staying at the Bondy House Bed and Breakfast.
5. The History Buff
Must-drive route number five is the history buff route. This route was designed for the road-trip enthusiast that wants to learn something new.  
History Buff Stop 1: Tecumseh Monument / Battle of the Thames 
Chatham-Kent is home to the Tecumseh Monument where in 1813, Shawnee Chief Tecumseh was killed in the Battle of Moraviantown.
History Buff Stop 2: Awaken YOUR Spirit; Spirit Horse Encounter
Once living freely in the boreal forest of Ontario and northern Minnesota, thousands of Indigenous ponies ran wild around the Great Lakes region and lived in harmony with the First Peoples. Colonization brought the ponies to the brink of extinction. In 1977 only 4 remained. Through conservation efforts, these horses have been returned to their ancestral lands near Walpole Island to live once again as the Little Horses of the Big Woods. You can walk amongst these little rare and endangered horses and experience their incredible spiritual power at TJ Stables via their Awaken YOUR Spirit experience. Make sure that you book ahead before going. See website for details.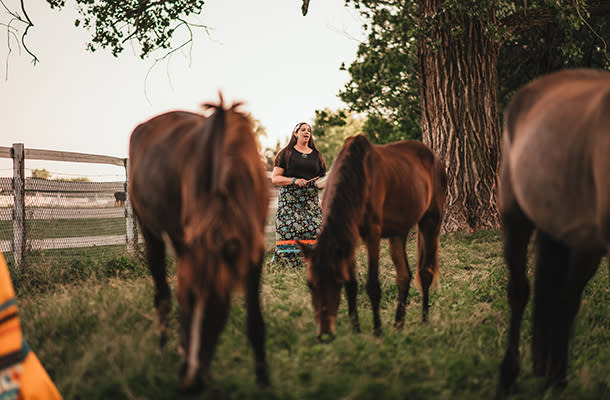 History Buff Stop 3: Chatham Docks
The next stop on the road-trip is to historical Chatham, that was founded in 1793 as naval dockyard. There are many great restaurants to grab lunch at while you reflect on how much history has been occurred in that very spot along the Thames River.
History Buff Stop 4: Buxton National Historic Site & Museum
Drive the county roads to the Buxton Nation Historic Site & Museum. Pre-book a tour to be to learn about black history in Canada.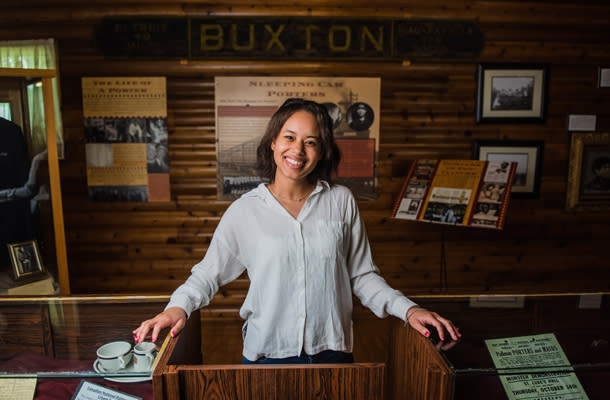 History Buff Stop 5: The Thames Lighthouse
The Thames Lighthouse is a beautiful destination at that you'll take picturesque country roads to get to. It is one of the oldest lighthouses on the Great Lakes and has seen it's fair share of history!
History Buff Stop 6: Dockside On The Cove
Since you must be hungry at this point, we recommend walking over to the Dockside On The Cove to enjoy dinner.
History Buff Stop 7: Lake'n it Eazy - Belle River on the Lake
If you want to take it easy before the drive home, you should make your way to the Lake'n it Eazy lake house.
6. The Craft Beer Connoisseur ­­­
Don't worry, we didn't forget about the road-trippers that love craft beer. And here is another opportunity for you to spend some quality time with your favourite designated driver! Enjoy a scenic fall drive along Lake Huron with some fun stops along the way.
If you don't have a designated driver, you can book the Highway 402 Corridor tour through Wave Limo & Tour. This tour includes a coach that will bring you to 3 breweries in the area and as well as tasting flights at each venue.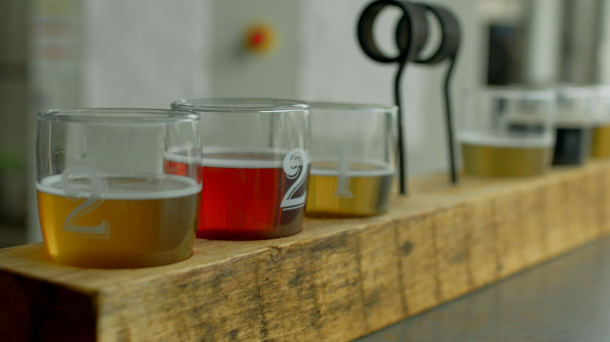 Craft Beer Connoisseur's Option 1: Widder Station Golf, Grill & Tap House
Start the day off right with lunch at the Widder Station Golf, Grill & Tap House. The Train Wreck beer made by Widder Station Brewing Co. pays tribute to the fact that the building was once a railway station that has since been restored.
Craft Beer Connoisseur's Option 2: Stonepicker Brewing Company
Next along the route is the Stonepicker Brewing Company. Its name originated from the simple equipment used to make their beer, a bucket that was used for picking up stones. Now they have a variety of beers to sample, including some seasonal fall brews.
Craft Beer Connoisseur's Option 3: Imperial City Brew House
Wind down to the Imperial City Brew House where you can find an impressive Sarnia based brewery complete with an industrial style taproom, patio, and retail store. Road tripping to their brew house and enjoying their award-winning beer is a great way to enjoy a fall day.
Craft Beer Connoisseur's Option 4: Big Family Brewing Company
Drop in at Big Family Brewing to experience their biergarten, delicious food, and craft beer.
Craft Beer Connoisseur's Option 5: River Run Brew Co.
Stop in at the River Run Brew Co. to see the amazing growth of what started out as a hobby, where beer would be brewed on porches and in garages. 
Craft Beer Connoisseur's Option 6: Refined Fool Brewing Company
Another local Sarnia brewery is the Refined Fool Brewing Company.  You can grab a bite to eat from the March Hare Snack Bar and see what a "Shirtless in the Mufflerman Waiting Room" beer tastes like. Spoiler alert, it's good.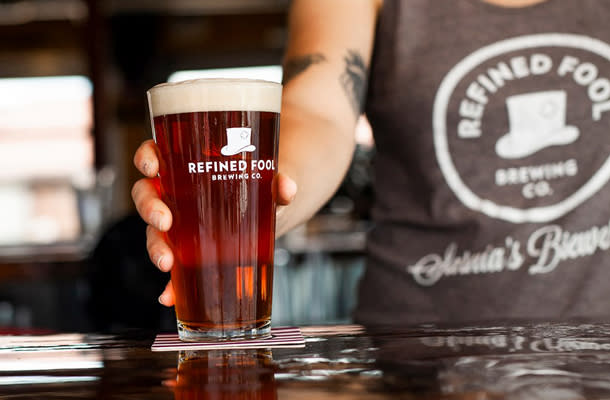 Photo courtesy of Refined Fool's Facebook Page.
Craft Beer Connoisseur's Last Stop: Insignia, Ascend Hotel Collection
We recommend staying the night so that your designated driver can participate in beer sampling back at the hotel. The Insignia hotel is close to the Refined Fool Brewing Company, River Run Brew Co., and many restaurants that serve even more local beers.
Tag your favourite people to road-trip with and start mapping out your route. See map here!