The farm-to-table movement and local food & drink scene in Ontario's Southwest are booming. When my husband and I took a trip to London and Windsor Essex a short while ago, it was actually one of the most remarkable things I noticed. Living in Toronto—one of the most diverse cities in the world—I'm lucky to be exposed to an extraordinary culinary scene on a daily basis. So, coming to Ontario's Southwest from that perspective, I didn't expect to be as truly blown away by the quality and calibre of the food and drink as I was. After eating and drinking our way through London and Windsor Essex, there is definitely a thing or two many Toronto restaurants could learn from these regions! 
When you give good, you get good. When you support local business, you help your community grow and thrive. A common thread shared by the restaurants, breweries, wineries, and distilleries we visited in London and Windsor Essex is that they make the effort to source locally or utilize products grown within the region. One of the major benefits of living where there is fertile land, as compared to a concentrated city, is that you can cultivate things from that land. There is a plethora of farmers, local craft brewers and distillers, chefs, and producers sharing the fruits of their labour. Local businesses also collaborate with each other, which in turn, contributes to their collective growth. This collaboration serves the general community in a better way, and gives true meaning to the phrase "community over competition". 
To help you plan a trip to the region, I've rounded up 11 restaurants, wineries, breweries and distilleries, where you can eat and drink local in Ontario's Southwest.  
1. THE ROOT CELLAR
Located in the heart of London's Old East Village, The Root Cellar is a farm-to-fork, plough-to-pint restaurant that serves fresh, organic, locally-sourced food. They've partnered with On the Move Organics, another local company that delivers organic foods from small-scale farmers within the London area. The Root Cellar has many options on its seasonal menu, ranging from pizzas to poutine to salads. Most, if not all, of the menu items can be made vegan or gluten-free. Their pizzas are made in an authentic pizza oven imported from Italy and from a 2-year old sourdough culture produced using neighbourhood rhubarb. For drinks, they've partnered with London Brewing Co-operative (a worker-owned brewery) and they also serve VQA wines. For a full list of their partners, you can visit their website.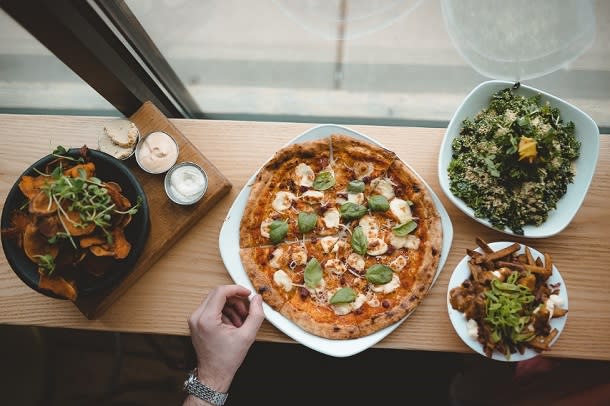 2. COVENT GARDEN MARKET
You can't get any more local than a farmer's market. Covent Garden Market has been operating since 1845 in downtown London and comprises both an indoor and outdoor market. The indoor market is open Monday to Friday between 8 a.m. and 7 p.m., and on Sundays from 11 a.m. to 4 p.m. It has over 50 merchants and 18 restaurants on-site. The outdoor market is open during the day on Saturdays between May and December, and on Thursday nights between May and October. Covent Garden Market boasts that all of its vendors either "grow it, raise it, bake it, or make it"! It's definitely worth wandering around in, when in London.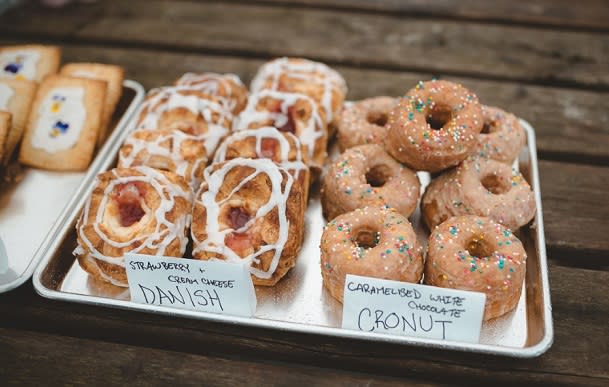 3. UNION TEN DISTILLERY
Union Ten is the new kid on the block…literally! This craft distillery, restaurant, bar, and event space only opened its doors to the public on May 16th, and it's already expected to be a powerhouse in London. We got a sneak peek at the space before the soft opening and had a private tasting with one of the owners, Brendan, and the manager, Alexis. Since spirits are heavily regulated in Ontario, they can't technically call their products "rum" or "whisky" unless aged for at least 3 years (instead, they're called "cane spirit" and "bourbon-style spirit", respectively). Union Ten gets a lot of the water for its spirits from a local well and acquifer nearby.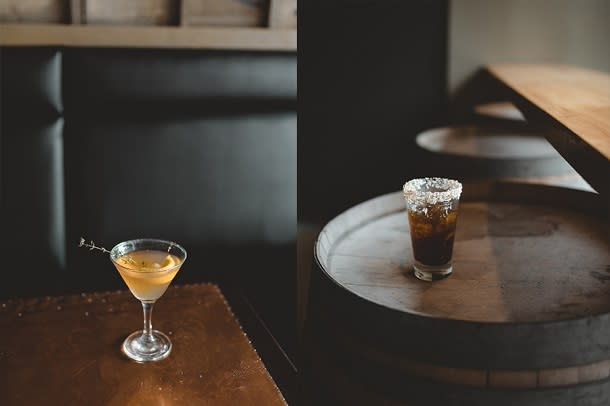 4. POWERHOUSE BREWING COMPANY
Speaking of powerhouses, Powerhouse Brewing Company is another new player on the craft brewery scene in London. While its owner has been in the brewery business for many years, Powerhouse opened about a year ago. At the time of visiting in May, their taphouse was just 2 weeks old! You can sample their craft beer (their most popular is the Homecoming American Pale Ale and is available at the LCBO) and grab a bite in the taphouse, and you can find their beer on tap at local restaurants in London. 
It's called "Powerhouse" because it's housed in the former powerhouse of the Kellogg's Factory, which operated here for around 90 years. The opening of Powerhouse is part of an overall revitalization of the 100 Kellogg Lane complex, which sat abandoned for years, after Kellogg's finally closed their doors. The revitalization is expected to create many jobs for the community. Master Brewer, Chris Patterson, gave us a tour of the brewery and a private tasting. He explained that the craft brewers in London, including Anderson Craft Ales and London Brewing, all have a friendly, rather than competitive, relationship and support each other.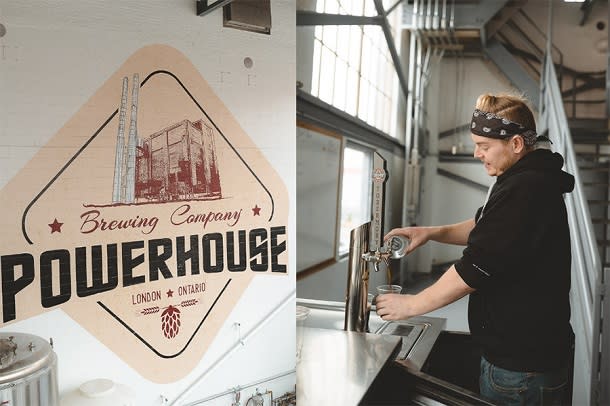 5. OXLEY ESTATE WINERY
This boutique-style winery opened in Essex County in 2012 by owners, Ann & Murray Wilson. They also have a fine dining restaurant on-site called "The Barn", which is very popular amongst locals and visitors. Oxley Estate Winery is one of around 19 wineries in the Lake Erie North Shore wine appellation – Ontario's oldest wine growing region and region with the longest growing season in all of Canada. The geographical positioning of the region, coupled with its climate and the 'lake effect' from the surrounding bodies of water, give the grapes their distinctive characteristics (high sugars and moderate acidity). Oxley Estate is the pioneer for growing the Regent grape in Ontario. They have a large outdoor wine patio and indoor tasting room.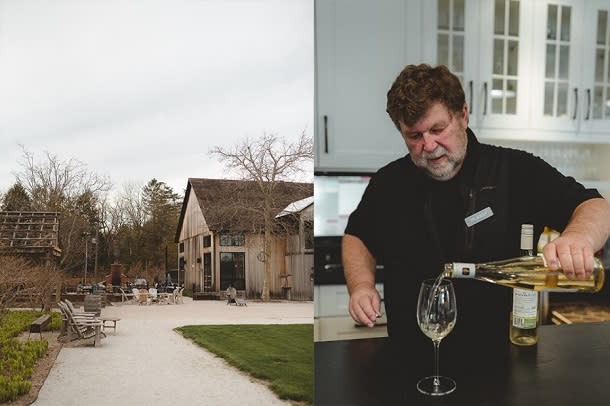 6. NORTH 42 DEGREES WINERY
North 42 Degrees Estate Winery is another family-owned Lake Erie North Shore winery in Essex County. Owners Martin and Suzanne are 3rd generation farmers and planted their first vines in 2007. Named after the 42nd parallel north – the circle of latitude 42 degrees north of the equator (which also passes through other famous wine regions in the world, including the South of France and Northern California). The winery is open daily for tastings between 11 a.m. and 6 p.m. and they also offer tours of their production facilities and vineyard.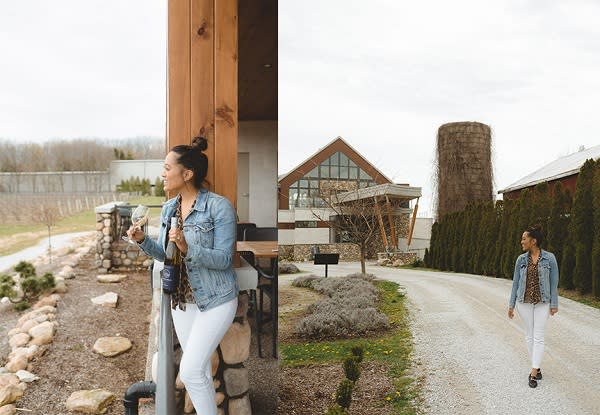 7. 10EIGHTEEN CAFÉ
10Eighteen is an independent coffee shop in London's Old East Village that opened about 2 years ago. Owner, Katie Sullivan, is a London native and owned a small shop in the same location, before expanding into a coffee shop. 10Eighteen serves coffee (pour-over is their specialty) that comes from a local Ontario roaster. They also serve local craft beer from Anderson Craft Ales and London Brewing, as well as local Kombucha, "Booch". Food is both made in-house and sourced locally.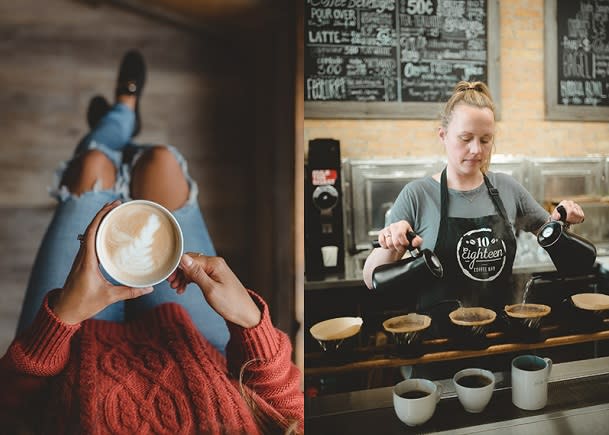 8. BIRDIES PERCH
One of the most unique dining spots you'll visit, Birdies Perch is a "bustaurant" in Leamington. It's a double-decker bus that serves food from the lower deck, which you can enjoy either on the upper deck or on the patio in front. It's a great place to stop en route to Point Pelee National Park. As its name suggests, Birdies Perch serves fresh perch from Lake Erie. Have it in a cone with French fries, in tacos, or in a Po' Boy!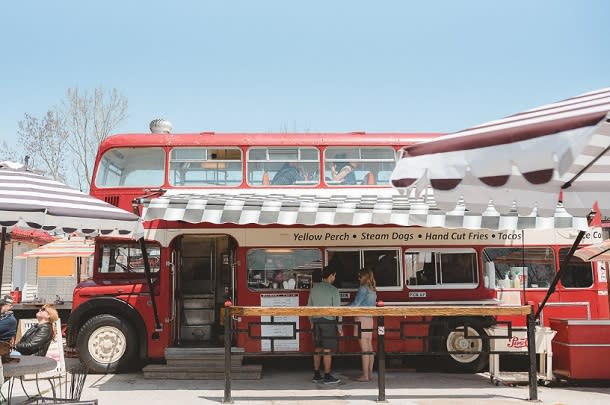 9. FIRE ROASTED COFFEE
Fire Roasted Coffee is a local roaster and coffee shop with one of the largest selections in Canada of Fairtrade whole bean coffee from around the world. All of their coffee is roasted in London and they supply coffee to the OnRoute locations along Highway 401. Roasting over 35 types of coffee, including 20 single origins, you can visit one of their 5 locations in the London area or purchase their coffee online.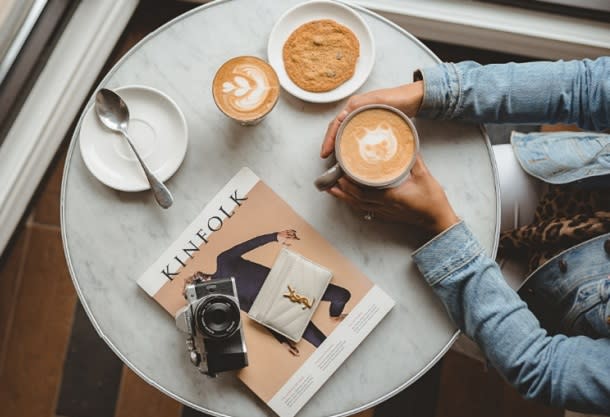 10. WOLFHEAD DISTILLERY
Adding to the long tradition of distilling in Windsor Essex, Wolfhead Distillery is an ultra-premium craft distillery in Essex County. You can visit for a tasting of their spirits or to eat in their dining room (about 85% of their food is sourced locally). They specialize in naturally-flavoured spirits, including vodkas, whiskys, and coffee liqueur. Their vodkas are 100% wheat-based and 7 times distilled. Their coffee liqueur, which features local Colonial Coffee in Windsor, is a best-seller.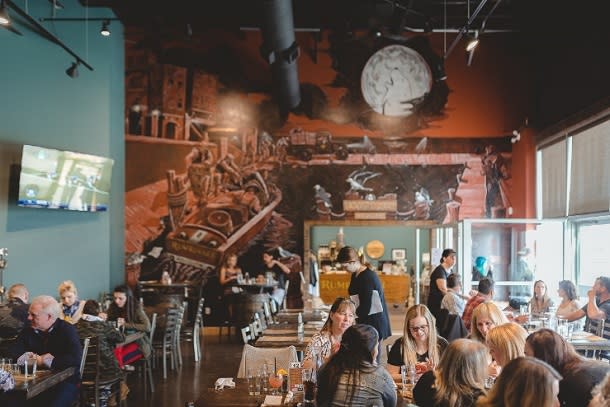 11. GARLIC'S OF LONDON
Last, but certainly not least, Garlic's of London has been serving the London community for over 25 years. During that time, its menu has evolved, but there are still several mainstays, including their garlic bulb and garlic fettucine. The current owner started out as a bus boy and eventually worked his way up through the restaurant. Garlic's tries to sources its ingredients as locally as possible, and their pastas, pizzas, and breads are made in-house. For an interesting dessert, try their garlic ice cream (which tastes a lot more delicious than it sounds)!
It's exciting to see all the new developments in food and drink in Ontario's Southwest, which at the same time, preserve and honour the community's history. For better quality and more unique dining experiences, don't miss out on your opportunity to eat and drink locally when visiting Ontario's Southwest!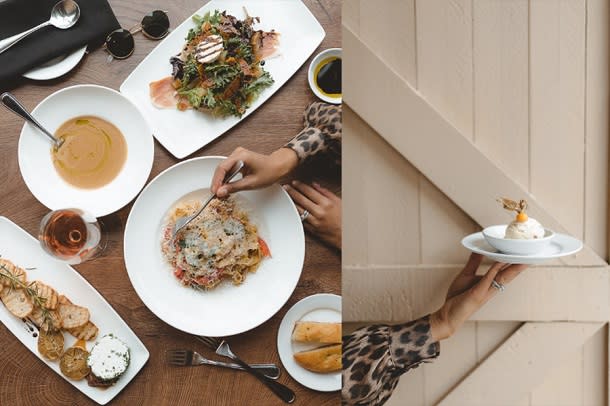 Read more from Krystle on her website, Dine & Fash.